UK holiday rental firm Sykes Holiday Cottages acquired a major stake in Bachcare, New Zealand's largest vacation rental management company.
Since 2003, Bachcare has been helping holiday homeowners and travelers "find your happy place," the company's tagline and mission. Bachcare manages over 2,000 holiday homes across 150 locations and welcomes over 150,000 guests to its properties every year. The company employs 50 people at its support office near Auckland and works with approximately 100 contracted holiday managers across the North and South Islands. They hosted their one millionth guest in 2018 and have seen holiday homeowner inquiries about their full-service management grow by 25 percent in the last year.
Sykes Holiday Cottages employs more than 500 people and last year served more than 1.5 million guests from its head office in Chester. Sykes is the six-time winner of the British Travel Awards' Best Large Cottage Company (2013 through to 2018).
Graham Donoghue, chief executive of Sykes Holiday Cottages, said, "It has always been our ambition to scale into new markets, and working together with Bachcare will enable us to take our first step toward further international growth. There is huge respect for the business Leslie has built over the past 15 years, and by learning from each other's expertise, we are confident that Sykes Holiday Cottages can continue growing in the UK, that Bachcare will maintain its growth in New Zealand, and that together, we can enter other new markets around the world."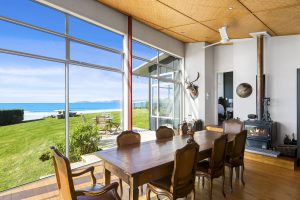 "Competing with large multinational companies has helped make Bachcare what and who we are—an honest, independent business that is absolutely committed to giving our holiday homeowners and guests the best, full-service experience possible," said Leslie Preston, the chief executive officer of Bachcare Holiday Homes, who will remain at Bachcare's helm. "Having Sykes with their shareholding is great for our business, as it ensures our interests are aligned. They are making their 25 years of experience, people, intellectual property, processes, and technology available for Bachcare. They will be a true partner for Bachcare, something that was not accessible to us in New Zealand, and for that, we are very fortunate to have them on the team with us."
"It will undoubtedly take our guest and holiday homeowner experience to a level never seen before here in New Zealand," Preston added.
Preston Offers Insight into Her Decision to Partner with Sykes
Those who have attended any of the recent conferences in which Leslie Preston has presented, including the 2019 Vacation Rental Women's Summit, are likely as surprised as we were by this move. Preston runs a successful business that is experiencing high growth. The company has a great brand, supportive shareholders, and strong projections.
"So why take on the Sykes investment and take on Sykes as a shareholder?" Preston asked, echoing our question. "There are so many reasons why it's such an awesome idea! As the majority shareholder of a family-owned business, you make decisions with a conservative lens. While growing to managing 2,000 houses over 15 years is great, what could be possible if you took a less emotive frame of reference and a more unattached independent decision-making framework of a bigger company? Handbrakes get taken off and the rocket ship goes faster!"
The Importance of Scale
"The holiday home industry has become global and uber large scale, yet property managers have yet to follow suit," said Preston. "This is not sustainable if you want to remain masters of your own destiny. With Expedia/HomeAway, Airbnb, and Booking.com each listing millions of properties, there is a growing imbalance with the highly fragmented nature of holiday home managers. We believe in controlling our own destiny and not being reliant on anyone. And we believe scale at the property management layer will ultimately win."
Preston continued, "It's crucial that you have enough scale at the local level, national level, regional level, and global level to be masters of your own future and drivers of your own ambitions and drivers of your own economic success. Bachcare has always believed in scale and has always believed in the benefits scale brings to our owners, our guests, and our teams. We absolutely have achieved our own scale, and quite successfully. But it's no longer just about local scale or national scale to remain relevant. It's about global scale. Partnering two best in class very strong and successful national scale organizations brings exponential possibilities and exponential outcomes.
"Great is good, but amazing is even better! Why settle for being great when you can be amazing?" Preston asked. "Having an external perspective outside of just our New Zealand lens brings new insights, new approaches, new ideas, and access to alternative perspectives. I have always strived to be the best we can be, and given our current scale and size, bringing in a larger company that operates with the same ethos and ethics with the same focus on amazing owner and guest experiences was too good an opportunity to pass up. We still remain and will remain the largest scale player in our region, and we will only go from strength to strength, getting better and delivering more value to our owners, our guests, and our teams along the way—all while still having a heap of fun."
"We have so much opportunity in front of us, just in New Zealand. Removing the family-owned capital structure frees us up to grow even faster and bring more value to our ecosystem."
What Changes Can We Expect to See at Bachcare?
The move gives Bachcare access to the technology, tools, people, and insights of Sykes, one of the UK's largest independent holiday rental agencies, with almost 14,000 properties across the UK and Ireland. It also supports Sykes's ambitions to grow internationally, with this being its first investment outside of the UK and Ireland. Bachcare will continue to target the domestic New Zealand market, operating under its existing brand.
"Nothing changes in what we are doing, and we will stay true to who we are," said Preston. "Our brand DNA is such a part of who we are, and how we do what we do. In Sykes, we have a partner who is very culturally aligned and supports our way of being."
Bachcare is a significant scale player in its own right, as the largest full-service management company in New Zealand, Australia, and the South Pacific.
"We are a fully integrated company, with all core functions in-house, and we don't see any of that changing," said Preston. "There is no need to; what we already have works really well for us. But we are thrilled that we will now have access to the resources, IP, knowledge, and decades of experience of Sykes to apply to Bachcare as we feel appropriate to enable Bachcare to deliver even more for our owners, our guests, our holiday managers, our employees, and the communities in which we operate."
Preston added, "Sykes is best in class in our industry with respect to a number of key metrics, such as guest NPS, owner NPS, and a number of other core operating metrics. While we think Bachcare is pretty good in key metrics, it's fantastic to have access to industry leaders to take our great performance to best in class. We look forward to learning more about their secret sauce that we can apply to our business in New Zealand."
What's Next for Leslie Preston?
"I remain as fully committed as ever to Bachcare, am full of passion and commitment for our next phase, and am firmly leading this business now and into the future," said Preston. "There is no way that I would be leaving now, just as we are about to get started on this exciting journey! I remain the CEO, I remain on the board, and I remain a shareholder. My leadership team remains in place. I'm only just getting started! I am so thrilled to have this amazing opportunity to lead Bachcare to even greater heights."

"We all knew consolidation was happening, and we're glad to be at the forefront paving the way! The strong align with the strong and get even better!"

<!-comments-button-->