Tara. Pemberley. House of the Seven Gables. Graceland. Oak Alley. Mount Vernon.
The idea of naming homes isn't new, but the practice seems to have lost some of its romantic appeal over the years. After a recent trip to England's Cotswolds, passing thatched-roof cottages and High Street townhouses—each with a plaque by the door displaying one enchanting home name after another—I realized that the practice is still alive and well in some areas. And it matters.
In Europe and in the United States, owners and managers in leisure destinations have been naming homes for decades for very good reasons that still apply in 2020—perhaps more than ever, as vacation rentals are quickly becoming commoditized on OTAs.
The advantages below are not just for single-family homes. Naming condos and multifamily units has value, too.
10 Reasons to Name Your Vacation Properties
1) Naming Homes Helps Get Through—and Around—the Google Funnel
While I hesitate to start this list by mentioning how naming properties will impact performance in search engines, things are changing at Google. For those who will only read part of this article, I want to touch on this point before you flip the page.
As you will read in Amber Carpenter's article, "SEO/ SEM Disrupted," Google's search engine results page (SERP) format is changing for vacation home rental searches. As a result, your company is likely to find less organic (non-paid) real estate on SERPs as Google Travel's mapped booking platform advances.
A memorable property name can help you optimize—and even bypass—Google (if you can etch the name in the minds of current and potential travelers). More on this later, but it's important to keep in mind as we look at the other advantages of giving a house a name.
2) Names Are Inviting and Engaging
According to Dale Carnegie, "Names are the sweetest and most important sound in any language." Giving something a name demonstrates that it is special, unique, and worth knowing. Names bestow individual identity. For example, football fans can discuss the performance of college quarterbacks this past season, but when they specifically identify Joe Burrow or Jalen Hurts, they are discussing individuals and their uniqueness with more attachment and engagement.
3) Names Communicate Uniqueness and Help Set Customer Expectations
When you name a home, travelers understand that it is a one-of-a-kind accommodation—a true vacation home rental. In contrast, for example, Summerhouse Units B804 and B602 are not distinguishable in the minds of customers.
With an individual name, guests will be more open to understanding that the home is individually owned and unlike any other. They will begin to look at renting the home how they might look at residential real estate: "Can I see myself living/vacationing in this particular home?"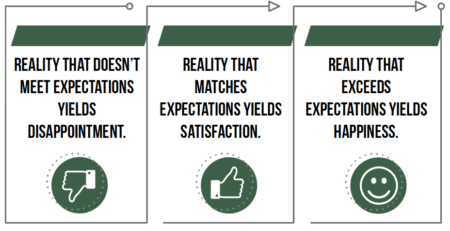 New travelers coming into the vacation home rental market don't always understand the unique nature of individually owned vacation homes. If they haven't fully comprehended that the rental isn't a hotel, friction can arise during their stay because their experience may not match their expectations.
Giving a property a distinctive name creates for the guest an overall—sometimes subconscious—expectation of a unique experience unlike staying at a hotel. It provides the property manager more of an opportunity to accurately set and exceed the guest's expectations.
4) People Look for Their Next Vacation While They Are on Vacation
While guests are vacationing in your area, they are often drawn to look for places they might want to stay when they come back. They are looking for factors such as the view, proximity to things they like to do, amenities, and home styles and sizes. Identifying properties gets much easier when their names are displayed; guests are significantly more likely to remember a property name than an address. In turn, they are more likely to gain direct access to your site by Googling a property name than an address.
5) Travelers Connect to Home Names, Especially When Provided a Backstory
As a guest, when you're choosing a vacation home rental, you have a different connection to the home when you know the property name and its backstory.
Suppose you decide to stay at Chesa Madrisa in Big Trees, California. Your stay becomes even more meaningful when you can share your experience with your friends, family, and coworkers and tell its backstory. According to Chesa Madrisa owner Hilary Gibson, "My grandparents built our vacation home and named it Chesa Madrisa long before we knew how helpful it would be to have a unique name."
Gibson's grandparents named the Sierra Nevada mountain home after being inspired by the Swiss chalets they had visited. Chesa means "home" in Romansh and Madrisa is the name of their favorite ski run in the Swiss Alps from Klosters to Davos. Her grandfather's original wooden skis, used in the Alps, hang in the entryway.
As a guest, you now have a real connection to a unique home, and any expectations of it being a commoditized, hotel-like accommodation are quashed.
6) Names Are Memorable, Interesting, and Shareable
Chesa Madrisa is now on my list of places to stay, and now that I know its name and backstory, I am much more likely to share a link to the home on Facebook to update my friends, on Instagram to show off my future vacation, and on my Pinterest board titled "Vacation ideas for 2020." Thus, free network marketing.
Using another example, Low Places is the name of a beach home in Sanibel, Florida. "Low Places is the name of my personal vacation rental," said Sharon Michie, founder of Cottages to Castles of Sanibel & Captiva, Inc. "You can 'show up in boots for a black-tie affair' here. 'I've got friends in (and at) Low Places'—queue the Garth Brooks song!" With so many shareable lyrics from the song Friends in Low Places, the name alone gives guests an irresistible urge to share about the home on social media.
The right home name can help you write creative posts on your company's social media pages, encourage others to share the home's details page, and expand the property's social reach in a very short time.
7) Logistically, Home Names Make the Property Easier to Find Upon Arrival
As more guests bypass office check-in and go directly to the unit, having the property name displayed on the home makes it easier for them to know they are in the right spot without double-checking addresses as they navigate lock boxes or key codes—especially when arriving after dark. While different signage regulations may apply, we've mentioned a few options below, including custom doormats and welcome signs for multifamily developments.
8) Home Names Make the Home Easier to Find Online—and to Book Direct
See Me Lodge was originally named for a family's three kids (initials C, M, E). It was the perfect name for their house at the top of a ski village in Steamboat Springs. When a guest shares a family photo on Facebook with the caption "We're on top of the world at See Me Lodge in Steamboat," their friends can see the picture and Google "See Me Lodge in Steamboat," which takes them directly to Moving Mountains, the property management company that manages the home.
With more competition from OTAs, multi-destination competitors, and Google Travel, the search marketing funnel is getting both crowded and pricey. When travelers search for a home name, they are significantly more likely to find your booking page directly.
9) Naming the Home Revitalizes the Billboard Effect on OTA
s
Although several OTAs work to strip vacation rental branding from photos and descriptions, they do not remove home names because properties with names convert at higher percentages. Guests who want to see if they can find a better deal—or a better experience— by booking directly can simply copy the home's name and paste it into their search engine to find the home's manager or owner.
For condo owners and managers, this is key. If the traveler just uses the condo name, they are back in the Google funnel, where OTAs dominate. However, if they search for the home name, they are closer to finding you. Use home names in both property descriptions and photos to help consumers find you directly.
10) Reservation Agents Can "Put a Name to a Face"
Training reservation and sales teams to speak knowledgeably about properties is challenging, but giving a home a memorable name allows them to speak to guests in a more engaging way about the differences between properties. In addition, knowing the name helps them remember differentiating factors about the home. It isn't only guests who relate to home names more personally; your team does, too.
How to Name a Property
Working directly with homeowners yields the best results for finding the perfect name for vacation home rentals. The advantages of naming vacation properties do not only apply to single-family homes. Condos, townhouses, and apartments also benefit from having unique names.
Make it meaningful. Consider why the property was purchased, any family history, the location, the view, amenities, and what kind of experience guests will have in the home. When homeowners connect to the name in a meaningful way, they are more likely to share it with their social networks.
Make it unique. One of the main advantages of naming a home is that it is found more easily online, so do an online check to ensure the name is unique. If you are committed to a name that isn't unique, include the destination name in online attributes.
Consider purchasing a domain name, creating a subdomain, and/or building a landing page that homeowners can share with their social networks.
Where to Display Property Names
Once the property has a name, there are two ways to think about displaying the name to maximize the advantages, physically and online.
Exterior Signage
It only takes a quick trip up and down beach roads in coastal destinations across the U.S. to see how property names are displayed on homes. Most single-family beach houses have exterior signage on the home, by the driveway, or both. However, if this type of signage isn't feasible, there are other options available:
Regulations and Restrictions
First, investigate municipal signage regulations and POA/HOA/ COA restrictions. Then, get creative.
Exterior Signage on the Home
In most cases, for single-family homes, there are legal—and tasteful—ways to display home names on properties using signage. In my recent UK experience in the Cotswolds (page 88), home names are posted using plaques appropriate to the historical nature of the homes.
In more rural areas with long driveways, signage is also displayed by the road or on mailboxes. Be considerate and aware of the destination's traditions and protocols. A sign that is gaudy or inappropriate can hurt more than help. If the sign can be cobranded with your company name, it is a bonus (e.g., "One Fine Stay," followed by "by ABC Vacation Rentals" in smaller print). Some destinations also allow additional signage for rental companies to display their company name, phone number, and website.
Window Signage
For many multifamily properties, exterior signage is not allowed. However, especially in condos and townhouses, signs can often be placed inside windows that face the hall, walkway, or path. You can see some signs in hall-facing condo windows with sayings such as "Welcome to the Beach" or "Mountain Paradise." Placing attractive signs with the property name in path-facing windows may be an option for multi-family units.
In some cases, the property name can be displayed on the exterior, but the management company name cannot. For example, in the Cotswolds, the property name plaque is allowed, but exterior signage from rental management companies is not. Instead, property managers display signs in the window closest to the door with a message that the home is available to rent, alongside company contact and website information. (In our UK townhouse rental, the plaque by the door displayed "Sansons Cottage," and the framed sign inside the window said, "This cottage is available for holiday stays. Contact Honeypot Cottages [logo, phone number, website].")
Custom Doormats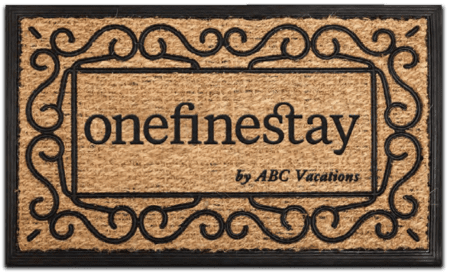 Even in developments with heavy restrictions, an exterior doormat is often allowed. There are a multitude of online suppliers that print affordable custom door and floor mats. A doormat that displays the property name is a good option for multifamily units with no other display options. If done in a tasteful way, not only will guests be able to quickly identify their condo or apartment rental upon arrival, the name of the home will also be etched in their minds. In addition, other guests who pass by and think that particular location would be perfect for their next vacation will more easily remember the unique name and find you for their next trip.
Optimizing the Home's Name Online
1) Property Titles:
In your property management software (PMS), displaying the name in the property title makes it easier for guests to find the home through all channels, including your own website's search function, in search engines (Google, Bing, etc.), and on OTAs. If you are using OTA channel distribution, consider how the information in your PMS is being pushed out to third-party websites and OTAs. In most cases, the name of the home is best placed in the property title, but in some instances, it may be more advantageous to include verbiage about amenities and location in the property title (e.g., 4BR w/ private screened pool, minutes to Disney).
2) Property Description:
Regardless of what you choose for the customer-facing property title, include the home name in the property description. The description is a great place to announce the property name and tell its backstory. In addition to giving guests a clear way to search for your property directly, the name helps guests connect to the home emotionally and recognize it as a unique, individually owned vacation home instead of a commoditized hotel room.
3) Property Photo(s):
Include at least one photo on third-party websites that displays the property name. Whether it is an exterior sign, a window sign, the doormat, or another creative idea, use the photos to help the guests find the home online if they want to search for the direct source for booking. In addition, use the property name in alt tags on your photos. Alt tags are HTML image tags that provide a text title for each image that tells search engines what the photo is showing.
4) URL:
Use the property name in the URL. For example, the URL for See Me Lodge from Moving Mountains is www.movingmountains.com/vacation-rentals/see-me-lodge. Adding the property name to the URL makes it easier to find online and more shareable for guests and homeowners.
Consider offering owners a name package that includes a unique domain, landing page, exterior signage, custom doormat, and property-specific thank-you cards (cobranded with your company).
A property name provides a unique, distinctive identity.

In our industry, differentiating properties is becoming more challenging as OTAs and Google seek to commoditize vacation home rentals. Besides the many marketing benefits to making vacation rentals easier to find and share online, naming homes helps guests, staff, and homeowners connect with them in a more meaningful way.

<!-comments-button-->