Our only certainty in the vacation rental industry is change, and 2019 did disappoint those who enjoy the adrenaline rush of disruption.
Google Travel is not just another channel; it will continue to cause the convergence of organic search engine strategies, pay-per-click advertising, channel/distribution management, and revenue management more so than any other new opportunity in our space during the last decade.
This topic is broad, complicated, and evolving faster than we can likely get to print, so I have taken a research point of view while trying to simplify the landscape as much as possible.
For those of you taking a "device break," or if you just have not looked at search results for your destination in a while, there is a new, bold box of vacation rentals showing up where you might have seen individual listings on Google Maps even a few weeks ago.
Organic vs. Google Travel Placements
Not to be controversial here, but I have seen several articles label traffic from the Google Travel module on the search results page as "organic" traffic. This is incorrect for many reasons, even if the traffic to this content is "free" as of now.
Organic placement means showing up based on Google bots querying available content, indexing it, and deeming it relevant for search results related to specific queries.
Google Travel is curated through inventory fed from a handful of early integration partners that are sending Google property content, availability, and pricing through the Google Hotels application programming interface (API) feed. So yes, as of now, this traffic is "free," but it is certainly not "organic."
Organic ranking strategies are generally handled by search engine optimization (SEO) teams. In contrast, you need distribution/ channel management, pay-per-click advertising, and revenue management teams to tackle Google Travel.
The Changing Anatomy of Google Search Results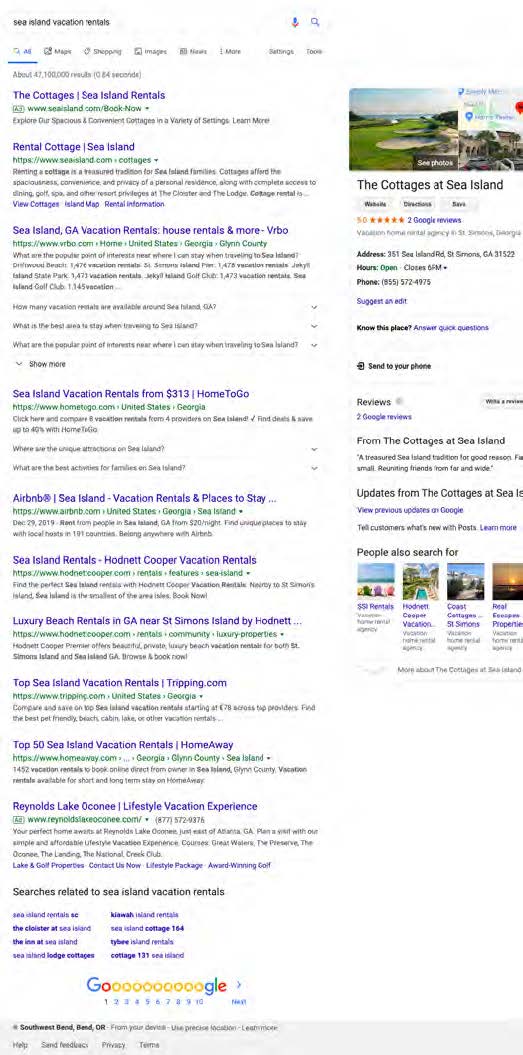 There are at least three different versions of a Google Search Engine Results Page (SERP) for queries that contain "destination + vacation rentals," and it largely depends on whether the destination has inventory being fed through the Google Travel API or via one of the authorized integration partners.
Google started with partners that could provide the largest sets of inventory so it could spread across the map as fast as possible and be as relevant as possible.
The reality is OTAs have the most aggregated inventories, so Google started there and has been working down the food chain ever since as it continues to test and iterate the experience for the traveler in search results.
1. Google SERP Format 1—Legacy/No Google Travel Module
As I am writing this article, "Sea Island, Georgia Vacation Rental" queries still produce search results consistently without Google Travel.
There are several key elements to these pages that are likely to be few and far between—if not completely extinct by this time next year—but offer the most organic real estate on the page.
Listing Placements in Legacy/No Google Travel Page Format Module
Google Business listing in the right gutter
Three AdWords results at the top of the page
Eight organic search result listings
One AdWords result at the bottom of the page
In the Legacy SERP format, of the available space on the first page of search results, approximately 25 percent of the page is paid listings versus 75 percent organic content.
2. Google SERP Format 2—Vacation Rental Organizations Call-Out Box
This is an interesting version of Google search results that I was surprised to stumble upon in my research on organic results across the industry and the impact of Google Travel. This query for "Palm Springs Vacation Rentals" shows what looks like regular paid and organic search results, except that it has a call-out box labeled "Vacation Rental Organizations" toward the bottom of the page, which contains the logos of several different vacation rental companies.
Listing Placements in Page Format with Vacation Rental Organizations Call-Out Box
No Google Business listings in the right gutter—it is left blank
Four AdWords listings at the top of the page
Eight organic listings
Three AdWords listings at the bottom of the page
"Vacation Rental Organizations" logo box
It is not clear how Google chooses which brands to show in this vacation rental organizations box, but it does not look like there has been much time spent on it because the logos are mostly cut off or outdated. Not all of the partner logos showing are integrated directly into Google Travel, so it might be pulling from business listings, but it is not clear.
Regardless, if you click a logo in this box, it actually takes you to another Google SERP with the brand as the query parameter. I would not be surprised if this box was created by accident, and someone forgot to take it down; it is utterly useless, poorly designed, and loosely related to my original query.
This layout provides about 40 percent paid ad space and 60 percent organic listings on the first page.
3. Google SERP Format 3—*New* with Google Travel Module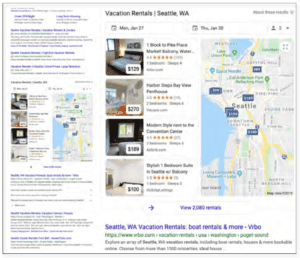 For destinations where Google Travel integration partners are actively feeding inventory, the first page of Google SERPs for most queries for "[destination] + vacation rentals" returns a page with a new "Vacation Rentals" travel module that displays right below the AdWords listings at the top of the page and before any organic search results.
Listing Placements in *New* Google Travel Page Format
No Google Business results in right gutter
Three or four AdWords listings at the top of the page
Google Travel module with four search results based on prefilled dates
Seven organic listings
Three AdWords listings at the bottom of the page
With this layout, the first page of Google search results is 60 percent paid or API generated versus 40 percent organic listings.
Consumer Experience on Google Travel
Although this is incredibly rich content that is being fed through the Google Hotel API—and it is certainly an attractive module in search results—and much better than the original map listing view that rolled out—the click journey to research rentals on Google Travel can be a bit confusing and inconsistent, depending on the integration partner feeding the content.
Search Experience
For every destination that I searched, the same arrival and departure dates were prefilled in the Google Travel module, basically three weeks from today for a three-night stay.
If a consumer tries to update the arrival dates in the box, it opens a new tab with full search results on the Google Travel website and does not update the results on the original search results page.
The Google Travel search results page looks like a simplified OTA layout with dates, occupancy, and filterable search options such as amenities across the top and visible listings on a map in the right gutter that highlight as you click or scroll.
Listings have a hero image with a per-night pricing call-out box, a property title, average star rating with the number of reviews, the logo of the Google Travel inventory feed provider, the number of bedrooms, and max occupancy.
This all seems pretty simple and straightforward until you realize that Google has a lot to learn related to search filters, and partners must update amenity mapping for individual listings.
No matter which destination I searched across the globe, Google Travel used the same 12 amenities to filter for every destination. This makes for a poor consumer experience, and some of the amenities are irrelevant based on the destination.
Available amenities for filtering rental results are as follows: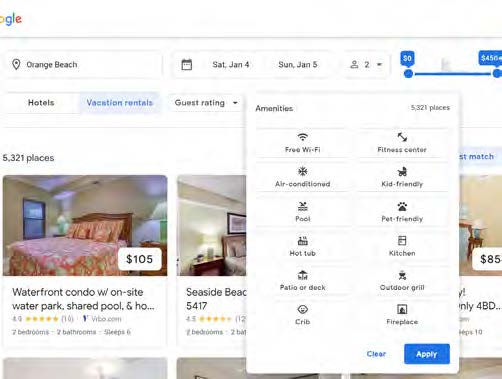 Free Wi-Fi
Air Conditioned
Pool
Hot tub
Patio or deck
Crib
Fitness center
Kid friendly
Pet friendly
Kitchen
Outdoor grill
Fireplace
Here is an example for Gulf Shores, Alabama, on Google Travel and what happens if a consumer tries to use these filters.
Original Query: January 18 arrival/January 21 departure; two guests = 4,746 rental results
Refined Query: January 18 arrival/January 21 departure; two guests + Air Conditioned = 3,626 rental results
Refined Query: January 18 arrival/January 21 departure; two guests + Kitchen = 3,219 rental results
Refined Query: January 18 arrival/January 21 departure; two guests + Crib = 9 rental results
If you have been to Orange Beach in July or August, you probably share my skepticism that there are really over 1,100 rentals that do not have air conditioning, 1,500 that do not have a kitchen, or just nine rentals for the entire destination that have a crib available.
Oddly, there is no refinement option for property type, such as condo or vacation home, and as you can imagine, there are other refinements that are much more relevant than air conditioning at ski and winter destinations; many winter destinations have heat but no air conditioning, and most travelers are eager to refine their search by proximity to ski lifts.
Sample Booking Experiences
When you click on a specific rental on the Google Travel search results page, you come to a Google Travel version of a property details page.
This page is a simplified version of what you might see on any vacation rental website and contains an image gallery, reviews, pricing, an oddly titled "about" tab (which is the property description), and a photos tab with all available images at a glance.
Original search parameters carry over to this property details page so that calculated pricing displays with a "Book Now" button in blue. This is where the consistent Google Travel experience ends. Depending on the integration partner feeding the inventory, clicking "Book Now" leads you away from Google Travel to a landing page from the inventory partner in a new tab.
Following the Book Now Button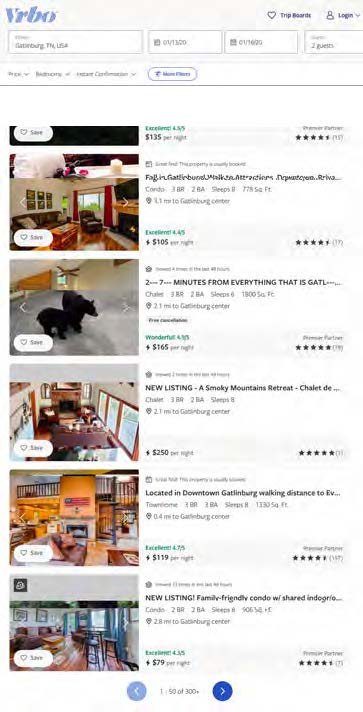 VRBO and Airbnb
Inventory being fed from VRBO and Airbnb yield similar experiences after you click "Book Now." A new tab opens and lands you on a search results page instead of a similar property details page where you can complete the booking.
The search results page has the property that you were reviewing on Google Travel highlighted as the first result, but then it has dozens of property listings below under a heading that leads you to believe that there are many more similar properties to review if you actually are not ready to book.

I found this experience the most confusing because most consumers click "Book Now" to either start the reservation confirmation process or to see further booking details like cancellation policies, terms and conditions, or other information relevant to making a decision.
My assumption is that both VRBO and Airbnb are trying to treat the traffic like organic traffic and drive consumers to use their platforms for additional research and clicks/ engagement rather than just a landing page to finalize a transaction.
I think there could be a better hybrid approach that allows the consumer to get the details they are looking for when they press "Book Now" while also giving them more options since booking funnels have notoriously high abandonment pages.
Conversions on Airbnb and VRBO that originate on Google Travel are subject to channel commissions, and the brand of the individual property manager was not visible.
Red Awning
Red Awning has a slight variation on the experience that VRBO and Airbnb provide in that after the consumer clicks "Book Now" on a property detail page on Google Travel, the new tab opens to a Red Awning property detail page obstructed by a modal urging the consumer to complete the booking process.
This is less c o n f u s i n g than landing on a search results page, but it felt a bit intrusive. Also, the modal lacks any branding, which makes it feel more like a phishing pop-up window.
Consumers cannot tell they have been brought to a Red Awning landing page until they close the booking modal and review the property details page, which has the Red Awning branding clearly visible.
However, dates and rates pass over to the Red Awning website and match what was displayed on Google Travel, making it simple to continue booking.
TripAdvisor/HolidayLettings
TripAdvisor and HolidayLettings have a similar approach to Red Awning without the modal pop-up, so once a consumer clicks "Book Now" on Google Travel, a new tab opens that lands the guest on a property details page from the respective aggregator website with TripAdvisor or HolidayLettings branding.
For my research, I searched for "San Diego vacation rentals" from the warmth of my home in Bend, Oregon, and, oddly, a US-based property manager listing was listed by HolidayLettings (a UK website). If I were ready to escape the cold and head south to sunny San Diego, I would not book on a UK website, so I am not sure this is the ideal channel to list this property for an American consumer.
This slight variation in experiences leads me to believe that Google Travel is still figuring out how to dedupe properties that may be in multiple integration partner feeds and choose the one ideal for driving conversion.
Rentals United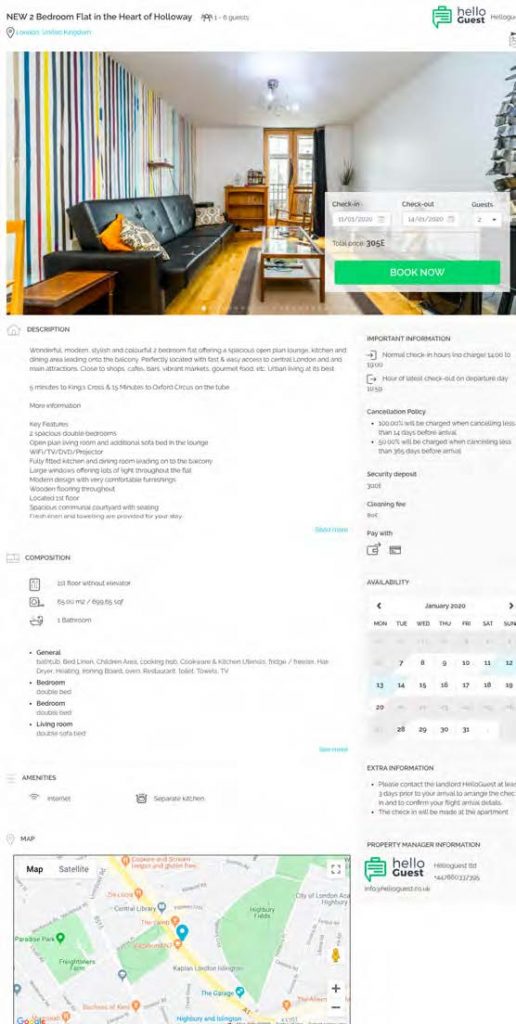 Rentals United had a unique experience: a landing page opens up after a consumer clicks "Book Now" for one of its listings on Google Travel.
Instead of providing a Rentals United–branded landing page, the tab opens a property details page with the arrival/departure parameters prefilled, pricing that matches that shown on Google Travel, the individual property manager brand in the upper-right corner, and messaging that the booking page is powered by Rentals United at the bottom.
This is clearly a win for the property manager because the actual hospitality company brand is hidden on Airbnb and VRBO listings throughout the entire journey. Consumers can finalize their booking or review more details on the Rentals United–powered property details page.
In this example of a potential consumer journey, the traffic from the original Google query never reaches an individual property manager's website, but there is brand attribution and a clear path for the consumer to finalize booking.
Rentals United and other channel managers taking a similar approach have yet to determine a pricing or commission structure for these bookings, and, as of now, they are free. But because they control the booking experience, it will be interesting to see when and if these bookings are made subject to a commission like other marketing channels.
NextPax, BookingPal, & Other Direct Integrations
The next version of the consumer journey and booking experience was similar for distribution clients of NextPax and BookingPal. NextPax and BookingPal are opaque partners on Google Travel, meaning the individual property manager brand shows on Google Travel throughout the experience instead of NextPax or BookingPal. Those channel managers are just powering the technology to feed the inventory but are not portraying themselves as consumer brands (in contrast to Red Awning).
This is an ideal setup for most property managers who want their brands front and center. The example I used for NextPax in this article was for the query "Denmark Vacation Rentals," and NextPax client Novasol was front and center in the Google Travel search results.
NextPax does not provide an intermediary, cobranded landing page and sends the traffic from Google Travel via "Book Now" to the property details page with the dates and prices prefilled on the property manager's individual brand website.
I can hear everyone cheering for this type of integration, but there were some challenges I did not experience during the previously outlined customer journeys.
For example, Google Travel knew I was in the United States and spoke English, and it used American dollars to display pricing, even though I was using incognito browsing for this research. Once NextPax passed me to the Novasol booking engine, I was brought to a page in German with pricing in Euros that did not match the page.
Because both BookingPal and NextPax rely on the technology of the individual property manager websites, they cannot ensure a seamless experience once the consumer is on the brand website. This responsibility falls to the individual property manager, so this experience is best for those who have invested in modern booking engines.
Tracking conversions on individual property manager websites and attributing revenue to Google Travel and your channel manager may be challenging under this model, and conversion rates will vary significantly based on the design and modernization of the individual property manager websites.
Cancellations, Booking Changes, and Issues
A model that charges commission per booking means there must be a path forward to address cancellations, changes, refunds, and other issues. As we all know, this is one of the most challenging aspects when using any channel management strategy. A great deal of manual work goes into cancelling bookings in your property management system (PMS) and on the channel to ensure refunds are processed. Ultimately, guests who are booking through Google Travel must cancel with the property manager or OTA directly because Google is just sending traffic. Rest assured that it is unlikely Google wants to get into the hospitality customer service business any time soon, which leaves that fun up to the pros, who are likely exploring a pay-per-click model that would allow for a much simpler path forward for everyone.
Getting Ready to Participate
Here are four key things to start thinking about as the Google Travel/vacation rental platform continues to evolve:
Organizationally, it has never been more important for your e-commerce/digital marketing and revenue management/ channel management teams to be on the same page. In the near future, I predict they will work together to optimize listing placements on Google Travel.
Do you have a pay-per-click budget? How do you recognize those costs versus channel costs? Many property managers pay commissions to OTAs and intermediary channel managers before they split revenue with the owners, but they often eat the cost of their pay-per-click budget. With this channel likely to drive a tremendous amount of web traffic and revenue for eager participants, start working on a strategy to handle this with your finance team.
Do you have a team member who is up to speed on the latest pay-per-click strategies? If not, then you must start interviewing potential professional partners or candidates for an internal search engine marketing specialist.
There has never been a better time to make sure your property images are high resolution, professional, and in the right order. Nothing jumps out like a bad photo on the first page of Google search results.
If the predictions come true and Google Travel ends up using a pay-per-click model, the opportunities are endless to use this channel to boost new and struggling properties and minimize costs on high-performing rentals. You will need to be dynamic on this channel and not just with your pricing. It will not be "set it and forget it" like other OTAs that charge a flat commission per booking (at least not if you are smart and capitalize on the opportunity).
Getting Listed on Google Travel
You have probably already seen some of your rentals on Google Travel via VRBO or Airbnb, but if you are eager to list your rentals directly, there are a handful of channel managers that are partnering with Google, most of which I have detailed above.

Rentals United, NextPax, Red Awning, and BookingPal all have integration with Google Travel, but all of them are at different stages in the partnership. Most of them have stated they are testing a few key markets with key clients before they onboard new clients.

Rentals United was the only company I spoke with that openly agreed to onboard new clients to Google Travel.

It is worth speaking to each one about its Google Travel program and understanding costs, the consumer experience it plans to offer (directing traffic to your website versus an intermediary booking page), and its timeline before you make any final decisions.

It is likely that PMS platforms will also start building integrations to Google Travel shortly, including PMS systems with integrated, direct channel manager modules such as MyVR, Guesty, Streamline, and Direct.io.

Google is already on the third version of the Google Travel API and is clearly investing in the short-term/alternative accommodations space. It is trying to optimize its revenue potential while delivering rich, relevant search results to consumers.

There is still much to learn for the Google Travel team, and it will continue to iterate to optimize conversion. I believe each of the potential guest journeys on Google Travel has merit, and it is in the best interest of consumers/travelers to know what brand will be checking them in, hosting their stays, and addressing issues that arise. The only way this will be the evolution of Google Travel is if individual property managers invest in their brand websites, optimize the mobile booking experience, and iterate on their booking engines to maximize conversion.

Now is the time to invest in your people and partnerships and reorganize your teams for the future by breaking down internal silos and ensuring you have one revenue-generating team that is on the same page, makes decisions based on consistent data, and optimizes all of your channels.

To take a deeper dive into how Google Travel is shaking up the marketing funnel. Amber will be speaking on this topic at the upcoming VRM Intel Live events in Destin (January 23) and Gatlinburg (Feb 26).

<!-comments-button-->