Lifecycle Marketing is the practice of communicating relevant information with prospects and customers according to their behavior or interaction with your business with the objective of delivering the right message to the right audience at the right time.
The most valuable and cost-effective tool in lifecycle marketing is the use of automated or triggered email messaging, a.k.a. Lifecycle Messaging.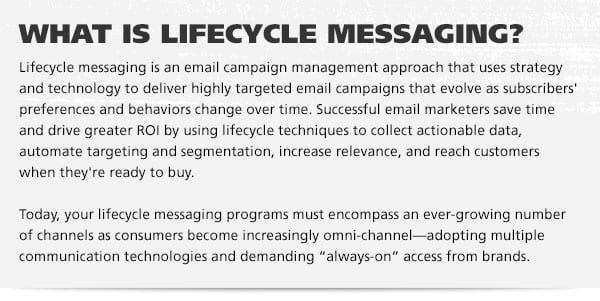 By setting up triggered/automated lifecycle email messaging, you can segment and communicate timely, relevant information to leads and guests according to:
Customer status
Purchasing habits
The amount of time guests/leads have been engaged with your company
The amount of time guests have been staying in your properties
And much more!
Build deeper, more substantial relationships and encourage future stays by sending relevant, useful and timely information based on customer behavior.
How Lifecycle Messaging works
Lifecycle Messaging assumes certain segments of your guests follow a somewhat predictive booking path at your properties.

Different customer segments have varying purchase behavior (i.e. large groups require more planning time, and couples within 150 miles are more capable of making last minute trips.)
5 Steps to Setting up your Lifecycle Messaging Strategy
1. Identify customer segments
2. Use your data to analyze common purchase paths
3. Create an email communications strategy
4. Automate email messaging
5. Test and track
Let's look at these steps more closely.
1. Identify customer segments. For leads, identify the marketing channel.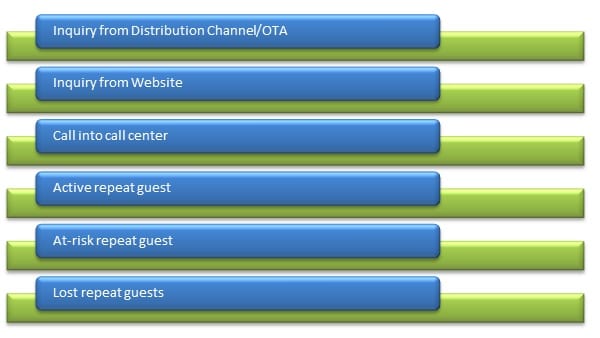 2. Analyze the common purchase path for that group.
3. Create an email communications strategy with meaningful messages which reaches the customer at critical points in their booking and re-booking path (i.e. research, planning, decision, reservation, stay, rebooking, re-engagement).
4. Automate email messaging with timing based on behavior.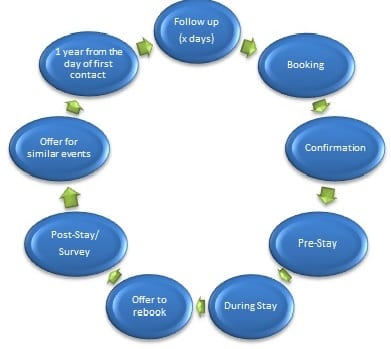 5. Test and track.
There are several variables in email marketing that can always be tested and optimized, and you never want to make a mistake like having a broken link in one of your best performing campaigns. Make sure you are revisiting your automated lifecycle campaigns on a regular basis.
Here are a few tips that will allow you to continue to optimize these automated lifecycle campaigns and have them perform even better for you:
Test Subject Lines
Update Creative
Update Content
Test Timing
Once you start setting up your Lifecycle Messaging, you will have capacity to get more creative with other Lifecycle campaigns, such as a birthday triggers, events, anniversary triggers, customer status triggers, etc., to foster higher engagement, not to mention brand and customer loyalty because the content is relevant and timing is based on a subscribers' action or inaction.

By Amy Hinote

<!-comments-button-->