As most vacation rental managers enter their early fall off-season, the industry is seeing an avalanche of discounts and special offers for vacation rentals.
However, the decision to discount isn't as simple as changing a page on the website.
In the vacation rental industry, there are only two reasons to offer discounts:
1. If it results in more revenue.
2. If it is necessary to provide your homeowners with additional occupancy for one reason or another (i.e. contractual obligations or to fulfill occupancy expectations).
3 considerations when creating discounts for vacation rentals
1. How does this special/discount affect your reservations team and front line employees?
Often a discount of special offer is created, and your reservations agents and front desk team are the last to know, which creates these pain points:
Little or no information has been provided to enable your team to respond to inquiries
No chance to double check open and close dates
No chance to check rate or promo codes
No chance to review and implement sales strategies
Impossible to ensure a high-quality guest experience -"if you tell me at 3pm that a deal launched at 9am that day, I could have avoided giving a 'sorry, I don't know' response to everyone!"
2. How does this special/discount affect your loyal customers?
A vacation rental manager's loyal customers are by far their biggest asset, their most lucrative leads, and their biggest ambassadors and referral sources.
Loyal customers have historically been content to pay the rack rate as long as there is nothing blatantly better priced for them out there. If, for example, they receive an email from an un-checked and un-filtered mailing which promotes a discount significantly less than their previous rate, there can be consequences.
According to one manager, "Your loyalty has just been blown out of the water and chances are the next time they will call to book and find out if a cheaper rate is available. Or they will question rates and start shopping your competitors for a better deal."
3. How are you promoting your vacation rental offer?
In most cases property management companies advertise their special or offer via their website and in email campaigns. But a big part of the goal of creating an offer is to get new customers.
Therefore, using additional channels to promote a discount can help you reach your goals more effectively.
Use PPC/Adwords and Create Landing Pages 
Use distribution channels.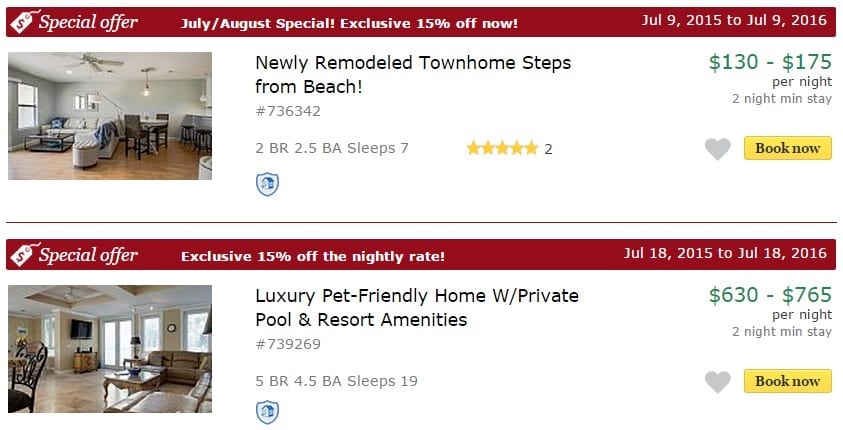 Segment your email campaigns to avoid sending to certain segments of past guests.
Tips for creating special offers
Articulate why a discount is being offered.
Set a goal for performance.
Think through how staff is affected.
Consider how loyal guests will react.
Determine which channels will be used to promote the offer.
Decide how the email list will be segmented (i.e. Leads and Guests who haven't booked in 18 months).
By Amy Hinote

<!-comments-button-->