By Amy Hinote, NAVIS
The Subject line of your email campaign is the first thing your reader sees and can mean the difference between being read and being dumped.
There are other factors which affect open rates, such as:
List quality
Frequency
Sender
Nature of the message
However, the Subject line can make or break your email effectiveness. Here are 8 tips for writing successful subject lines.
1.       Keep it short.
Keep your subject lines simple, to the point and under 50 characters.
2.       Don't be vague.
Tell your reader exactly what is in the email.
3.       What is in it for them?
Provide the reader with a reason to explore your message further. Choose clarity over cleverness.
4.       Do not use these words.
Most marketers know words such as "free" trigger spam filters, but recently email service provider MailChimp published the results of their study on the relationship between open rates and subject lines, analyzing the open rates for over 200 million emails. The study found a negative open rate correlation with the following words:
Help
Percent off
Reminder
Email solutions provider iContact published a more expansive list of words not to use in your Subject line: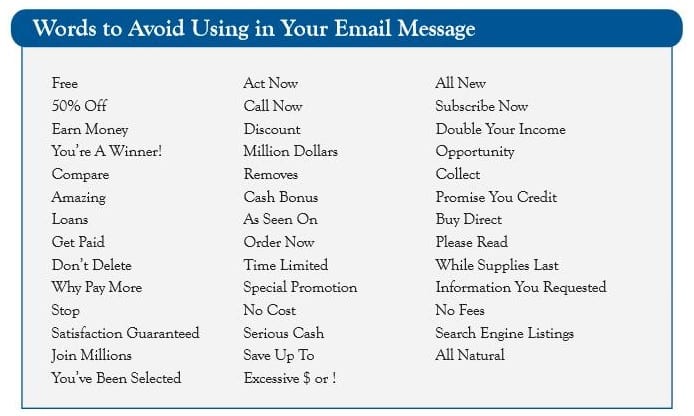 5.       Keep it local, not personal.
The MailChimp study also found personalization, such as including a recipient's first name or last name, did not significantly improve open rates. However, providing localization, such as including a city or region, had a positive impact.
6.       Avoid newsletter drop-off.
When you first begin sending a newsletter, open rates can be attractive. However, according to the study, all newsletters experience some reduction over time. If you send a newsletter to your guests, keep content new and relevant, and change the subject line.
"While it is important to establish continuity and branding in a newsletter, ideally each new campaign should provide a clear indication in the subject line of what is inside this newsletter that is of interest."-MailChimp
7.       Tone down promotional emails.
As in any other medium, promotional emails don't perform as well as emails where the reader has a "high level of emotional affinity or expects valuable and timely information."
No exclamation points!
No ALL CAPS
No splashy promotional phrases
Tip: "Subject lines framed as questions can often perform better…Vague teasers, constant reminders, and pleas for money are not going to cut through the inbox clutter. When it comes to subject lines, don't sell what's inside. Tell what's inside."
8.       Take the time to test.
Even though the tips above are known as general best practices in Subject line composition, by testing you will learn what resonates well with your particular guests.
One way to test is to divide your list in half, with half receiving one subject line and the other half receiving the second subject line. The results are then applied to future subject line creation (i.e. some audiences engage better with subject lines that are more catchy and clever than those that are to-the-point).
Another way to test is to send two subject lines at the same time to a portion of the list (maybe ¼). 24-48 hours later, you will know which subject line was more successful and can send to the remaining ¾ of your list with the winning subject line.
Here is a helpful infographic from Autoloop demonstrating some of the tips referenced above.

<!-comments-button-->