In light of recent changes in the regulatory environment, at HomeAway, and across the industry, VRM Intel is hosting an informational and educational event for vacation rental professionals on February 5th at the Perdido Beach Resort in Orange Beach, Alabama.
With 13 sessions between 8:00 am and 5:00 pm, 22 speakers will discuss industry shifts, marketing, profitability and the acquisition environment.
The cost is $129 per attendee. (Note: This event is sold out, but we are meeting with the venue to try to increase capacity. Email amy.hinote@vrmintel.com if you would like to attend but have not yet registered.)
Sessions include:
Vacation Rental Industry Changes and What's in Store for 2018 with Ben Edwards, Newman Dailey; Lino Maldonado, Wyndham Vacation Rentals; Jason Sprenkle, 360 Blue; Paul Wohlford, Resort Collection
Unfiltered: The Real Cost of Working with OTAs and 3rd Party Channels in Light of Recent Changes at HomeAway and Other Listing Sites
Steve Milo, CEO and founder, VTrips & Vacation Rental Pros
Converting Online Shoppers: Website Design & Usability Tactics with Brandon Sauls, CEO, ICND Using In-house Damage Waiver Programs to Grow the Bottom Line
Balancing Direct and 3rd Party Bookings: How to Leverage Changes at Channels to Grow Direct Bookings with Peter Scott, President, Bluetent
2018 Acquisition Environment on the Gulf Coast with Ben Edwards, VP, Newman Dailey, founder Weatherby Consulting, former president, VRMA
2018 Rental Regulatory Environment with the Baldwin County Association of Realtors and Panel
Building Revenue with In-House Accidental Damage and Bed Bug Remediation Programs with Laird Sager, CEO, Red Sky
Getting the Most out of Property Management Software and New Technology with Doug Macnaught, Managing Partner, VRM Consultants & co-founder, Instant Software
Staffing Challenges: Finding, Training and Retaining your Workforce with Sue Jones, CEO and founder, HR4VR and KLS Group
Communicating with Owners for Inventory Acquisition and Retention: Using Your Internal Data and Performance to Communicate with Owners with Jeremiah Gall, founder Breezeway and co-founder, FlipKey
2018 Industry Partner Updates: Credit Card Processing, Smart Home and Channel Management with Ascent, Lynnbrook, Kaba, PointCentral, Lexicon Travel and RedAwning
2018 Revenue Management Strategies and Comparative Data with Kameron Bain, Director of Operations, Beyond Pricing and Jason Sprenkle, 360 Blue
Profit-Driven Housekeeping and Maintenance with Steve Craig, CEO, Pro Resort Housekeeping and founder, Vacation Rental Housekeeping Professionals
In addition, vacation rental technology companies and service providers are coming to town, including: Xplorie, Red Sky Travel Insurance, Ascent Procession, Beyond Pricing, Bluetent, Breezway, Ciirus, CSA Travel Insurance, Dormakaba, ICND, Lexicon Travel, LiveRez, Lynnbrook, NAVIS, PointCentral, RealTech, RedAwning, Streamline Vacation Rental Software, and Virtual Resort Manager.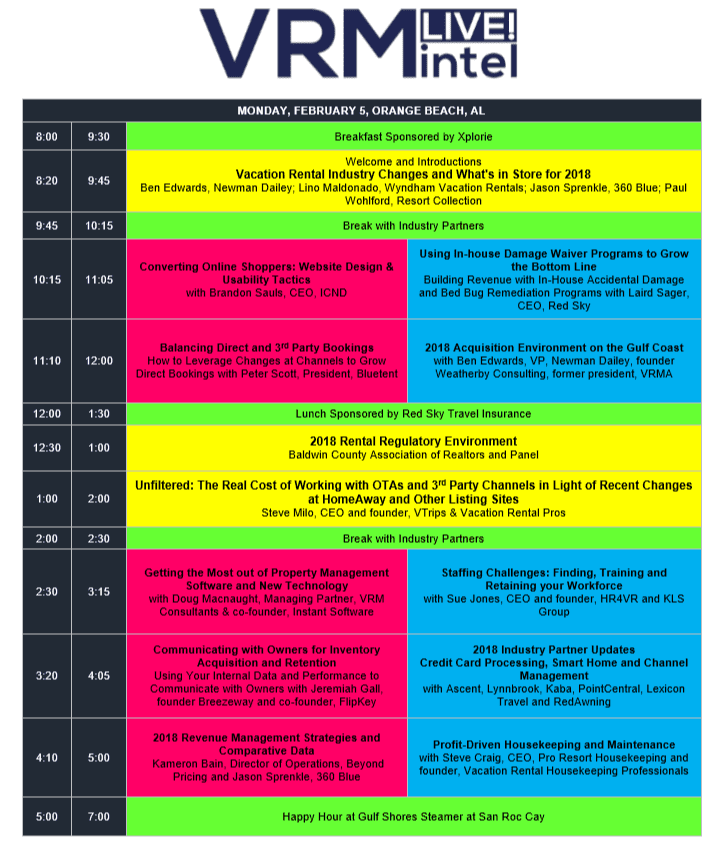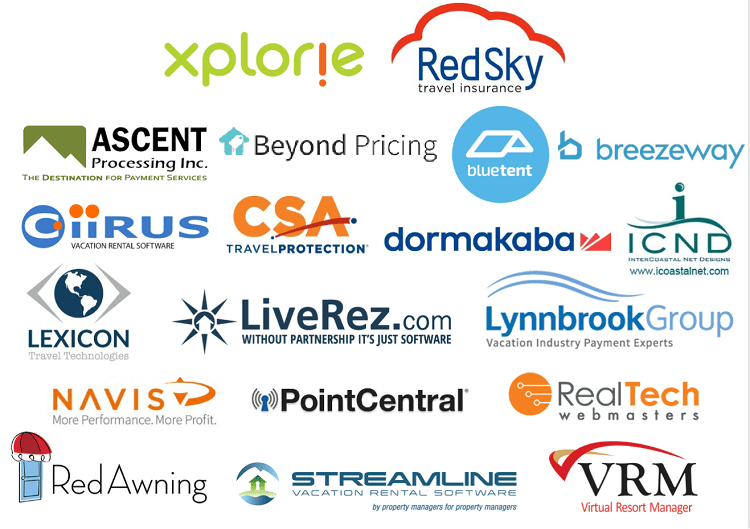 <!-comments-button-->