We are all drowning in data, and most of us do not want to admit out loud that we aren't quite sure where to start or even what data matters most. Don't worry, everyone is in the same boat, and the truth is that there are new data opportunities all the time, so your data strategy should be focused but flexible and constantly evolving.
Web analytics are a great place to start when taking a fresh look at what is going on with your business. Google has many different products these days and has rebranded its platform as the Google Marketing Suite, including both its enterprise (paid) and free versions of Analytics, Tag Manager, Survey, Optimize, and Data Studio.
One of the most powerful sets of data you can analyze going into the 2020 season is your website booking funnel. Hopefully your webmaster has set up a goal in Analytics to track the different pages encompassing an online booking, but even if that is not set up, all is not lost.
On average, most vacation rental websites convert less than one percent of website traffic into online bookings. That is not a typo, and the number becomes even more alarming when you segment mobile traffic to less than .5 percent of traffic that converts on a mobile device.
A great goal for your 2020 website is to double online conversions on both full-size browsers and mobile devices. That may seem like a stretch, but it is achievable and something that your revenue-generating teams can work on together that is measurable and highly impactful for your brand and guest experience.
Here is a list of items to analyze related to the booking process that can get your team thinking about a website conversion strategy heading into 2020. Remember, the booking process starts on your property details page. Given that most vacation rental websites present the full price on the property details page, that is the first page of your booking funnel and probably where you are losing 80 percent–plus of your opportunity.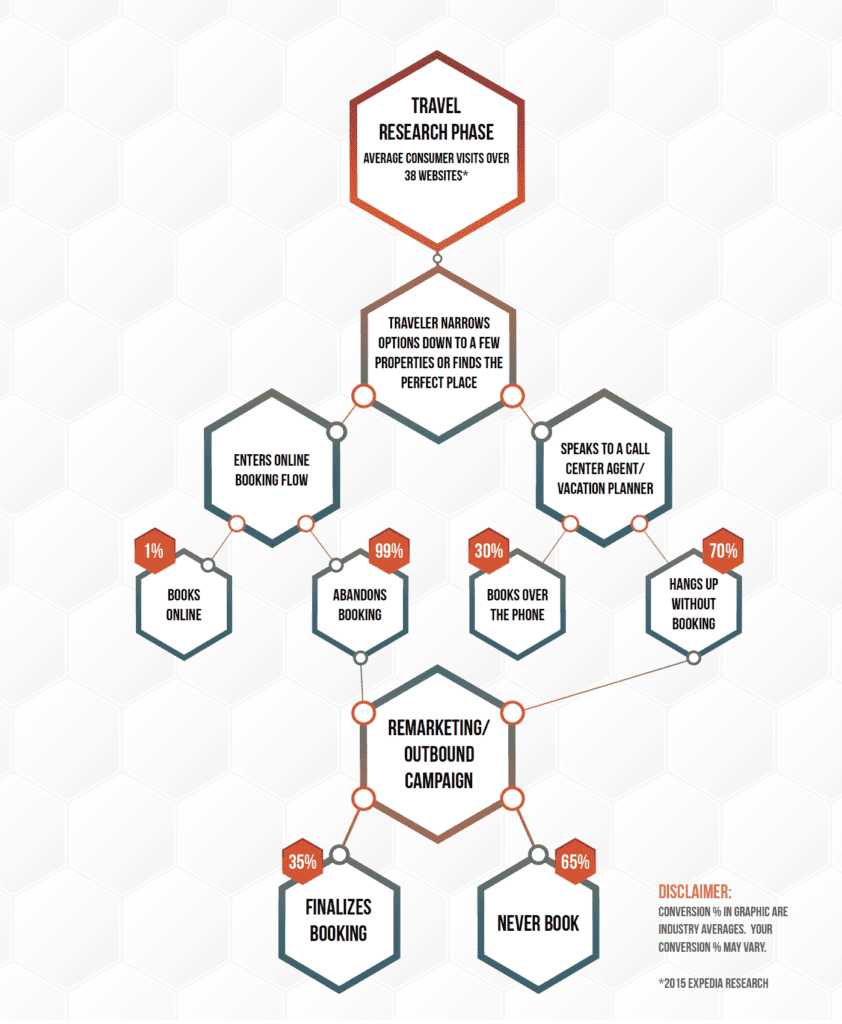 Do your fees have clear descriptions with tool tips that help explain why they are being charged? No one wants to pay random, unexplained fees.
If you show the entire price on the property details page, do you also display the amount required to book online today? If not, then most consumers will assume that you expect full payment when booking online.
Are cancellation policies hidden in the terms and conditions? Being clear about your cancellation policy is so critical in driving online conversion that some OTAs even put the cancellation policy for each property in the search results. Burying your policies in a long, legalese terms and conditions box can make even excited buyers hesitate.
Are you hiding the company phone number in the booking process to try to drive more online bookings? Stop doing that immediately. Even Google has emphasized that making the booking process as easy as possible will drive the highest conversion. Why do you care if the booking occurs online or over the phone, as long as you get the booking? And for most of you, your phone channel converts at over 30 percent, so if you can get them interested in a property and on the phone with an agent, the likelihood of converting the lead will be much higher than it would be if you leave them doubtful and confused on your website.
Google has added a lot of functionality during the last year to both Analytics and Optimize. Optimize is a tool that your team may not be using, but it's free and incredibly powerful! In the past, Optimize was only an A/B testing tool allowing you to measure the effectiveness of different page designs to help measure messaging or design changes that would lead to better landing pages or higher goal conversion.
Optimize can now be used to provide a personalized site experience! That's right, you can segment traffic and show different personalized content on your website, such as specific promotions based on geographic location or marketing source. The code is simple to install, especially if your webmaster uses Tag Manager. Once you have the code installed on your website, your team can get creative with testing personalized content without expensive third-party tools. A 2017 study commissioned by Salesforce showed highly promising results whereby personalized recommendations and content increased conversion by as much as four times.
In the world of Analytics, there is so much more to the tool than the out-of-the-box reports most of us are familiar with when we review website benchmarks. One of the most underused free tools in Analytics is called Custom Dimensions & Metrics. Free accounts can set up 20 custom dimensions and 20 custom metrics.
Here are some examples of what can be measured with Custom Dimensions & Metrics to get your team thinking about what to ask your webmaster:
What are the dates and length of stay being searched on my website?
How many properties am I returning in search results for different queries?
How many different searches/dates do my prospective guests usually search before entering the booking funnel?
How many properties do my prospective guests usually review before entering the booking funnel?
Depending on how high your website traffic is annually or how many dimensions and metrics you want to measure, consider upgrading to the paid version of Analytics so that you are not getting results from a limited data set.

Once you have this data in hand, the questions your team can answer are endless. Instead of only knowing what dates are being booked (conversion data), you will have the dates being searched (demand data) to help you make more proactive revenue management and marketing decisions.

If I had to pick just one thing to tell all of you to implement as soon as possible that would have a huge impact on your business going into 2020, it would be to try shopping cart abandonment (with a twist). It's called shopping cart abandonment because it was developed in the online retail industry to drive conversion from the high number of "abandoned carts." In the travel space, we generally just have a booking flow and not a true "cart" experience, but the premise is the same. We want to take the consumers that enter your booking funnel but do not complete the entire booking process and remarket to them to help drive conversion. Considering that more than 97 percent of the prospective guests entering your booking flow probably abandon, this is a huge opportunity to capture lead data that would otherwise remain anonymous, engaging your entire revenue-generating team (revenue management, sales/call center, and marketing) to drive conversion.

The one caveat to retail is that to truly optimize your abandoned cart strategy, you also need to have a property details page abandonment element. Given that we show the full pricing on the property details page, a large percentage of abandonment occurs there instead of in the booking funnel, and if you don't have a strategy to capture abandonment on the property details page, you are losing a large percentage of leads. Property detail page abandonment performs at 10x or more of cart abandonment in the vacation rental space, although data is limited, based on the small number of managers who implement this solution.

Once you have the abandoned property details page and cart data, your marketing team can set up remarketing email and social media campaigns, your reservations team can perform highly effective targeted outbound campaigns, and your revenue managers will have invaluable data they can use to spot patterns with conversion issues.

Abandoned cart leads in the vacation rental space convert at approximately 35 percent or more when teams are cross-functionally engaged.

Don't take my word for it on all these suggestions. Do the math on what would happen if you doubled online booking conversion and if you supplied your reservations team with more leads from traffic you are already generating. The return on the investment is huge, and these are all highly actionable strategies.

<!-comments-button-->