Hurricane Florence
Hurricane Florence made landfall near Wilmington, North Carolina, on Friday, September 14, then inched its way west into South Carolina as a tropical storm later that day. By Saturday morning, more than a million people were without power across NC and SC. The immense size and slow speed of the storm dropped a record 33.9 inches of rain on areas around the Carolinas over the next few days.
Flooding continued nearly a week later as some rivers had yet to crest, and 750 roads remained closed, including sections of I-40 and other major thoroughfares. Wilmington remained largely waterlocked by the Cape Fear River, thousands of its residents left without power. Meanwhile, the floodwaters swept dangerous bacteria and toxins out to sea, causing several beaches to issue swimming advisories for poor water quality.
All along the Carolinas' coastlines, unclear timelines in the effort to restore power, water, and other utilities had many property managers unsure of when they could reopen, and, in some cases, if they'd even have rentable properties to return to. News coverage and drone footage of the hardest-hit areas showed roof damage, flattened oceanfront dunes, and splintered decking.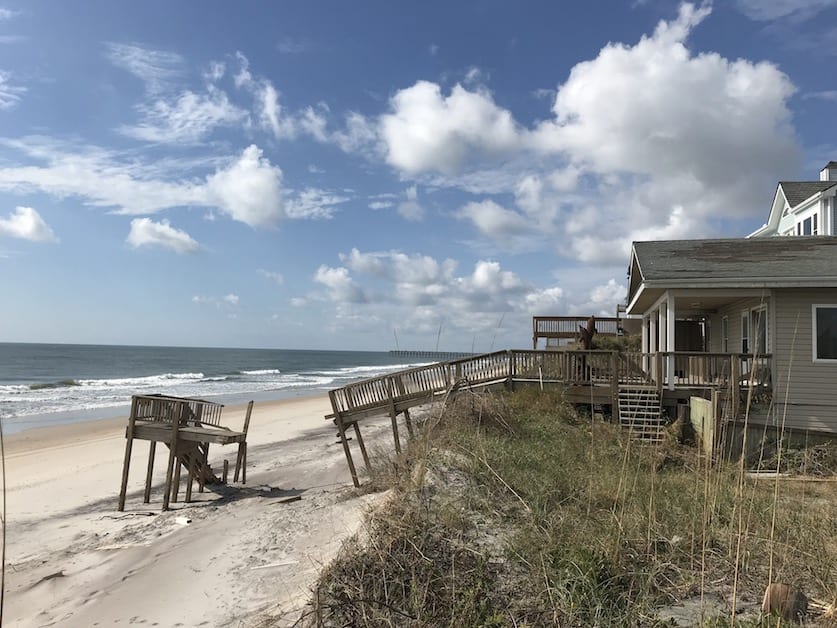 Kure, Wrightsville, and Carolina Beach began recovery slightly faster than Wilmington, and access reopened to the public throughout the week after the storm, but according to many of their updates, property managers were still in the dark.
South of Wilmington, Oak Island Accommodations was among the companies that had to close without any idea of when they could reopen. Its September 19 website update read:
Our entire office building was flooded during Florence and at this time we have less than 10 staff members in the area. There is a shortage of food and gas on Oak Island and surrounding areas, which is also delaying efforts to begin assessing homes.
Those staff members who have been able to return from evacuation areas worked today to begin the clean up process in our office. As soon as we have an operational office and our full staff are able to return after rivers have crested and routes are less hazardous, we will begin the assessment process. Once the assessment process is complete we will reach out to guests by email with further updates.
Oak Island Accommodations vice president Melaney Robbins said, "We are working remotely in all corners of the state, updating our Facebook pages, website, OwnerWeb, and answering voicemails and emails as best we can." She evacuated her family to Boone, NC, and as of Tuesday the 18th, she had not yet been able to return to the island.
Sewer service was fully restored on September 28, the swimming advisory was lifted on October 2, and Oak Island's guest services team was able to begin taking check-ins back in the main office on October 17.
Areas farther away from Wilmington, including the Outer Banks and Myrtle Beach, were spared the brunt of the storm. Sloane Realty Vacations in Ocean Isle Beach and Sunset Beach, about 30 miles west of Oak Island near the NC-SC border, reopened after a seven-day evacuation. "Due to the significant flooding and road closures, some guests were unable to return or arrive immediately after the storm passed. However, we are fortunate that many guests were able to find open routes to our area to enjoy their vacation," said Whitney Sauls, the company's general manager.
Moody's Analytics estimated that Florence caused $17–$22 billion in damages.
Hurricane Michael
Less than a month later, Hurricane Michael struck the Florida Panhandle as one of the strongest storms ever to hit the United States. The fast-moving category 4 storm carved a path of destruction through Mexico Beach and Panama City, wiping out entire neighborhoods before moving into Georgia as a category 3 storm and into the Carolinas, where it dumped more rain on still-soaked ground. As many as 1.2 million people in the Southeast lost power, and the widespread damage is estimated to have cost $14.6 billion.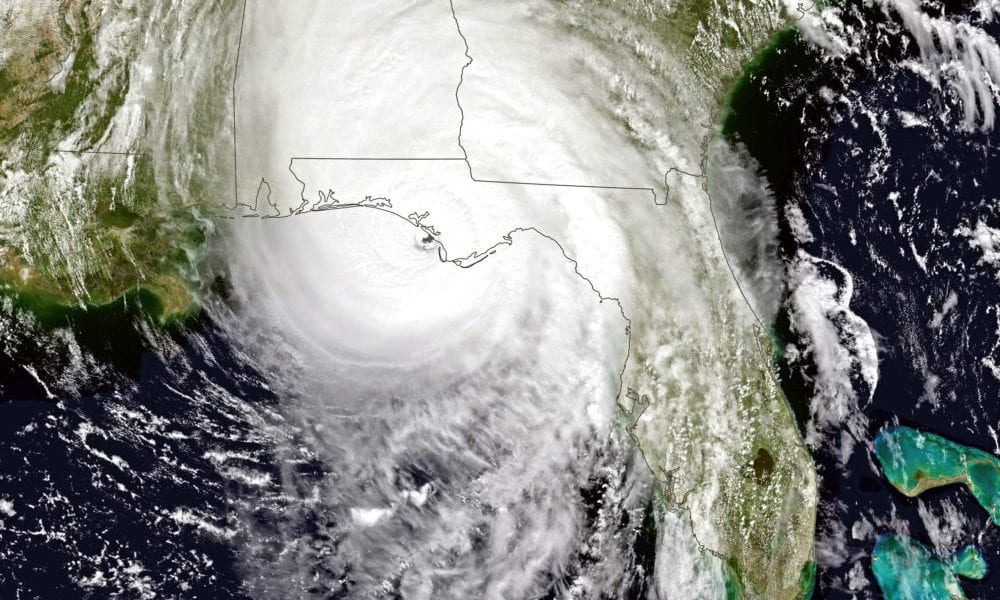 As Thanksgiving approached a month later, VRM Intel spoke with Annie Holcombe, director of account management for BookingPal and a Panama City resident. At the time, the power grid still hadn't been fully restored, and cell connectivity was hard to come by. She hadn't yet been able to reach any of her property management clients.
Holcombe was one of the lucky residents, having moved into a newly built neighborhood the year before that withstood the brunt of the storm. Others weren't as fortunate; some residents were living in tents or cars because their homes had been condemned or razed off the map entirely. Although it had been weeks since Michael made landfall, FEMA was quick to leave and contractors were slow to arrive—crews were still working to clear roads and stabilize power lines. With every day that passed, more homes were condemned, leaving families with no place to store their belongings. The community rallied around its members, and Holcombe initiated a bin drive to help those families store their treasured belongings.
By November 12, she had helped more than 50 families and distributed more than 400 bins, each one coming with a mandatory hug. "I've hugged more total strangers in the last month than I could have ever imagined. I'm getting as much out of it with just a hug as they are with bins," Holcombe said.
Six weeks after we spoke, Holcombe and other members of the hardest-hit communities were still posting daily with recovery questions, needs, and bits of positive news to keep spirits up. In Mexico Beach, three restaurants had reopened with limited capacity, a temporary welcome center had opened next to its original office, and crews were focused on structural repairs rather than stabilization.
In early January, nearby St. George Island was mostly cleaned up. "Overall our local market fared relatively well, especially given the disastrous impact on our neighbors to the west," said Cutler Edwards, marketing director for Resort Vacation Properties of St. George Island. "Most of the damage to inventory in the area was relatively minor: roofs, soffit, vinyl siding, windows and doors, staircases, and flooding in ground-level rooms and homes, or sand underneath that had to be removed. There were only a few homes that experienced catastrophic structural damage. We were very lucky here." About 80 percent of their inventory is available for rent, and they expect the majority of the remaining 60 properties to be ready for spring break guests.
"The island itself is quite resilient," Edwards said. "One local landmark, Harry A's, is still rebuilding with a target of opening in March, but the other restaurants and shops are all back open. Cleanup is largely complete, and the Dr. Julian G Bruce State Park, an important part of the Island, is making great progress to reopen in early February. Our neighboring communities of Apalachicola and Eastpoint, although not without damage of their own, are back in full swing too, with fresh seafood on the tables, cold drinks pouring, and boutiques and galleries open."
Still, recovery just a few miles west in Mexico Beach and Panama City will be long and slow. At the time this article goes to press, Holcombe may still be waiting on her roof repairs.
Lessons Learned
Hurricanes are nothing new in many coastal vacation rental markets. But as vacation rental managers and DMOs learn new lessons with each storm, the industry's response in the aftermath evolves.

Missy Zak, marketing and account manager at Ascent Payment Processing, was in property management with Meyer Vacation Rentals when Hurricane Ivan hit Florida and Alabama in 2004. The company had emergency management protocols in place to assess and handle damages as well as keep as many new and existing reservations as possible, but losing 400 homes in the storm was a significant blow. In the company's efforts to get revenue coming in again, the timing of marketing messages may have been clouded by perspective.

"Because we saw the damage from 'ground zero' on a daily basis, any improvement was noted by us—the locals," Zak said. "So, when infrastructure started getting reestablished, we started renting to construction and FEMA workers. As more progress was made in the first few months after the storm, we were so excited, as locals, to welcome our guests back. In our eyes, it was such an improvement that even with steady construction we thought the area was ready to receive guests. I believe we were a bit premature with marketing that the beaches and area were ready to host guests—because it looked like such an improvement to us but still looked like a construction site or war zone to others."

The effects of this lasted for years. Zak said that even as they tried to accommodate as many of the loyal snowbirds as they could, they didn't set the right expectations. In the years following, the company noticed that the same group of visitors tended to split their time between multiple destinations. "We learned quickly that we needed to paint the most accurate picture possible."

In addition to not letting a numbness to reconstruction impair your assessment of whether or not the area is truly ready to host guests, Zak advises property managers now to be the resource. "Communicate with your owners, your guests, the media, the community, but most importantly, your team. Provide scripts and update as needed, depending on the status of your inventory. You must all be on the same page and tell the same story as accurately as possible."

Mike Harrington, founder of Carolina Retreats, is in the midst of this process now in Topsail, NC. While the local businesses and government entities bounced back relatively quickly after Florence, home repairs remain ongoing. "Overall, everyone is taking it one step at a time with an eye toward being back at full strength by next spring," he said. This time of year, most of the inquiries they get are no longer about area conditions, so now his company's focus is on painting the right picture for the season ahead. "The vast majority of our guests understand the process, and we are only marketing properties at this time that we know will be in tip-top shape by the time the season rolls around."

Harrington's takeaway from Florence is about minimizing risk ahead of time. "While market diversification was always in the back of my mind, this has revealed a real case for not having all your eggs in one basket," he said. "Since the storm, we have expanded to an adjacent market about an hour away through a couple of acquisitions. That market did not see anywhere near the damage Topsail Island saw during Florence. It goes to show that with hurricanes, which are our main natural threat, 30 to 40 miles between markets can have an enormous difference with potential damage. Our take, especially now, is that finding ways to spread inventory around through adjacent or semi-adjacent markets is a new reality in risk management for our business in the long run."

For the team at Resort Vacation Properties of St. George Island, Hurricane Michael reinforced the importance and strength of their existing disaster response protocol, but also gave them an eye-opening look at how much worse the disaster could have been. "Hurricane Michael largely reinforced things we already knew and confirmed the importance of the disaster response protocols we have in place, but nothing we had in place would have been effective had the eye come 25 miles closer. We will be developing scaled responses based on strength and impact for our upcoming storm season," Edwards said.

He noted the importance of proper preparation, not just of property management teams and processes, but of homeowners and vendors, too. "Working with property owners ahead of time to keep up-to-date information on insurance policies and agents, and whether an owner wants RVP to coordinate repairs or will handle it personally, gets recovery happening much more quickly. We did not have in our plans who would coordinate the repairs after the storm. This will now be added," he said. "Of course, it's important to nurture strong relationships with contractors and vendors so that when everyone in the area is clamoring for help and repairs, we can rely on our trusted partners. And for homeowners – get storm shutters installed and have them serviced twice a year."

Edwards also stressed properly prioritized communications. "It's also crucial to have clear, consistent communication with both owners and guests throughout the storm, and email, phones, and social media all play a role. Change your messages and web site daily with updates, but don't feel you have to start answering your phones unless you are ready. Owners have to be taken care of first and will need a direct line to call in on to reach you. Guests can wait. Only worry about guests who are due in right away, and call or email them. Direct everyone else to your website. We tried to take care of everyone at the same time and that just does not work. You need to be in control, not your owners and guests."

Herb Malone, president and CEO of Gulf Shores and Orange Beach Tourism, has seen hurricane recovery play out in cycles since Hurricane Frederic hit the Alabama–Mississippi line in 1979. At the time, he was on a local volunteer fire department, but when Ivan hit, he had been the head of the tourism organization for 15 years.

Typically, hurricane recovery is a four-year process, he said. "You get hit in year one. Year two, you rebuild. It's year three before the destination is fully open for business and the tourists start to come back…You can say in year four, 'We're back bigger and better than ever before.'"

His long-term view lends itself to optimism. He sees storms as a "mass urban renewal" as older homes get wiped out and replaced by new and modern properties with better values and better yield. He's watched as communities have been strengthened more by reconstruction than by tourism, and he's seen a net population gain as contractors and other workers who came temporarily decide to stay permanently.

Malone's lesson is simply to be open to lessons. "We always do a critique afterward. We know there will always be a next storm; we just don't know when. Develop disaster plans—operational and marketing. Plans have to be fluid because there's always something new that you didn't dream would happen, but it happens."

<!-comments-button-->