This week, Knoxville-based Greater Sum Ventures (GSV) announced to its Vacation Brands and Property Brands teams that it has combined its short-term and long-term property management companies into a new brand—Inhabit IQ.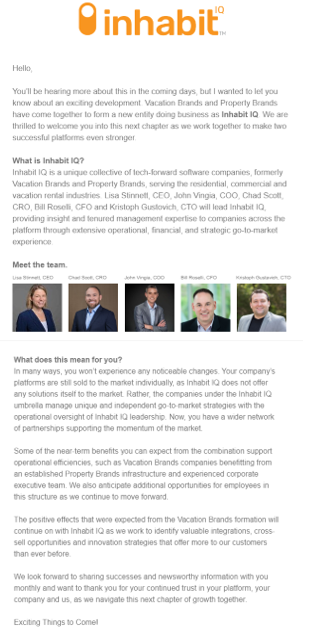 According to an internal announcement, "Inhabit IQ is a unique collective of tech-forward software companies, formerly Vacation Brands and Property Brands, serving the residential, commercial and vacation rental industries."
Over the last year, GSV led a private-equity-funded rollup, acquiring majority stakes in large technology companies and service providers in the professionally managed vacation rental industry (including Streamline Vacation Rental Software, Bizcor, Bluetent (which purchased Visual Data Systems), Rental Guardian, Virtual Resort Manager (VRM), iTrip Vacations, and LiveRez).
Initially, GSV aggregated these companies under a short-term rental umbrella known as Vacation Brands. GSV led a similar initiative in the long-term rental management industry under the Property Brands label.
According to the email, "Vacation Brands and Property Brands have come together to form a new entity doing business as Inhabit IQ,"
The announcement named a new leadership team:
Lisa Stinnett, CEO
John Vingia, COO
Chad Scott, CRO
Bill Roselli, CFO
Kristoph Gustovich, CTO

According to its email, this team "will lead Inhabit IQ, providing insight and tenured management expertise to companies across the platform through extensive operational, financial, and strategic go-to-market experience."

The announcement added, "In many ways, you won't experience any noticeable changes. Your company's platforms are still sold to the market individually, as Inhabit IQ does not offer any solutions itself to the market. Rather, the companies under the Inhabit IQ umbrella manage unique and independent go-to-market strategies with the operational oversight of Inhabit IQ leadership. Now, you have a wider network of partnerships supporting the momentum of the market.

"Some of the near-term benefits you can expect from the combination support operational efficiencies, such as Vacation Brands companies benefiting from an established Property Brands infrastructure and experienced corporate executive team. We also anticipate additional opportunities for employees in this structure as we continue to move forward."

The email added, "The positive effects that were expected from the Vacation Brands formation will continue on with Inhabit IQ as we work to identify valuable integrations, cross-sell opportunities and innovation strategies that offer more to our customers than ever before."

<!-comments-button-->