The past decade in hospitality has been a whirlwind, and short-term rentals have (and are still having) an incredible run. Every aspect of the industry is growing quickly, from rental supply to technology to consumer expectations to municipal regulations.
One thing that hasn't changed is that vacation rental managers still have two distinct customers: guests and homeowners. The identity of a manager continues to evolve into that of a hospitality provider, and the industry is adapting to the idea that professionals don't just manage properties but also shape the guest experience.
I've spent 15 years examining the interplay of marketing, operations, and software in the vacation rental industry. We've built our business on the premise that elevating the brand experience is the future of the industry, and I'm confident that more attention will be devoted to the owner portion of this experience. In this article, I discuss the importance of delivering deeper service and suggest ways to effectively communicate this value to property owners.
The True Significance of Deep Service Value
For homeowners, there are many options for facilitating the rental process. To start, you can manage the entire process on your own: list the property on platforms such as Airbnb and Vrbo and hire cleaners and contractors to handle turnovers and maintenance repairs. A second option is to use an agency model—for example, Evolve —where owners receive marketing and OTA assistance but rely on a network of their own for cleaning, maintenance, and guest services. Finally, there is the full-service option of hiring a vacation rental property manager. This is particularly attractive for the top end of the market—when the owner is time constrained or doesn't live locally—and nearly 44 percent of owners select this option.
As platforms such as Airbnb lower the barriers for owners to choose self-management and more professionals compete in vacation rental markets, owner expectations have risen. Homeowners are looking for top-to-bottom asset management, which includes preventative maintenance, clear communication on services delivered, time spent caring for properties, VIP concierge service, and guest communication. Managers who don't deliver hospitality-like service will lose their clients to alternative management options or other property managers in their markets.
Showcasing the Full Value of Your Work
When an owner makes the purposeful decision to employ a manager, he or she expects that manager to deliver value commensurate to the management fee (which is typically around 25 percent but depends on the market and on services provided). The manager takes on the responsibility of effectively communicating with the homeowner, which is instrumental in building trust and transparency in the relationship.
Of course, the idea of owner relations is not a novel one. As the industry has matured, however, owners are demanding greater detail and more frequent reports. Property management has evolved into a much more service-oriented business (i.e., it's no longer just about maintaining property but also about maintaining guests), and managers have become saddled with heavier workloads. The increased owner-facing responsibility comes second to that of meeting guests' service and quality expectations, but it is still critical.
With 76 percent of guests expecting a personalized rental experience, property managers are forced to do a significant amount of behind-the-scenes work during each reservation. This work extends well beyond property care and readiness prior to each check-in (e.g., cleanings, inspections, and maintenance repairs) and includes both reactive and proactive guest attention.
In fact, managers are spending an average of 200 hours of work at each unit per year, but owners are aware of approximately 20 percent of it.
Demonstrating service level takes time and resources, which is why many managers don't consistently relay information regarding level of service to property owners. It's not enough to simply say your team is accomplishing X, Y, and Z on a daily basis. Managers need compelling data to convey value, and they need to showcase the data to owners. This is where some of the disconnect lies. Managers often lack the time and software resources needed to meticulously track the frequency, details, and results of their work; and manual tracking activity takes time that managers simply don't have.
Despite their best intentions, managers often fall prey to reactively relaying information to homeowners. However, this makes it all the more important to have a positive working relationship with homeowners so that when there is an emergency, or when a costly repair arises, owners are more receptive because trust has already been established.
Actionable Methods to Convey Service
Making a good first impression is the foundation of a robust owner relationship. Building strong rapport leads to a better understanding of owners' idiosyncrasies related to the items in their rentals, their styles of communication, and the overarching goals of your service. Building trust from day one sets the tone for a positive relationship, which often affords you more flexibility when it comes to maximizing rental income.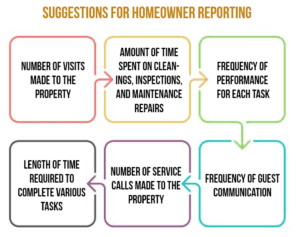 There are many ways to foster owner relationships, from personalized preventative maintenance plans to consistent and reliable communication.
By leveraging data, managers can easily provide concrete evidence of work completed at the home (e.g., the number of visits made to the property; the amount of time spent on cleanings, inspections, and maintenance repairs; the frequency of performance for each task; the length of time required to complete various tasks; the number of service calls made to the property; and the frequency of guest communication). Consider how these metrics would easily translate into a comprehensive view for owners that could be shared on a weekly, monthly, or quarterly basis and could supplement existing meetings by phone or in person.
Although many owners expect to be kept in the loop regarding the above metrics, not many understand the full value of preventative maintenance and asset management.
Tracking and reporting information such as appliance downtime, number of repairs per appliance, running age of each appliance, and quarterly inspection reports will impress many owners and prove that you can quickly diagnose issues, prevent emergency repairs, extend appliance lifespans, and drive more predictive property management—all of which demonstrates how indispensable you are to the homeowner.
Another best practice when conveying value is outlining service standards that are tailored to each property. No two properties are exactly the same, and each therefore requires a specific level of service. This fact may require you to implement different service measures that contribute to the success of each rental property (e.g., more than one property manager to oversee the property, thoroughly customized checklists, and preventative maintenance plans). Making homeowners aware of the extra (and customized) measures taken to make sure their properties are well maintained will go a long way toward ensuring you retain your owners for years to come.
Benefits of More Service Offerings and Effective Communication
Embracing the service side of the business and constantly looking for growth opportunities is the future of property management. Managers who deliver quality services will be given more work and responsibility. (Note: increased operational load can be offset through smart partnerships and adding service staff.) Upselling owners with added services such as landscaping, mildew removal, snow cleanup, and pest control increases your owners' lifetime value by helping you generate more revenue in the short term, as well as develop longer-lasting relationships.
Today's consumers hold fellow consumers' reviews in high regard. Homeowners researching property management companies in their markets want reassurance that the services they receive will be top notch. Happy owners who feel they are getting more value than the fees they've paid are much more inclined to refer your services to others. As we know, the best form of marketing in this industry is word-of-mouth referral.
Conclusion
Providing hospitality-level service for both guests and owners is one of the strongest trends in today's vacation rental market. Delivering on this service isn't quite enough, though, and managers are now expected to take the necessary steps to effectively communicate all the work they do. Those who are able to leverage deep property data to execute on prescriptive service plans will be able to adapt to this new service-provider role and will more quickly differentiate themselves from the growing number of managers in the market.

<!-comments-button-->