Vacation rental managers who collect accurate data and learn to use their data in real-time for marketing, reservations, rate management and intelligent business decisions will gain an enormous competitive advantage in the near future.
The process of collecting clean data can be overwhelming for a busy vacation rental manager. However, adding processes to collect clean data isn't burdensome once the necessary data fields have been identified.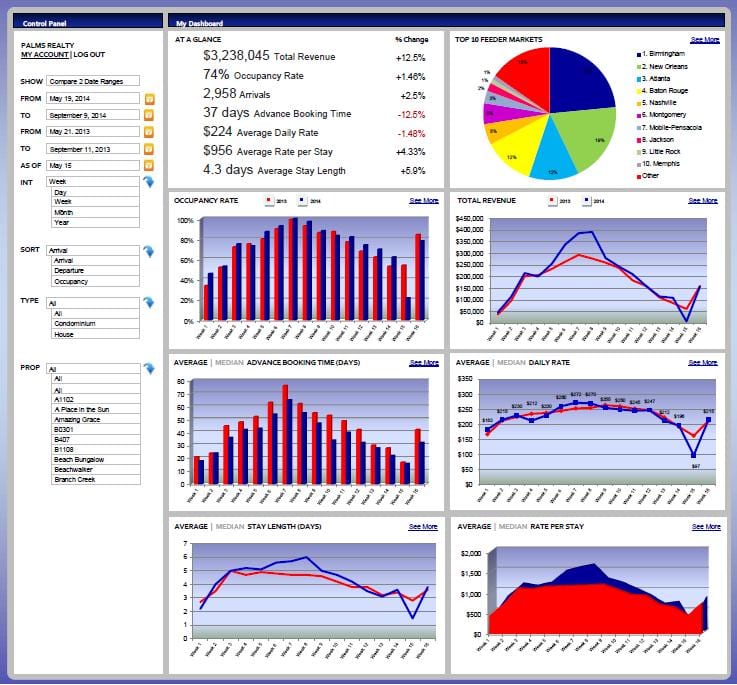 What data should be collected?
There are four types of vacation rental data needed to accomplish "big data" needs:
Property data
Rate data
Reservation data
Prospect data
Here is a data collection cheat sheet  below.
Not all of the following data  is necessary for every short term rental businesses, but this provides a good starting point to assess the data currently being collected, what could be collected, and what data is not relevant to the business.
(An industry vendor/supplier will also need client data.)
1. Property Data
This is the most complicated data to secure, which is why distribution channels are putting so much time and energy into optimizing their property pages. Fortunately, once property data has been verified and added to the database, updating he information is easy.
**Tip** Design software to make as many of these items as possible displayed in drop down options to avoid errors in data entry.
Internal Property Code
Property Type 1 (House, condo, villa)
Property Type 2 (Waterfront, ski in/out, waterview)
Property Type 3 (Additional type criteria)
Property Type 4 (Additional type criteria)
Property Name
Property Address 1
Property Address 2
City
State
Country
Zip/Post Code
Destination Type
Region 1
Region 2
# Bedrooms
# of Baths
# of Half Baths
Amenity (1-30)
Sleeps
Parking allowed
Bedding Configuration
Dining capacity
Seating capacity
Company Rating
External Rating
Pets
Property specific fees (1-x)
Handicapped Accessible
Suitable for (Kids, Retirees, etc)
Attraction 1 (Beach, Disney World, Downtown)
Attraction 1 Address or Mapping Coordinates
Attraction 2
Attraction 2 Address or Mapping Coordinates
Attraction 3
Attraction 3 Address or Mapping Coordinates
Attraction 4-x
Attraction 4-x Address or Mapping Coordinates
Property Contract Start Date
Property Contract End Date
2. Rate Data
Like property data this information is likely to be added periodically, and not all data fields apply to all companies (e.g., some VRMs only allow weekly rentals, while some urban markets have one rate for all seasons).
*Season 2-x = as many seasons as are provided
Internal Property Code
Season 1 Start Date
Season 1 End Date
Season 1 Title
Season 1 Daily Rate
Season 1 Weekend Rate
Season 1 Weekly Rate
Season 1 Monthly Rate
Season 2-x Start Date
Season 2-x End Date
Season 2-x Title
Season 2-x Daily Rate
Season 2-x Weekend Rate
Season 2-x Weekly Rate
Season 2-x Monthly Rate
3. Reservation Data
Collecting clean data from reservations is critical for success in analyzing performance, setting rates and implementing successful marketing efforts.
Again, it is advisable to add preset options to as many fields as you can (e.g., state, country, source codes, discounts, reason for stay, etc.).
Reservation number
Internal Property Code
Client Code
Guest Name
Guest Name (2-x)
Gender
Email (1-x)
Address 1
Address 2
City
State
Country
Zip/Post Code
Primary Phone
Mobile Phone
Reservation Made Date
Check In Date
Check out Date
Source 1
Source 2 -x
Status
Entry Date
Rate
Revenue
Discount code
Discount applied
# Adults
# Kids
# Pets
Special Needs
Reason for Stay
Activities interest
Lease signed date
Survey sent date
Survey complete date
Survey results/rating
(For marketing purposes, some VRMs are adding names, emails and mobile numbers for all guests staying at the property)
 4. Prospect Data
Ecommerce companies such as Amazon and Zappos have become religious about monitoring and collecting data for prospective customers. Through abandoned shopping carts, user surveys, subscription sign ups and special offers, the ecommerce industry prioritizes data gathering from shoppers who have not yet purchased.
This is why, when a customer calls, the salesperson asks for a name and then asks, "If we get disconnected, is this a good number to reach you?" At that point, they have secured the customer's name and telephone number, followed by information on what the prospect is shopping for and solicited an email address to send a special offer.
These primary data points can be collected through:
Subscription sign up
Special offers
Comparison shopping tool
Customer sign in
Call center
Here are data collection options for prospective guests:
Guest Name
Gender
Email (1-x)
Address 1
Address 2
City
State
Country
Zip/Post Code
Primary Phone
Mobile Phone
Dates requested
Property type interest
Property region interest
Attractions interest
Activities interest
Event interest
# Adults
# Children
Pets
Conclusion
In order to get to "big data," a professional property management company will identify which data to collect and put in systems to collect the information in a consistent way. This checklist provides a solid starting point in assessing current data collection and determining data goals.

By Amy Hinote

<!-comments-button-->