When Walt Plimpton was 10 years old, his job was to tow a little red wagon from cabin to cabin collecting trash bins and dirty sheets. He brought the sheets home where his mother, Miriam Plimpton, washed them, hung them out to dry, and ran them through a mangle to smooth any wrinkles. Walt then trucked the clean and crisp linens back to the cabins where his older brother, Donald, made the beds.
"We didn't have maids, we cleaned ourselves," Walt said. This was 1940. Miriam and Walt's father, Herbert Plimpton, had just opened New England Village in Hampton Falls, New Hampshire. The collection of little "overnight homes," as they were called then, were arranged like a miniature town. Some were even themed as Main Street mainstays. One was built to look like a church, another like a school, and a third like a doctor's office.
This wasn't the family's first venture into overnight homes. In fact, Walt was a third-generation property manager. His maternal grandmother, Eva Peterson, opened Peterson's Cabins along Route 1 in Wells, Maine, in 1922. They had no plumbing, no running water, and no electricity. She charged $0.75 per person, per night. She housed her oldest daughter and her eight kids in a big farmhouse nearby, and they helped clean and take care of the cabins in return.
By the time the Plimptons opened New England Village, just after the Great Depression, the going rate had increased to $1.25 per person, per night, and electricity was more common. The big trend back then was to have a radio in the house—soon to be followed by three-channel televisions.
Despite the recovering economy, Walt made sure to seek additional revenue sources. When his wagon wasn't full of laundry, he collected the little green glass Coca Cola and ginger ale bottles left behind by guests—then 7 cents apiece—and towed them down to the local country store to turn them in for a nickel each. On good days, he earned as much as 70 or 80 cents a haul.
He laughed as he remembered those days. The day before we spoke he had gone to see his barber, who was running a $10 haircut special. "I don't have that much hair anymore," he said, "but I remember when my mom would hand me two quarters to go get a haircut as a kid, and I had a lot more hair back then!"
Walt is now 88. He has spent nearly eight decades in the vacation rental industry, and he remembers every minute of it. He has watched as motor courts evolved into motels; as resort towns sprang up along Route 1, up and down the East Coast, and then moved west; and as various destinations succeeded and failed in their attempts to grow tourism.
During the mandatory nightly blackouts along the coast during World War II, his dad would skirt the rule against outdoor lights by cutting out "OVERNIGHT CABINS" from their cabins' roll-down shades so people driving by could still see them. His mom would visit their competitors' houses in the dark and count the cars in the driveway to track occupancy.
After Herbert passed away in the early 1950s and her kids were off at college, Miriam began to rent out four rooms in her own home to New Hampshire state troopers. At the time, the state didn't have local offices, so she housed them, and they helped keep her safe. She called them "her boys," and they called her their "state trooper mom." She was later recognized with an award from the department.
Walt has carried the hospitality gene with him ever since. When he and his wife, Joanne, honeymooned in Orange Beach, Alabama, in 1957, there were only a handful of old cabins there. "No stores, no restaurants, and none of the tourism development guests find there today," Walt said.
In the 1960s, they bought their own vacation rental in the area. After it was destroyed twice by hurricanes, most recently Hurricane Ivan in 2004, the home was rebuilt anew with six bedrooms and building codes to withstand today's storms. It books solid most of the year.
"He hasn't gone without a rental in his 88 years," said Greg Plimpton, Walt's son, who helps take care of the home now.
Greg also takes care of hundreds of other homes around Gatlinburg and Pigeon Forge, Tennessee, with Cabins for YOU, the vacation rental management company he started with his wife, Debbie, in 2001. On their 20th anniversary, the two visited Gatlinburg from their home in Georgia and decided to purchase three vacation rental homes of their own. At the time, there were about 160 property management companies in the Smoky Mountains, and Cabins for YOU was the smallest.
Today, nearly a century away from his great grandmother Eva's plumbing-free cabins in Maine, Cabins for YOU is now one of the top five management companies in the region. The company has 330 homes, 70 employees, 50 housekeepers, and 25,000 reservations a year. Most of their guests are families in the summer, honeymooners, and nearly everyone in the fall for leaf season.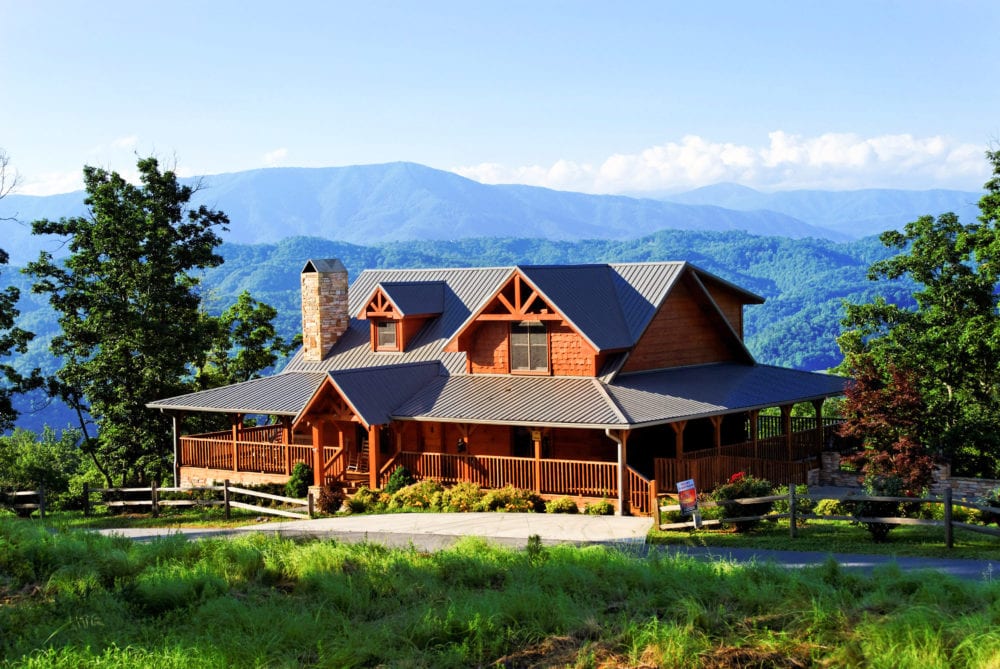 Greg and Debbie manage the company from their Georgia office near their home in Cartersville, where they have lived for 15 years. True to Plimpton fashion, the company is now a fifth-generation family business. Greg and Debbie's oldest daughter, Jessica Dewberry, is head of finance and human resources, and her husband, Marc Dewberry, is their chief marketing officer. Their second daughter, Emily Crumpler, does consulting for them to recruit new homeowners and owns seven homes herself.

Their fourth daughter, Rachel Shadle, works in owner care, and her husband, Matthew, handles their IT as well as the building and grounds management of all three offices and all family-owned real estate. Their youngest child, Seth Plimpton, is a finance major at Auburn University, and he says he wants to get back into the business after he graduates. He currently works on the company's website from campus.

Even with the large staff and support of their family and management team, Greg and Debbie are active in every area of the business. Debbie handles operations while Greg covers legal, marketing, and other areas.

Altogether, they focus intently on the needs of their owners. "Every decision we make points back to the real client—and that's not the guest," Greg said. "We respond to owners 24 hours a day. An owner gives us 65 bookings a year. A guest gives us one."

Even with four full-time owner reps to serve their needs, Greg loves interacting with owners directly. "Owners energize you because they want investment advice, decorating advice, and sometimes they have legitimate complaints that you can help with." His advice to other property managers is to find out what owners want and need, and communicate, communicate, communicate.

His advice has been tested over the past two years since the Gatlinburg fire in November of 2016. One of the largest natural disasters in the history of the state, the fire burned more than 21,000 acres and wiped out more than 2,000 buildings, many of which were vacation rental homes. Cabins for YOU lost 38 to the fire and another 32 that were purchased by residents after their own homes were destroyed.

The region is still recovering. There are burned out streets, and guests still cancel their reservations because they don't want to stay next door to charred lots. The losses cost Cabins for YOU about $2 million in 2017, but this year they have regained about 12 percent of their lost inventory.

Greg credits much of the company's resiliency and long-term success to its competitiveness. "If we see anyone doing anything that makes sense, we have a meeting about it." They attend conferences and listen intently, take notes, and participate in discussions. Generally they take the lead with better flash sales, better contests, and other strategies. "If you want a successful business, hire very competitive people. They don't come to work to just do the job."

When they need to recharge their batteries, Greg and Debbie take time away to head to their own vacation rental or visit their third daughter, Simone Puccinelli. She's the only one of their kids who is forging a path wildly different from property management, and her parents love what she does. She founded Simone's Kids, a nonprofit organization in Uganda that supports orphaned and poverty-stricken children who are unable to afford an education. They try to visit her there at least once a year.

Retirement isn't on the horizon just yet for the Plimptons, but they are hopeful that when it is, they'll pass the torch to the next generation—not just their children but their five grandchildren. If they stay in the family business, they will be sixth-generation property managers and great great great grandchildren to Eva Peterson's cabins.

However, they will have to wait a while to find out if that will happen. In 2022, on the 100th anniversary of the original cabins, the youngest of the sixth generation, Ava, will be just four years old.

<!-comments-button-->