Vacation Rental Managers (VRMs) have waited a long time for good news related to Google Search. For several years, OTAs and big-name listing sites have been able to outperform VRMs for organic positioning on Google's Search Engine Results Pages (SERPs). Prominent VRMs watched helplessly as their rankings slipped further down SERPs in spite of costly SEO initiatives.
However, the game has changed.
Google has made significant changes to their SERPs which are now allowing savvy VRMs to take back their rightful place on Page 1.
With a renewed and expanded emphasis on local search results, Google's changes have caused OTAs and listing sites to scramble to improve visibility and explain substantial decreases in traffic to investors and shareholders.
As a result, VRMs have a much awaited chance to take advantage of these changes and beat the OTAs in organic search, but proactive action needs to be taken. According to Google, there are specific steps you can take to quickly push up your rankings.
First, assess your current visibility. Here is a step-by-step guide to see what users see in the new Google SERP format: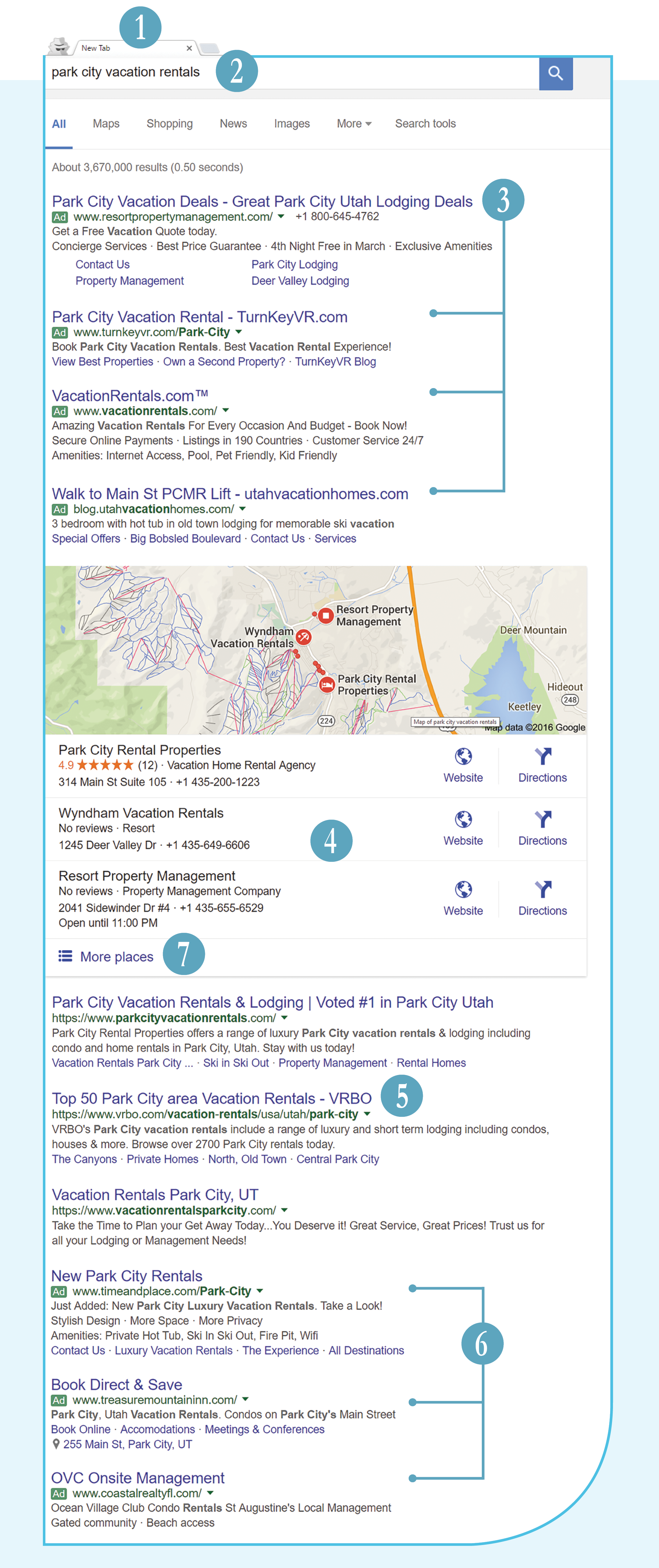 1. Go Incognito. Right click on the Chrome browser icon, and open "New Incognito Window."
2. Search for "[Your Destination] Vacation Rentals" (Repeat these steps for your top keyword phrases).
3. Note the company listings that show up as an "Ad." The companies that are displayed here are bidding for these search phrases using Google AdWords. Google recently eliminated the right column of ads and is now only displaying three to four ads in this section, which has resulted in an increase in costs. (See Marketing Mix for a recommended AdWords budget).
4. Below the ads, you will see a Google Map with Local Listings. Your primary goal is to work your way into the top three spots displayed.
5. Under the map and local listings, you will see another group of results that are based on the Google search algorithm with which you are more familiar. We previously referred to these results as the Top 10 Organic Results.
6. Below the Top 10 Organic Results, you will also see three or four more ads from Google AdWords.
7. Scroll back up to the map, and click on "More Places." This will link to a map that shows local vacation rental company listings.
8. The criteria for ranking higher in this section is entirely under your control. Optimizing this area will allow you to improve your visibility and quickly gain more conversions from Google Search than ever before. Take a look at the information displayed here.
Reviews
Address
Phone number
Hours
According to Google, these Local results appear for people who search for vacation rentals near their specified location, and you can improve your business's local ranking by using Google My Business.
5 Ways to Improve your Local Ranking on Google SERPS
1. Can't Find Your Business? Improve your Info.
Providing and updating business information in Google My Business can help local ranking on Google and enhance your presence in Search and Maps. Local results favor the most relevant results for each search, and VRMs with complete and accurate information are easier to match with the right searches. Make sure to enter all of your business information in Google My Business so customers know more about what you do, where you are, and when they can contact you. Provide information like (but not limited to) the physical address, local phone number and category.
2. Verify Location(s)
Verify your business location(s) for the best opportunity to appear for users across Google products, like Maps and Search. Prioritize the location that is closer to the actual location of your rentals.
3. Post Accurate Hours 
If you provide 24/7 service, add it. While conducting research, you can easily see the phrase "Closed now" on many local listings. If you are open for extended hours for calls and/or service, make sure travelers on Google see it. Entering and updating your hours lets potential customers know when you're available and gives them confidence that when they travel to your location, it will be open.
4. Manage and Respond to Reviews
Google has added a section on its reviews page that highlights reviews from other websites such as Booking.com, among others. For VRMs, this is an area that is rapidly advancing. Spreading out reviews over Google, TripAdvisor and HomeAway will provide enormous dividends in the very near future. Google's goal in adding third party reviews to their search results solves the problem of travelers searching for reviews from multiple websites. And this new feature is linked with Google maps, which offers multiple benefits.
Interact with customers by responding to the reviews, across all channels, that they leave about your business. Responding to reviews shows that you value your customers and the feedback they leave about your business. High-quality, positive reviews from your customers will improve your business's visibility and increase the likelihood that a potential customer will visit your location.
5. Add Professional Photos
Adding photos helps travelers see the type of homes you offer. Accurate and appealing pictures show potential customers you are professional and that your business offers what they're searching for.
How Google Determines Local Ranking
According to Google, local results are based primarily on relevance, distance and prominence. These factors are combined to help find the best match for a search. The following information is provided by Google.
Relevance
Relevance refers to how well a local listing matches what someone is searching for. Adding complete and detailed business information can help Google better understand your business and match your listing to relevant searches.
Distance
Just like it sounds – how far is each potential search result from the location term used in a search? If a user doesn't specify a location in their search, Google will calculate distance based on what's known about their location.
Prominence
Prominence refers to how well-known a business is. Some places are more prominent in the offline world, and search results try to reflect this in local ranking. Adding your proximity and partnerships with local landmarks or well-known brands that are familiar to many people can improve your prominence.

Prominence is also based on information that Google has about a business from across the web (like links, articles, and directories). Google review count and score are factored into local search ranking: more reviews and positive ratings can improve a business's local ranking. Your position in web results is also a factor, so SEO best practices also apply to local search optimization.

For the first time in years, Google has made changes that favor the local VRM. With just a few steps, you can reclaim your rightful spot in organic search results.

By Amy Hinote, Editor-In-Chief, VRM Intel

<!-comments-button-->