The Scope of the Vacation Rental Industry has Broadened, Forever Changing the Playing Field for Property Managers
If it seems like the vacation rental industry is getting more complex, that is because it is.
Just in the last few weeks, we've seen Marriott's entrance into "homesharing," Expedia's brand shuffle from HomeAway to Vrbo, and a change in course for Airbnb; and in every case, the media is lost about how to adequately label this expanding sector. It is easy to get overwhelmed with an industry that appears to be in chaos.
Analysts point to fragmentation, lack of standardization, and legacy technology as the reasons for the short-term rental category's confusion, but there is more to it.
The playing field is changing right before the industry's eyes, and vacation rental managers (VRMs) are finding themselves navigating a new world of private accommodations.
Increased Circumference of the Category
In the early days of the industry, consumers knew short-term rentals as vacation home accommodations in leisure destinations. These rentals were privately owned properties in which no one was a primary resident (they were second homes, aka "vacation homes").
The category was already large, including private homes, condos, cabins, and townhouses; and vacation rental reservation agents and marketers worked hard to educate and define the differences in property types and manage guest expectations.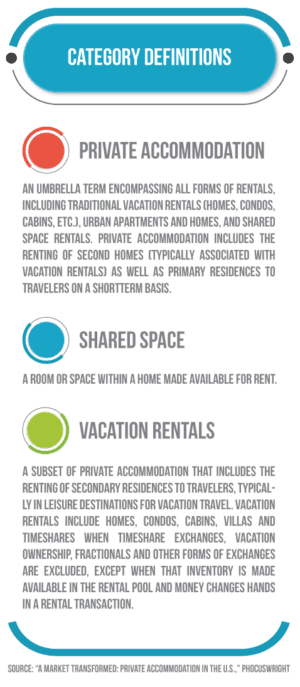 Airbnb
Airbnb entered the scene in 2009–2010, providing a marketplace for shared spaces and creating a platform for residents to rent out rooms in their homes as a way to make extra income. Consequently, the short-term rental category slowly grew to include shared spaces, urban apartments, and residential homes.
The mouthful term alternative accommodations began circulating as an attempt to lump all these short-term rental options into one category differentiated only from hotels. As a result, consumers—as they always do—found an easier way to define the broader category activity as simply staying in an Airbnb. In a similar way, consumers used Uber as a verb, calling ride sharing activity taking an Uber, whether or not they were using Uber, Lyft, or another service.
Phocuswright
On the B2B side, Phocuswright introduced an even broader definition of the category with its 2017 study, "A Market Transformed: Private Accommodation in the U.S.," which redefined the category private accommodations "as 'home­like' accommodation made available to rent on a short-term basis for travelers."
Its follow-up European analysis, that same year, included the following lodging types under private accommodation ("Private Accommodation in Europe: 2010–2020," Phocuswright 2017):
Home and flats/apartments
Shared space (renting a room in someone's home)
Holiday park accommodation
Timeshares where the inventory is entered into the rental pool
Specialty lodging types (such as villas, chalets, and castles)
Phocuswright's 2017 research directly compared industry performance to results from its 2013 landmark study U.S. Vacation Rentals: 2009 – 2014: A Market Reinvented which had not previously included these new rental types.
Phocuswright's findings–which now included shared and urban "private accommodations"–expanded the category and armed startups and service providers with inflated high-growth numbers which these companies were able to use to obtain funding for new business models (more on this below).
Consequences of Broadening the Category
The mass grouping of property types had a significant effect on the industry's trajectory, creating further fragmentation among rental suppliers, propping up revenue projections for startups seeking investment, and creating confusion with municipalities over how to regulate this evolving sector.
Second Home Owners, Primary Residents, and Residential Landlords
It is difficult to understate the changes to the industry that have resulted from grouping second home owners and primary residents into the same category, largely because the motivations for renting differ between the two supplier segments.
Second-home owners are motivated by the following:
Realizing an appreciation in the value of the home as an asset
Maintaining the property as a vacation home for personal use
Maximizing rental income while mitigating risk
In contrast, primary residents typically rent part of their home:
For extra income
For social interaction
During area events, such as festivals, conventions, sporting events, or concerts.
It is important to note that many primary residents who rent their homes on Airbnb are not homeowners themselves but are long-term renters with little concern for the long-term value of their property, neighborhood, or destination. Additionally, most primary-resident renters live in residential locations—in contrast to leisure destinations in which whole-home vacation rentals are commonplace.
To add even more complexity, the income that Airbnb provided was attractive to residential landlords who quickly found they could often make more from short-term rental activity than by renting to long-term tenants. As a result, we saw mass misunderstanding between these "illegal hoteliers" and above-the-board vacation rental management companies.
New Regulations and Confusion among City Officials
Adding these new private accommodations in residential neighborhoods, apartment complexes, and communities in which people live full-time caused disruption to the entire industry.
Full-time residents were uncomfortable with having an influx of short-term renters in and out of their neighborhoods and apartment complexes. Security concerns arose, and noise, trash, and parking complaints from full-time residents began to flood the inboxes and phone lines of city officials.
In addition, with workers migrating to city centers, affordable housing in premium neighborhoods was already an ongoing problem for municipal officials. And the hotel industry began to see travelers opt to stay in Airbnbs instead of in expensive city hotels. In 2016, the American Hotel and Lodging Association initiated a campaign to take on the short-term rental industry, saying, "We support the rights of property owners to occasionally rent out a room or their home, but commercial operators within the short-term rental industry should not be allowed to operate outside of the law."
The convergence of voter complaints, lack of affordable housing, and a powerful hotel lobbying effort brought forward a popular and seemingly easy solution: Ban short-term rentals in cities.
Airbnb brought these short-term rentals into residential neighborhoods with its marketplace, and now it had an obligation—and need, to ensure its future viability—to work with municipalities to make them legal.
Airbnb began investing in working with city officials and found an easy way to work with them by proposing that—if a primary resident occupied the home—then rental activity should be legal.
This alternative gained steam because it eliminated "illegal hotels" (aka whole-home short-term rentals) and assured neighbors that the primary resident would be there to ensure that short-term guests acted appropriately. Adding friction in the private accommodation industry, Airbnb supported regulations that restricted rental activity in non-owner-occupied homes for stays under 30 days. Airbnb even kicked a few vacation rental managers in California off its platform to show its support for primary residents.
At first, the traditional vacation rental industry was largely unaware of and disengaged with Airbnb's battles in city centers. At the time, Airbnb was only beginning to catch on as a distribution channel for traditional leisure destinations, and no one believed that traditional vacation rental markets would see any regulations that would limit rental activity in destinations that relied on revenue from rental tourism.
Few saw the storm coming.
Simultaneously, as baby boomers hit retirement, many gravitated to the leisure destinations they once enjoyed for vacation to establish permanent residences. Once they were there, these retirees wanted to shut the door behind them.
As the contagion of short-term rental regulations spread, these residents discovered a trend toward banning—or limiting—short-term rental activity and became emboldened to complain to city council members, inundating these officials with calls complaining about parties, excess trash, and parking problems they believed were caused by short-term renters. There was little data from police reports to back up their complaints, but, in leisure destinations that have few full-time residents (aka voters), city officials were unaccustomed to the trouble and had little understanding about the revenue and destination value that the vacation rental industry provided.
Fast forward to 2019, now both cities and leisure destinations across the world are embattled with cumbersome—and often nonsensical—short-term rental regulations. In the United States alone, in leisure destinations from Florida to Washington to California to New England, NIMBY (not in my backyard) fever spread across the country. Vacation rental meccas such as South Lake Tahoe and Orange Beach, Alabama, were hit hard, with city councils who were incapable of understanding the issue because of the whirlwind of calls for bans and illogical regulations with which they were faced.
Currently, regulatory battles have escalated to the state level: 19 states have proposed legislation related to short-term rentals. For example, in Florida, a state that depends on tourism, vacation rental providers are fighting proposed regulations that require any owner or manager who advertises or accepts payment online to register as a "hosting platform" with the Department of Business and Professional Regulation and that require compliance with existing local vacation rental ordinances that are difficult to navigate—and sometimes impossible to satisfy—according to FVRMA executive director Denis Hanks.
Other Impacts from a Broadened Category Definition
In addition to a changed regulatory environment, the grouping together of all non-hotel lodging options created disruption across the industry.
1. Venture Capital and Private Equity Investment in the Industry
According to Phocuswright, "the private accommodation segment, long described as 'alternative' lodging, is now mainstream. In 2015, nearly one in three U.S. travelers used private accommodation, up from fewer than one in 10 in 2010."
Impressive, right? 8 percent category awareness in 2010 to 32 percent in 2015.
Almost hard to believe. But it is important to note that the 2010 number did not include shared spaces and urban short-term rental apartments, which were included in the 2015 results.
Armed with Phocuswright's research, startups were able to boast inflated industry growth as they looked to investors. The result was an inpouring of investment capital to fund new management and technology business models. On the management side, Vacasa and Turnkey Vacation Rentals collectively have raised $280 million to support their growth; furthermore, with its marketing model, Evolve has been able to raise almost $100 million. Among urban short-term rental managers, Sonder has received $135 million in venture capital, and Washington-based Stay Alfred has raised $62 million to expand into additional markets.
In the vacation rental software sector, Guesty has pulled in over $59 million, and Greater Sum Ventures is in the middle of a private equity rollup of multiple technology providers, including Streamline Vacation Rental Software. Channel management providers have also benefited: BookingPal has raised a reported $22 million, and RedAwning has brought in over $40 million, and Rentals United pulled in $4.5 million.
Other technology providers such as VacayStay, Transparent, Properly, HelloHere, Breezeway, and Key Data have also received millions in outside investment to build solutions to service the private accommodations industry.
2. Awareness of Private Home Accommodations and Increased Difficulty Managing Guest Expectations
OTAs and listing sites, including Airbnb, Booking, Expedia, and TripAdvisor, have done an excellent job in providing marketplaces that reach a broad consumer base.
Now, private accommodations are listed alongside hotels and bed and breakfasts in search results on OTAs; however, with a larger number of consumers who are staying in a short-term rental for the first time, there is a larger need to communicate and manage guests' expectations as they plan for their stays.
It is unfair to assume travelers know the difference in property types and understand what they have booked.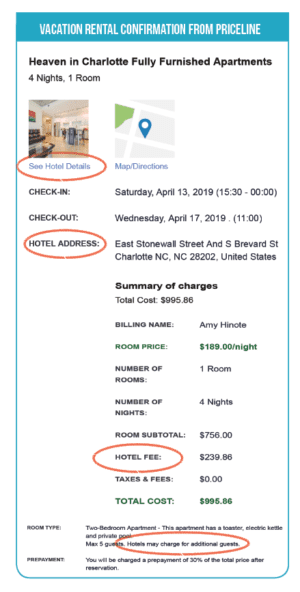 Even industry professionals have a difficult time knowing what they are booking on an OTA. Is there a front desk? Keyless entry? Room service? Coffee? An elevator?
In a March 2019 reservation for a short-tern rental booked on Booking's Priceline.com, the term hotel was used four times in the email confirmation.
To make it even more confusing, for this same reservation, the property manager included the following information in its check-in instructions:
Important Note: "In case you have booked in "AIRBNB"—Please do not mention it to the Front Desk Staff. Just say that you have booked with **** and they will give you the keys."
As a consumer, would this message seem sketchy to you?
The increased awareness of a broader category definition for short-term lodging has created a more critical need to educate travelers and communicate with them effectively prior to their stay.
3. Inability to Create Uniform Standards and Best Practices
Industry experts, analysts, and tech companies label the private accommodation industry as fragmented, pointing to a lack of organization of the industry as a challenge that will soon be overcome by aggregation.
But is it possible to consolidate an industry that includes dozens of property types under one category?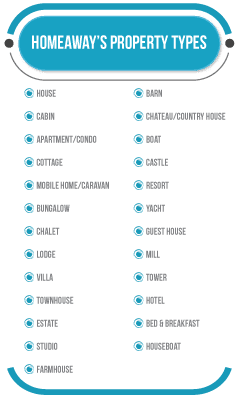 With the larger scope in regard to the types of properties—and property owners/residents—the broadened industry is struggling to establish and guarantee common standards and best practices for property appearance, included amenities, and booking policies. The rapid increase in the number of nonprofessional rental providers in residential locations is contributing to the challenge, and regulators are making it harder by encouraging rentals in private residences that are not professionally managed instead of working with property managers who can offer the security, safety, and consistency that meet owner and guest needs.
The unfortunate fact is that rental suppliers in this broadened category are offering little industry consistency to assure guests that the "private accommodation" they are booking is adequate with secure access, clean linens, HVAC, reliable Wi-Fi, and 24/7 access to service. This is especially true on aggregated sites that provide the consumer little information before booking.
It is baffling that city officials, when debating regulations, did not consider requiring professional management for short-term rentals to ensure a level of standardization, security, and round-the-clock service for issues when they arise.
Yes, the industry is fragmented, because the category is fragmented.
Can the Private Accommodations Industry Be Consolidated?
"Lodging is lodging" is the mantra among marketplaces and managers looking to further consolidate the category. Their argument is that–at any point–a traveler who may stay in a hotel for a short trip will look for a private home for a family vacation and search for an apartment rental for an extended corporate trip or medical-oriented stay.
Aggregators such as Booking.com, Expedia, and Airbnb seek to provide lodging options for any stay a consumer may be seeking. Additionally, Google, which is entering the category with its new booking platform, will add an interesting dynamic than many believe will provide additional disruption.
Segmentation of the category and education for the consumer is likely necessary.
However, there is little current industry leadership working on a consumer-facing solution to educate consumers. The Vacation Rental Management Association is still focused on traditional vacation rentals, and other emerging industry associations have yet to gain traction.
The Role of the 2019 Vacation Rental Manager in the Evolving Industry
Grouping traditional vacation rentals into a larger private accommodations sector has consequently amplified the industry's complexity. VRMs are playing on a more challenging field and, as a result, professional VRMs are adapting. But more will need to be done to ensure long-term customer retention.
1. Understand the market dynamics in play, including the category's broadened scope
By understanding the industry's evolution, VRMs can filter out the noise and focus on what makes their destination, company, and properties successful. Define the company's competitive advantage, and ensure that employees, contractors, and stakeholders can articulate the unique sales proposition unique or selling proposition (USP).
2. Work with city officials, get to know the mayor, and communicate with candidates in the municipal and state election cycles
The entire industry will benefit from VRMs proactively working with current city and state officials and supporting candidates who support vacation rental-friendly policies. VRMs need city officials who understand the vacation rental industry and appreciate the dollars, jobs, destination appreciation, and community involvement that VRMs bring. Educating candidates while they are running for office will go a long way in protecting the industry against senseless regulations.
3. Educate guests about property types and set expectations
In the absence of any industry-wide coordinated PR/education initiative for consumers, the job of educating guests falls to each of us. VRMs can help the entire industry by focusing on their core feeder markets. Working with regional magazines and news outlets is a manageable way to begin guiding education for travelers. Tips about how to book a short-term rental, articles about choosing a property type, and articles about how to plan a stress-free vacation are popular subjects for consumer-facing publications. Plus, there is an added benefit to helping a VRM establish itself as a trusted source and thought leader.
4. Educate owners about new models and changes to the industry
As difficult as it is for VRMs to understand the industry's changes, it is even harder for homeowners. Taking the time to provide insight and information for homeowners will help them understand the "why" behind company decisions, strengthen the trust relationship, help them to see the company as an expert and thought leader, improve retention, and help owners update properties to provide better guest experiences. Educate homeowners about regulatory issues before they arise, and solicit their help in engaging with city officials.
5. Do due diligence when selecting technology companies, channel managers, distribution channels, and service providers
VRMs need tech and service providers. These companies are partners and contractors and are extensions of the brand promise. Longevity and industry understanding matter. Does the provider recognize the broadened scope of the category? Does it have experience in the property types under management? Does the company's service reflect your brand promise?
Note: Companies that rely on funding have split their attention between meeting client needs and meeting investor expectations. Obtaining references from like-minded VRMs is helpful in selecting providers.
6. Use OTAs and listing sites wisely
Using OTAs to find guests whom internal marketing efforts would not otherwise reach is smart—with a caveat. Bookings from guests who mistreat homes, from guests who arrive with false expectations of what they are getting, and bookings that result in senseless refunds offered by the OTA cause harm to both the VRM and the homeowner.

Moreover, channels that provide brand amplification are more beneficial than sites that hide the brand. Be proactive in working with channels and channel managers to make sure listing information and communications inform guests and promote the company brand. In addition, when travelers book directly with a VRM, they have a much higher likelihood of understanding what they are booking than when they book on a third-party site. VRMs will profit from adding a communication layer to reservations originating from an OTA to ensure that guests plan appropriately for stays.

Create a comprehensive guest retention plan for each OTA that includes gathering email information for all adults staying in the property, establishing a relationship with guests before and during the stay, and remarketing to them after. The cost of distributing properties on OTAs is rising, so increasing the lifetime value of the guest is the smartest way to maximize ROI from these channels.

<!-comments-button-->