We are excited to announce the winners of VRM Intel's Best Vacation Rental Management Websites of 2016. With more than three dozen entries, the competition was intense, and the bar was set high. This year, we increased the judging criteria from 20 to 34 factors, including categories in design, on-site search functionality, property display, booking paths, area information, search engine ranking, site errors, speed, and lead generation.
All of the Websites submitted were launched in the last 12 months, and their quality is outstanding: all entries have a responsive design, large home page images, and simple online booking paths. In addition, most have a detailed refined search option and professional photographs of their rentals.
Many of this year's entries have followed some of the best practices being utilized by major online travel agencies (OTAs) and have included a map view in their search results, the ability to search with flexible dates, and urgency marketing techniques.
At VRM Intel, we want to congratulate all of the vacation rental managers who submitted sites this year. The level of professionalism in design and functionality is a testament to the commitment of both the management companies and their developers and evidence of a maturing industry.
And the winner is…
1st Place: Topsail Realty Vacations 
Topsail Beach, North Carolina
Developed by ICND
Topsail Realty Vacations met all the major judging criteria with flying colors. The overall design is incredibly sharp and has a heavy focus on e-commerce with an Airbnb-type feel that also markets the destination and vacation lifestyle. The smart calendars and responsive design functionality perform well on tablets and other mobile devices, and professional photos, well-written descriptions, and an easy-to-understand rate table help to communicate trust and credibility.
In addition, the Topsail Realty Vacations Website contains additional features that moved its ranking from great to exceptional. The site has urgency marketing calls to action, video tours, a split-payment option, a unique designation for properties that offer specials, and an attractive lead capture form that appears when the user is trying to exit the booking path. The ability to search for monthly rentals along with well-designed and well-written owner acquisition pages also stood out in their overall score.
There is also a feature on the site's property listing pages that allows visitors to submit a question about the property that subsequently creates a consumer-facing FAQ knowledge base for each home. In short, Topsail Realty Vacations got it right.
2nd Place: Island Realty
www.islandrealty.com
Isle of Palms, South Carolina
Developed by Bluetent, Island Realty's unique Website design is as attractive as it is functional. Its flexible arrival option in the search process and smart calendars prevent selecting dates under its minimum stay requirement. Island Realty also offers live chat to visitors and urgency marketing messages to encourage booking decisions.
In addition, the layout of the property pages scored incredibly high in usability and design. The property photo slider contains full-screen, professional images that communicate expertise and trust, and its one-screen display of property information follows the proven design of the large OTAs. Detailed reviews contribute to providing an easy decision-making path for guests. Island Realty also offers online add-ons, including golf, fishing, and beach equipment rentals.
3rd Place: Vacation Homes of Hilton Head
www.vacationhomesofhiltonhead.com
Hilton Head, South Carolina
Vacation Homes of Hilton Head launched a beautiful site this year, but beyond its clean design, the Website contains a bundle of added features, including videos, floor plans, professional photography, and push-to-chat/talk functionality. Its responsive design, developed by Bluetent, scored exceptionally well in mobile usability as well as other technical criteria. Vacation Homes of Hilton Head also paid attention to the lead photos that display in the search results, making each property more likely to be selected.
In addition, Vacation Homes of Hilton Head does an extraordinary job of marketing the destination and using site real estate to partner with area businesses, establishing itself as a trusted source of destination information.
4th Place: Jackson Hole Resort Lodging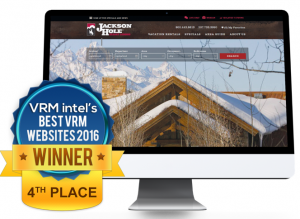 www.jhrl.com
Teton Village, Wyoming
Jackson Hole Resort Lodging's new Website, developed by Bluetent, has a destination-focused design, high usability scores across devices, and a ton of bells and whistles, including site search, webcams, and page translation options for international visitors.
The property pages have well-written descriptions, mostly large professional photographs, and a simplified rate table. The Website also has an enormous amount of area information and add-on options that give guests the ability to purchase lift tickets and packages to plan their entire vacation.
5th Place: Oregon Beach Vacations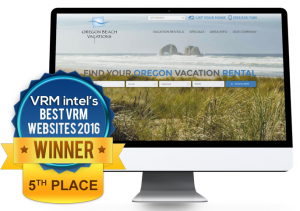 www.oregonbeachvacations.com
Seaside and Lincoln City, Oregon
Developed by ICND, the Oregon Beach Vacations Website scored very high in technical categories with a fast, highly functional, responsive design that performs well on smartphones and tablets. Its search process contains urgency marketing calls to action, easy-to-navigate mapping, and detailed refine search options.
Its property pages have an easy-to-navigate, one-page format, a simple rate display, easy social sharing, and the same open Q&A functionality also seen in other ICND designs.
What Our Winners Did Better than the Rest:
Site Speed/Performance – Our top Websites loaded quickly and scored well on Google's Page Insights test.
Simple/Smart Site Search Experience – The Websites with the highest scores had intuitive refined searches or advanced search capabilities with a display of the number of rentals associated with each attribute. With an optimal search filter, when the user selects an attribute, the results automatically refresh to ensure that the user doesn't choose a combination of attributes or amenities that would show zero results.
Smart Availability Calendars – Smart availability calendars appear when the user enters travel dates on the individual property detail pages. We encountered a few sites that did a fine job of ensuring that users could only choose arrival and departure dates that were valid; the industry has seen a marked improvement in the capabilities of smart calendars.
Beautiful Websites – When clients have large, professional, beautiful images, you can really tell that the web designers were inspired to create photojournalistic experiences throughout the web design.
Trust, Professionalism, and Credibility – This year's submissions did an excellent job of inspiring trust and communicating professionalism with added features such as well-written descriptions, area information, add-ons, social sharing, detailed reviews, mapping, videos, and floor plans. In addition, these new sites provide smooth booking paths, secure payment processing, and travel insurance options that allow guests to feel safe, comfortable, and confident in their booking decisions.
<!-comments-button-->