The 2015 Vacation Rental Housekeeping Professionals National Conference Agenda has been finalized and posted for your review.
The topics discussed at this years conference include: Sustainable Chemicals, Improving Housekeeping Process, What Laundry Equipment Do I Need?, How to Have a Better a Conversation with my Employees or Boss, just to name a few.
The agenda can be found here: 2015 VRHP National Agenda and Registration.
Sessions
Managing the Stress of the High Season
The Lost and Found Dilema
Defending the Brand – the importance of property inspections
Linen Life Expectancy and Different Types of Linens (show and tell)
Using Technology in Housekeeping in 2016
Training and Maintaining Non-English-Speaking Housekeepers
Keynote: OSHA Presentation
Keynote Address: Brindley Beach & Emergency preparedness
Stewart Couch Award & Executive Housekeeper of the Year Award
Laundry Machine Sizing and Terminology
Impacts of Good and Bad Housekeeping on Guest Satisfaction and the Bottom Line
Multiple Managers and Managing the Same Areas of People
Sustainable Cleaning Products and Other Green Certifications
How to Get Housekeepers, Maintenance Staff, and Owner Relations to Work With and Speak to Each Other
Evaluating Operational Efficiency/Effectiveness of Housekeeping
Product Demonstration
Keynote: Communication Techniques – Keeping Lines of Communication Open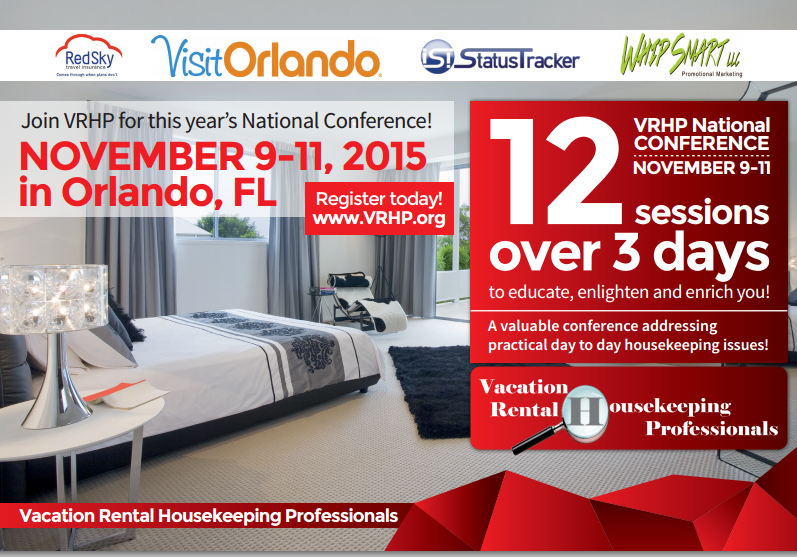 Looking forward to seeing you there!

<!-comments-button-->