By Amber Mayer, Vacation Rental Consultant
Revenue Optimization is the art of selling the right product to the right person at the right price.   I did not misuse the word "art" in the previous sentence even though Wikipedia and other articles will tell you that it is a science.  Vacation Rentals are much different from retail or even hotel rate management where pleasing the master is a much more "black and white" experience.   Professional Vacation Rental Managers live in a grey area – caught between homeowners with expectations and consumers with instantaneous access to competitive inventory and pricing – not to mention that every single vacation rental is unique.
For years, vacation rental managers have been yielding rates based on booking patterns.  That is a great start but it means that you are making decisions with only half the data.  In any revenue optimization decision, you need to have both your conversion data (booking trends) and demand data (consumer search trends) to know which levers to pull.
Demand Data
There are many tools available to vacation rental managers that help you harvest your demand data and you are likely already using some of them.   I'll review two of my favorites – Google Analytics and Navis.  You need more than one tool to report your demand data because you have consumer behaviors that occur both online and offline (over the phone).  If you have not invested in an offline analytics tool/telephony analytics tool like Navis – then you can use your online analytics to project your offline consumer behaviors.
Google Analytics
Instead of just tracking your number of sessions and traffic sources, you need to start tracking the search behavior of your consumers using custom dimensions.  The good news is that you can use the free version of Google Analytics and capture your search data.   The potentially bad news is that you need a really talented web agency with an advanced web analytics team to help with setup.
The free version of Google Analytics gives you 20 indices of custom dimensions and that is more than enough for most vacation rental managers.  Below is a list of the custom dimensions that I would recommend, however each setup will be unique based on that parameters that you already have setup on your website quick search, refine search and advanced search.
Location
Check-In
Number of Nights
Bedrooms
Bathrooms
Sleeps/Occupancy
Once you have the custom dimensions setup and collecting data on your website, you can easily view your consumer demand trends.   Which dates are being searched today versus booked today?   What length of stay are consumers looking for in a specific week?  Make sure your web company utilizes custom dimensions and not just events.
Navis
If you are already a Navis customer, you do not need any special programming to access your offline consumer behavior – just run an ELM report and you can export the phone inquiry data including requested check-in date and number of nights for every reservation status.
360 View of Demand Data
Once you collate the online and offline data, you can see a clear picture of your consumer search behavior and create reports similar to the one below.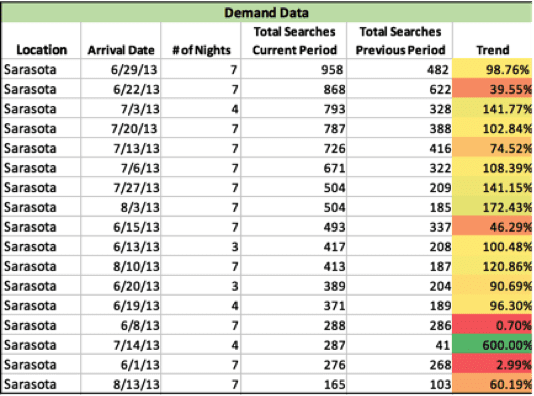 Conversion Data
This is simply your booking data- what check-in dates and number of nights were booked in which type of units.   The majority of the vacation rental software in the market today makes obtaining this data simple to access and export to Excel.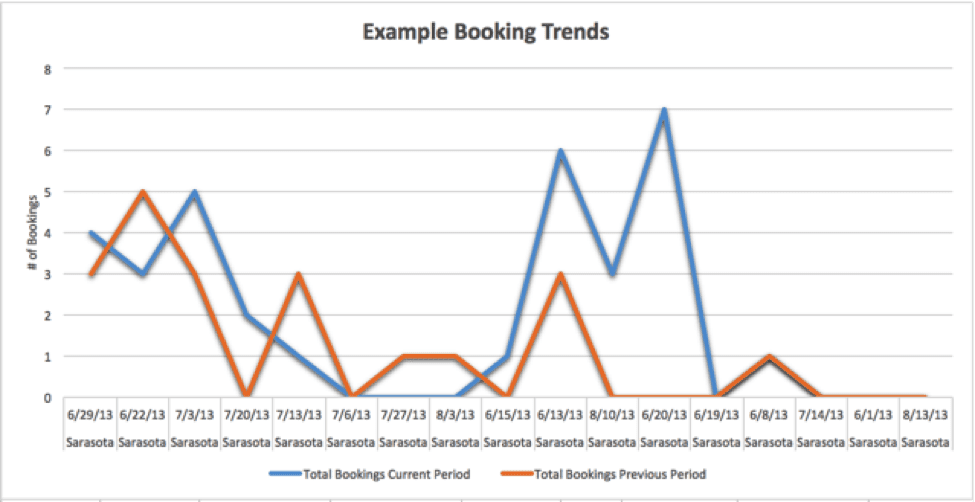 Using the Data for Rate Optimization
The reason it is so important to have your demand and conversion data before you make decisions is that once you have the data, it paints a clear picture of which strategies you need to activate in your rate and marketing tool kit to have the highest probability of meeting your goals.   Too often, there is a cry for every need period to have a promotion or an email blast, when in reality, different issues are at play and need very specific strategic reactions to ensure the expected outcome.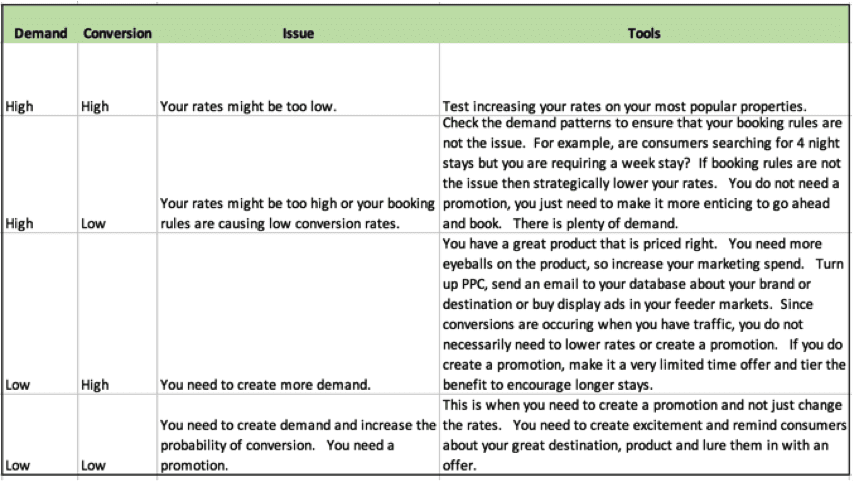 The Domino Effect

This data is not just for your revenue managers.  An effective rate optimization strategy also allows your marketing and eCommerce teams to create more effective campaigns and use their limited time and budgets most efficiently.

Business development can build an acquisitions strategy to target inventory where you have more demand than you have availability or demand for product types that you regularly show no search results. This will minimize your inventory churn and ensure that you add inventory that your consumers will want to book.

Rental managers will have real information to share with homeowners who want to know what is going on with the market and how your company is going to drive revenue aside from a shiny marketing PowerPoint.

Knowledge is power and harnessing your data to create a true culture of Revenue Optimization across your organization will help you stand out from your competitors.

<!-comments-button-->