According to current data—and in contrast to other sectors of travel—vacation rentals are performing better than anticipated in spite of COVID-19 concerns.
We often talk about the resilient nature of the US leisure-based vacation rental industry, but since 9/11, the sector hasn't had a global test like the one seen over the last few weeks. Yet the following regional data sets, provided by Key Data, demonstrate that forward-looking reservation activity is pacing above expectations in key markets.
The snapshots below show vacation rental booking pace—taken on March 5 and March 13—across multiple regions, including Hawaii, Oregon, California, Colorado, and the Gulf Coast and SE Atlantic Coast regions.
We reached out to Scott Shatford, founder and CEO at AirDNA, which provides market data and projections for the short-term rental industry, to see if this activity is similar to what he is seeing. Shatford confirmed that these occupancy and stay value indicators parallel the vacation rental performance AirDNA is monitoring.
"The data suggest a surprising resilience of short-term term rentals especially in drive to destinations," Shatford said. "Revenue and bookings in many of these markets are actually up year over year as people extend spring breaks and take refuge from major cities."
At VRM Intel, we are not data scientists. However, after discussing recent activity with vacation rental management executives, we have identified potential reasons for the consistent performance:
With a slowdown of international travel and cruise travel—and with a shutdown of theme parks and urban attractions—vacation rentals are a viable and less risky alternative.
Drive-to destinations are more popular than fly-to destinations in times of uncertainty.
With spring breaks being extended, children out of school, and more employees working from home, the freedom to spend time in a vacation home is more feasible.
Vacation rental cancellation policies are less flexible than hotels.
Winter "snowbird" travelers, who are often over 60 years of age, are finding it safer to stay in the south than returning home.
Some consumers are "vacating" cities with their families to drive-to vacation homes for a safer, less stressful, and more enjoyable option.
While adjusted occupancy is holding fairly steady, we are seeing some destinations experience a drop in average stay value, indicating that some regions may be discounting in order to preserve occupancy.
How to read these charts:
In the charts below you will see each region followed by an "as of" date (for example, "Hawaii: As of March 5th"). This means that that the two metrics—adjusted occupancy rate and average stay value—represent reservations on the books as of March 5th, 2020, compared to reservations on the books as of March 5th, 2019. The data sets compare booking pace on March 5 compared to booking pace on March 13.
Adjusted Occupancy measures paid occupancy, or nights available to rent. For example, adjusted occupancy excludes owner holds and maintenance holds.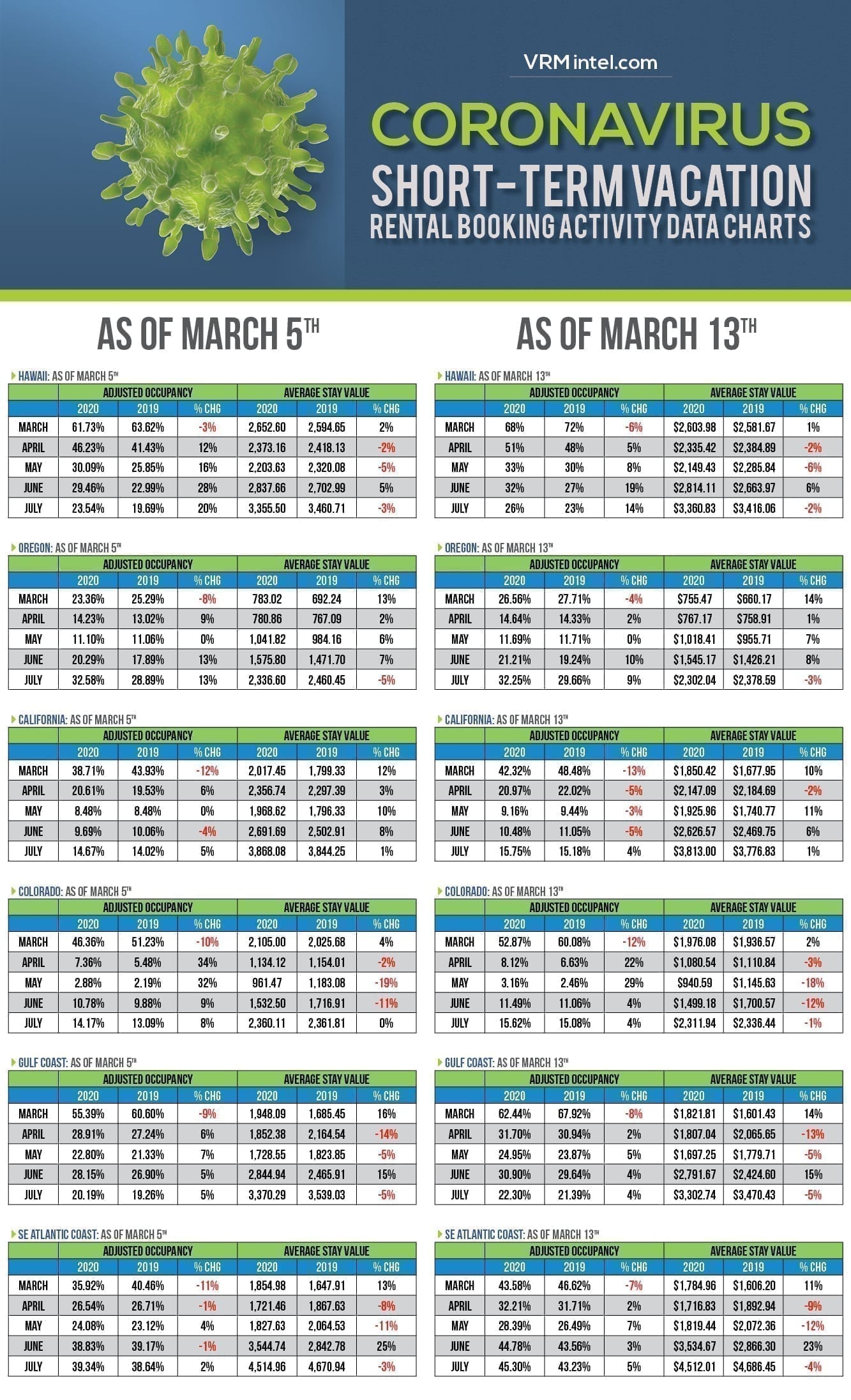 <!-comments-button-->