Vacasa recently announced the acquisition of five vacation rental management companies including: Accommodations Unlimited of Moab in Moab, Utah; Montana's Best in Whitefish, Montana; Mountain Memories Cabins in Ellijay, Georgia; Gail's Island Rentals in Key Colony Beach, Florida; and Blue Ridge Cabin Rentals in Helen, Georgia.
In addition, Vacasa announced its expansion into Costa Rica with the hiring of Lisle Head as Costa Rica country manager. Head has been a vacation rental consultant in Costa Rica for the past four years. Before that, he owned a Coldwell Banker franchise, which was named number one in the country for three years in a row. Since launching in the country, the local team has already signed 23 homes in Jacó. This is their fifth international destination after Italy, Spain, Belize and Chile.
The recent expansion brings the company's total home count under management to more than 4,000, and it is currently the second largest vacation rental management company in the U.S. behind Wyndham Vacation Rentals.
According to Montana's Best owner Adam Mercer, technology is what made his decision to sell the business.
"Vacasa has built what I believe to be the most dynamic technological infrastructure in the vacation rental industry to date, and that's really what made me decide to work with them," says Mercer, who has owned Montana's Best since 2012. "Having this technology available in-house means that our homeowners are provided the most lucrative opportunities for renting their homes, without sacrificing the excellent local care they've come to expect."
Vacasa began aggressive expansion in 2015. Following a recent injection of $35 million in Series A funding, Vacasa CEO Eric Breon announced that the company would use the additional capital to continue pursuing increased market share in every vacation market in the world, with the ultimate goal of ubiquity.
2016 Vacasa Acquisitions of Vacation Rental Management Companies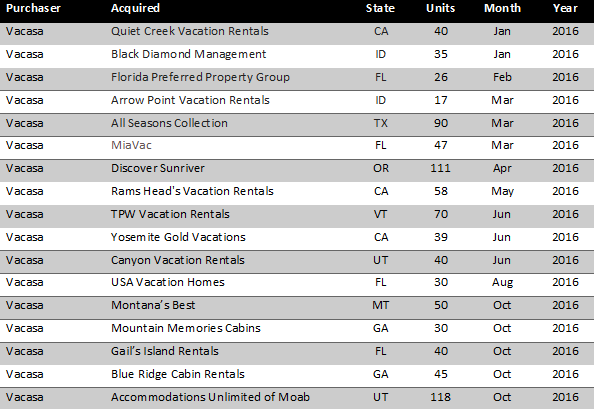 <!-comments-button-->