January 28, 2013 —  HomeAway, Inc. (AWAY), is the #1 worldwide leader in online vacation rentals. In June, 2011, Francis Gaskins, editor of the IPODesk.com warned subscribers to stay away from AWAY, opining that the IPO price of $27.00 was too high, the company's organic internal growth rate of 30% was too low, and that a whopping 81% of the proceeds were actually bailing out insiders.
Notwithstanding Mr. Gaskins' well thought-out opinion, the stock popped nearly 40% on opening day when it rose to $37.80, and for the next few months it traded well above the IPO price before reaching a high of $45.00 and crashing to $20.00 in December, 2011. So, who was right, and who was wrong about the IPO is really a question of timing.
It's my view that the company has matured, it's growing nicely, and the economies of scale are becoming visible and impacting on earnings. I believe investors should take a look at AWAY, which closed at $23.23 on 1/25/2013.
Overview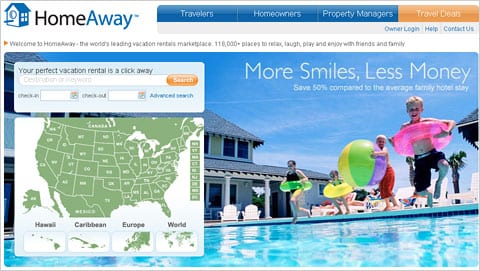 Based in Austin,Texas, AWAY was an early entry into the fast-growing consumer market trend of vacationers going online to book vacation rentals from private owners of homes, condos and cabins. The company generates income from listings they sell to property owners on an annual subscription basis. The 5 Tier subscriptions are payable annually in advance to AWAY, and they range in cost from $349.00 to $999.00, depending upon the upgrades selected and number of sites the listing will appear on.

Once a subscription is paid, the subscriber can set up the listing site which includes photos, pricing, a calendar showing the availability of the property, and all the information needed for a vacationer to make a booking. It's a very attractive proposition for property owners (like myself) looking for extra income to cover property taxes and carrying costs of second homes.

Since the concept really works for all parties (property owners and vacationers alike), some 720,000 property owners in 168 countries have already subscribed to AWAY's program. As a customer myself, I'm delighted with the results.

The HomeAway portfolio includes…Read More >>

HomeAway Revenue Growth
2008    82,000,000
2009    120,000,000
2010    168,000,000
2011    230,000,000

HomeAway Adjusted EBITD
2008    24,800,000
2009    30,600,000
2010    43,200,000
2011    66,800,000

HomeAway Free Cash Flow
2008    34,000,000
2009    32,000,000
2010    51,000,000
2011    64,000,000

Van Pelt's Conclusion: For all of the reasons stated above, I suggest that investors watch this stock. If it dips lower to its technical support level of around $20.00, I'll be a buyer. I'm comfortable with what the company has accomplished since going public. I understand it's business model and I've experienced it as a customer. Lastly, it meets the definition of Warren Buffett's "Economic Moat" which, theoretically, makes the company more valuable.

<!-comments-button-->