What Can VR Revenue Managers Learn from the Hotel Industry?
With more and more emphasis being placed on vacation rental revenue management, what do we stand to learn from the hotel industry? Seemingly, a lot. Most of what the vacation rental industry is currently experiencing and will experience in the future regarding revenue management has already happened in the hotel world. The data, tools, and processes are and will be fairly similar, and there is an opportunity to learn from the past to keep the vacation rental industry on an efficient pathway to success and innovation.
Data Sources
When it comes to data, hotels use similar data points as vacation rentals: historical and future occupancy, average daily rate (ADR), and revenue per available room (RevPAR) are the three key metrics for measuring hotel performance. Internal and external data is stored in various places, but most commonly in property management systems (PMS) and in revenue management systems (RMS). Internal data commonly includes historical and future occupancy, ADR, RevPAR, market segmentation, channel segmentation, and more. Older hotels have extensive stored data to use, and often this internal data is the most valuable to use when developing a revenue strategy.
External data in hotels points us to trends in the market and the competitive set but isn't as readily available as internal data. Third-party sources like STR Analytics and TravelClick provide paid reporting for hotels to gauge historical and future market performance and can be highly valuable in setting future strategies. Within the vacation rental industry, there is one key external metric that is widely available that is not as available in the hotel world. Forward-looking market occupancy is commonly used in vacation rental revenue management to gauge prospective availability. This data is harder to come by in the hotel world because many hotels do not disclose their future "on-the-books" occupancy data, and you can't easily get this information by going on a hotel's website and checking availability. Hotels also often compare their daily rates to their competitive set and need to utilize a rate shop to pull at least 365 days of pricing data for each of their competitors. Competitor price shops are important for hotels because guest rooms between hotels are often of similar value to potential guests. Vacation rentals are obviously more unique; therefore, competitor rate shopping is not as necessary when determining strategy.
The importance of good, clean data is as vital to vacation rentals as it is to hotels. Having reliable sources to count on while making strategic decisions is important because that data is the groundwork for any and all decisions made. Understanding the importance and capabilities of different data sources is also key when using advanced pricing and revenue management systems.
Systems & Software
Hotels use property management systems just like vacation rental managers to keep track of bookings, guest information, and more. The hotel industry has also been inundated with a lot of RMSs over the past few years. These systems primarily take on the role of dynamic pricing as well as yielding for hotels. Starting with rates, hotels can often have hundreds of rates available to be booked for any given night, in addition to their rack rate (best available rate or nightly rate) that is typically referred to as a hotel's main rate for any given day. Other rates include corporate account rates negotiated by companies, discounted rates like AAA and AARP, package rates, OTA rates, and many more. These rates are either flat or dynamic (discounted off of rack) and often have different net rates after considering channel distribution costs, commissions, and more. An Expedia rate is very different from a direct-booking guest in terms of cost, and a hotel may not want to offer lower net rates on high-demand dates. So how do hotel revenue managers decide which rates to allow for a specific night? Yielding.
Building rates and setting prices is really only half the battle for hotel revenue managers. With the cost of distribution on the rise, hoteliers had to find a way to control distribution based on net rates. Yielding solved this problem, and hotel revenue managers now focus on their distribution strategy in addition to pricing.
One of the most common techniques for yielding is by using a "hurdle" price. By setting a hurdle rate in addition to the rack rate, hotel revenue managers are able to tell their revenue management system the lowest acceptable rate they want to take across all rate plans for a certain night, similar to a minimum price. The revenue management system works with the rack rate and hurdle rate set by the revenue manager to open and close inventory on certain channels. To better illustrate this, here's a graphic demonstrating how a hurdle rate may affect a guest's booking process on an OTA website versus a big-brand hotel's website using the exact same nightly rate.
In this example, the revenue manager has set a $100 rack rate that is offered to the guest on both channels, but in the background, the revenue manager's hurdle point rate is restricting the Expedia rate from booking because the net rate is below that hurdle.
While property management systems are vital to a hotel's operations, a revenue management system is key to implementing a successful revenue strategy. While most vacation rental managers rely solely on third-party distribution channels, yielding can and will be an effective strategy for minimizing cost and maximizing revenue.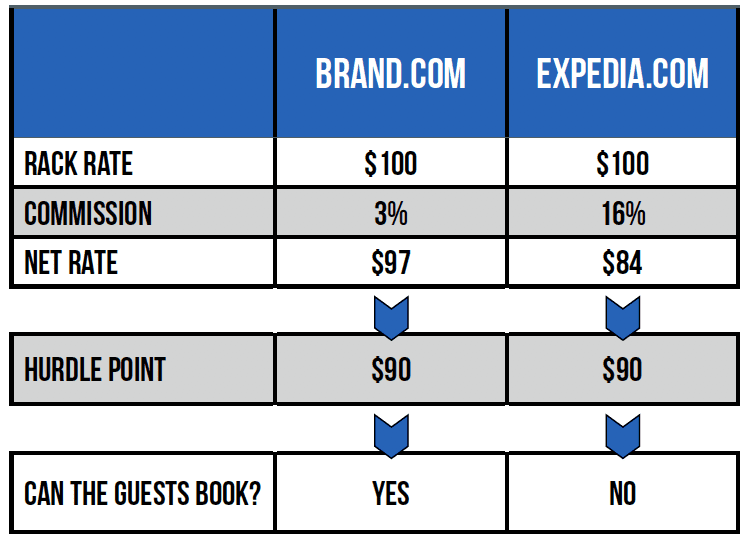 Revenue Management Services
So who is responsible for revenue management? Lately, this question has come up in the vacation rental industry along with more advanced discussions. Twenty years ago, hotels began to ask that same question as well. Now, most hotels in the United States have some form of a dedicated revenue manager responsible for implementing a revenue strategy. How did the hotel industry get there? There are three common ways that hotels designate a revenue manager.
The first option is also the easiest: hiring someone or promoting a reservationist to expand the role. Over time, this happened at many hotels, but only at larger, urban properties where it made financial sense to have at least one person in charge of revenue management for one hotel.
The second option fits better for smaller hotels—mostly midscale-branded properties—that have a harder time finding the money to dedicate to revenue management. As the larger hotel brands began to understand the importance of revenue management, franchise agreements began to include the requirement of a dedicated revenue manager. Large hotel brands then began to offer an additional service to franchisees in the form of third-party revenue management. Hoteliers pay a flat fee to the brand and in return have a revenue manager for their hotel that is managed directly by the brand. Imagine large call centers packed with revenue managers who have portfolios of 10–20 franchise hotels.
The third option spawned after this, once hotel owners with multiple properties grew reluctant to pay the big brands even more money for a revenue manager, and a dedicated revenue manager was financially out of the question. Third-party companies like Kriya RevGEN were formed to address this need. If a hotelier owns three hotels across Hilton, Marriott, and IHG, for example, they would have to pay each brand for a remote revenue manager and have multiple people handling their portfolio's strategy. Third-party revenue management service companies offer one dedicated revenue manager who is responsible for an entire portfolio, making life easier for the hotel owner and also meeting the brand's franchise requirements.
In light of that breakdown of how hotels determined responsibility of revenue management, we can apply the same logic to vacation rentals.
Large management companies can afford a full-time revenue manager on the payroll, similar to those larger hotels. For smaller management companies and vacation rental managers, how can you outsource revenue management responsibility to be both simple and financially sound? The answer there lies in third-party revenue managers, similar to what evolved in the hotel world. Most vacation rental managers with more than a few properties will need someone responsible for revenue management in some way. Pricing tools and more advanced revenue management systems that the vacation rental industry will likely see in the future will require attention and will not be fully automated. There are human inputs that will still be needed, so every vacation rental property owner and manager should already be thinking about their next steps when it comes to revenue management.
Vacation Rental Industry: What's Next?
While we're not able to predict the future, we do have the opportunity to learn from what hotel revenue managers have done over the past 20–25 years. First, hotels use similar data points as vacation rental managers to manage hotel revenue, which will help align strategic practices across both industries. Second, hotels (and airlines) have evolved their technical tools to include the use of a complete revenue management software solution, similar to a PMS. These RMSs take care of dynamic pricing, yielding, channel management, and more in one place. Hotels have also been battling third-party channels over the cost of distribution for years, and yielding strategies in hotel revenue management have become as important as dynamic pricing. With OTA and third-party sources already prominent in the vacation rental industry, the cost of relying on such channels has already become a topic of revenue management discussions. Vacation rental revenue management is likely heading toward a combination of both dynamic pricing and yielding as more and more owners and managers opt to use dynamic pricing and more advanced revenue management becomes necessary. Finally, hotels have realized the importance of having dedicated revenue management teams responsible for implementing strategy. The hotel industry also figured out, over time, how to efficiently ensure that dedicated revenue management is feasible for hotels of all sizes.

There are quite a few key differences between hotels and vacation rentals that make both industries unique. Revenue management practices are prevalent across the board in the travel world, but hotels have already recently worked through regulation, changing markets and economies, technological advances, and more. Insight into the history of hotel revenue management can help vacation rental managers anticipate similar hurdles and adapt their strategies to remain successful.

<!-comments-button-->