The Onsite Property Management Association (OPMA) held its Spring Executive Summit May 18-20 at the Inverness Hotel and Conference Center in Denver, CO. This forward-looking event addressed a multitude of high-level topics and opportunities for onsite rental property managers representing the hybrid condo-hotel lodging sector.
OPMA is made up of onsite vacation rental property management companies and targeted service and product suppliers and provides education, advocacy, and the promotion of the value of the rental experience through onsite property management. The Summit was attended by executives from the largest and most influential onsite property management companies representing condo hotel properties in the U.S., and provided industry-leading education and networking.
Key takeaways from OPMA's Spring Executive Summit
1. Partnership with DestiMetrics
The OPMA members proposed and ratified a partnership with Ralf Garrison and DestiMetrics to initiate a Joint Destination/Lodging Research Program. This cooperative research program is designed to measure the OPMA lodging category to inform and educate local destination resort communities and to empower OPMA member companies with "non-hotel" metrics.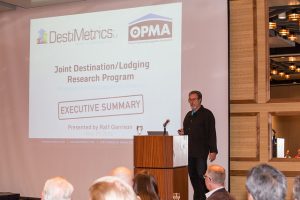 Destimetrics was founded back in 2004 and currently provides lodging research programs for most of the Mountain West destinations and is focused now on penetrating the most popular beach markets in the USA.
With the partnership, properties will provide their data, in confidence, to Destimetrics who will provide the aggregated data model, systems, procedures and implementation. The research program will be funded by each Destination Marketing Organization (DMO) with the next market implementation in Panama City Beach, Florida. The DMO will also provide a local hub administrative resource and will solicit additional property participation.
With the vast onsite rental inventory represented by the OPMA membership, this partnership is an important step in establishing national benchmark reporting for non-hotel accommodations.
According to Paul Wohlford, OPMA President and Vice President at The Resort Collection, "The DestiMetrics program and forecasting tools can take the professionally onsite managed Property Management sector to the next level by quantifying what our segment represents in the entire travel industry."
Wohlford added, "We have never been able to appropriately quantify our financial impact in the travel market that benefits all the destination stakeholders including retailers and local residents. The partnership between OPMA and DestiMetrics will help educate both owners and consumers as to why they should travel to those properties managed by professionals."
2. Phocuswright Talks Industry Growth and Airbnb Impact
Pete Comeau, Senior Vice President, Research Sales at Phocuswright, presented research about the vacation rental industry, beginning with the finding that – in just three years – the percentage of U.S. travelers who have rented a whole home or apartment has more than doubled, from 10% in 2012 to 22% in 2014.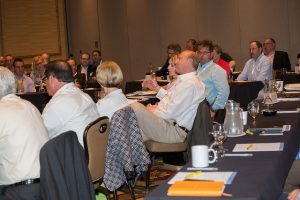 Comeau discussed demographic shifts among vacation rental guests and the motivations of next-gen travelers before taking a deeper dive into Airbnb's impact on the industry and the building blocks which contributed to their success, including Airbnb's website design and user interface, their online booking path, their engaged community, the implementation of 2-way reviews, and their attention to the Host (Phocuswright's The Airbnb Traveler, March 2016).
The session provided an in-depth look into the Airbnb Traveler and identified their considerations throughout the booking process. It also provided a roadmap for how OPMA members can leverage these research findings to their advantage in their respective market areas.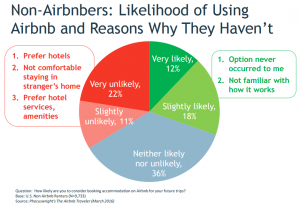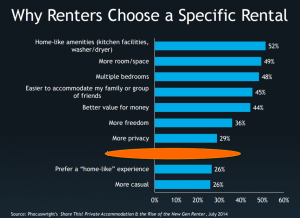 3. OPMA Takes Steps Toward Bulk Purchasing
In a session led by John Dalton, Chief Marketing Strategist at OPMA, the OPMA leadership presented to its membership ideas on collaborating on purchasing contracts to obtain better pricing from vendors. Dalton encouraged members to leverage their purchasing power through the OPMA to reduce operational costs.Additionally, OPMA has recognized and is encouraging a trend underway of multiple OPMA suppliers coming together to provide onsite manager members with a shopping cart of ancillary bundled services and products.
4. Regulations at the Forefront
For professionally managed vacation rentals, regulations and tax remittance remain hot-button issues in 2016. A panel session which included Paul Wohlford, Vice President at The Resort Collection, Lino Maldanado, Vice President at Wyndham Vacation Rentals North America, Dean Brookie, Mayor of Durango, CO, Dennis DiTinno, CEO at Liberte Management Group, and Jim Olin, Founder and President at C2G Advisors, addressed regulations, tax compliance, and the financial impact of vacation rentals to the destination.
The panel engaged the audience with in-depth discussions about working with both city councils and DMOs to demonstrate the category's economic value to their communities and to identify ways to bring illegal rentals out of the shadows.
Wohlford shared an experience in the Panama City Market in which lodging partners are active in the community, but even there, many decisions are made without input from the lodging partners. This year, Panama City officials decided they no longer wanted to be a "spring break destination", so they created burdensome ordinances which effectively devastated bookings for March, which had historically brought in millions to the local economy. The decision was made without any meaningful discussion with lodging partners and without consideration for the economic fallout (In Panama City Beach, visitors spent $123 million in March 2014).
The discussions reiterated the importance of continually working with elected officials and DMOs to consistently communicate the economic impact of rental income and partner with destinations to facilitate the conversion of illegal vacation rentals to tax compliant vacation rentals. The other major focus of the session was how we can compile, with the input of diverse municipalities across the country, the best practices for ensuring that consumer friendly ordinances are introduced that provide for across the board tax compliance of all participating lodging entities while satisfying the needs and interests of both the area visitors and destination stakeholders.
5. Stop Calling it the "Off-Season"
As the vacation rental sector increases in visibility, shoulder seasons are showing signs of life across multiple destinations. Lino Maldonado, RVP for Wyndham Vacation Rentals and John Dalton shared that the Wyndham Vacation Rentals team changed the way they viewed the off-season by internally changing their season descriptions. Instead of internally referring to certain dates as "off season," they started referring to those dates by identifying the best reason to visit during specific date ranges, i.e. festival season, fishing season, holiday season….even pirate season in one destination.

By changing the internal dialogue, they were able to change the overall perception of destinations during less busy times of the year, improving the sales and marketing process.

The summit also addressed customer relationship management, guest surveys, and loyalty programs. The next OPMA Executive Summit will be held November 9-11, 2016  at the Sandestin Golf & Beach Resort. For more information on joining OPMA, go to http://theopma.org.

<!-comments-button-->