The Onsite Property Management Association (OPMA) held its Fall Executive Summit Nov 17-18 in Tampa, FL. This forward-looking conference addressed a multitude of high-level topics and opportunities for onsite rental property managers representing the hybrid condo hotel lodging sector.
OPMA is made up of onsite rental property management companies and provides education, advocacy, and the promotion of the value of the rental experience through onsite property management companies.
Key takeaways from OPMA's Fall Executive Summit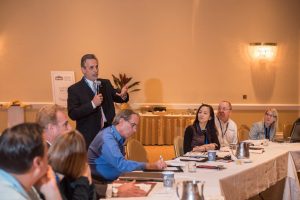 1. Know the impact of your business on your economy.
Dr. Steve Morse, Economist and Director of Hospitality and Tourism Program College of Business, Western Carolina University College of Business, presented a "How-To" session on determining an OPMA member company's economic impact.
Morse said, "Every property management company should know their economic impact and should have these numbers available at any given time. It is imperative that you make a conscious decision to show your economic impact to community leaders."
Morse identified four metrics that a vacation rental manager should know:
Spending Created
Jobs Created
Worker's Paycheck
Taxes Generated
Dr. Morse, working in concert with one of the OPMA members, produced a beta test model in a major vacation rental market which was presented at the Summit. Morse demonstrated how to use business intelligence, in combination with numbers from the CVB or State Tourism Department to determine the impact, including number of nights, average size of party, average stay length, and average daily rate.
2. There are new tools to help communities identify illegal vacation rentals.
New technology is emerging to help communities identify and penalize rogue vacation rentals who are not paying taxes or complying with regulations. Vacation rental industry veterans Jim Olin and Micah Berg have developed map-driven technology that provides enforcers with workload and process management.
According to Olin, "The percentage of rent-by-owner vacation rentals that are in violation is substantial, in the double digits in most destinations."
The software platform allows investigators to identify non-compliant rentals, track their investigation process and monitor ongoing activity, communications and progress.
3. Hotel brands are starting to understand vacation rentals.
While the AH&LA attempts to discredit vacation rentals as a credible lodging option, several mammoth AH&LA members are moving toward a deepened understanding of the vacation rental industry.
According to a presentation given by OPMA member Kevin Groff, Vice President of Corporate & Strategic Development at Wyndham Exchange and Rentals, the U.S. vacation rental market generates $22.8 billion in revenue, and the European market represents $57 billion. Groff also presented a timeline of the acquisitions Wyndham has made in the vacation rental space.
Other major hotel brands are also investing in the sector or are look for ways to leverage the channels. Hyatt recently invested $40 million in London vacation rental company OneFineStay, and CEO Mark Hoplamazian said, "From our perspective, we've looked at this whole sharing economy dynamic as a broad consumer issue and the consumer behavioral change, and we've always been drawn to it…This is going to be a part of how people travel."
Extended Stay CEO Gerry Lopez observed, "Airbnb could become a distribution channel just as much as it could a competitor."
Even in Marriott's recent announcement of its acquisition of Starwood, both the New York Times and Marriott CEO Sorenson cited the growing online home rental marketplace as a major factor in the decision to consolidate.
In addition, both Priceline and Expedia have made sizable recent investments into growing their vacation rental business pointing to the concept of marketing to the complete traveler.
Priceline CEO Darren Huston said, "In terms of the vacation rentals incremental or not, our general belief is, first of all, it's one customer. And either a customer is just a consumer or they're a business person and a consumer. And they take a number of trips every year, and every trip has a different rationale. And if somebody is a hotel booker on three of their trips, they may be on a trip with their family and become a vacation rental booker. We want to be able to provide all of those instances and all of those scenarios through Booking.com, so they become comfortable with that, rather than in the past, they feel if I need a hotel, I go to booking, and if I need a vacation rental, I go to company X, Y or Z." (Read more of Huston's comments)
4. Vacation rental managers can earn more business by adopting a 3D approach to the traveler.
In a session on the future of vacation rental marketing, John Dalton, Chief Marketing Strategist for OPMA, spoke in depth about marketing the experience over the property.
Dalton said, "The supply side is trying to sell a product, while the guest is trying to buy an experience."
Dalton presented research demonstrating how the travel experience is viewed by the traveler in three stages:
Anticipation of the vacation
The actual vacation
Memories of the vacation
His findings showed that more focus was spent by the traveler in the anticipation and memory stages than in the actual vacation. Marketers can leverage this opportunity by finding ways to build loyalty in the anticipation and memories stage, including trickling value added services in the anticipation stage, and memory-based, guest-centric messaging post-vacation.
5. "Trust" is key in securing future vacation rental guests.
With the influx of shared accommodations in the marketplace, trust is becoming a bigger factor for travelers in their decision to book a vacation property.
"Guests don't book because they've never tried a vacation rental, they don't trust a vacation rental or the process, and they don't know what to expect," said Dalton. Communication of professional management, safety and security is key going forward, and there is opportunity to differentiate the services OPMA members provide consumers by promoting:
24/7 service
Safety
Security
Online Booking
Credit Card Payments
Travel Insurance
Dalton added, "The currencies of the future are differentiation, targeting and value-added service."

The summit also addressed customer relationship management, guest surveys, and loyalty programs. The next OPMA Executive Summit will be held in May 2016 with the specific venue and dates yet TBA. For more information on joining OPMA, go to http://theopma.org.

By Amy Hinote

<!-comments-button-->