Founded in 2012, Spokane-based Stay Alfred manages four hundred short-term rentals in busy downtown areas in twelve major U.S. cities, with plans to grow its rental inventory tenfold and expand internationally over the next three years. 
Stay Alfred founder Jordan Allen formed the company with partner Conrad Manfred, who eventually moved on to other ventures. "Alfred" is a combination of the cofounders' names—though they went through multiple name iterations before settling on Stay Alfred. 
Those in the industry who have had the privilege of getting to know Jordan Allen know that he is an insightful, out-of-the-box thinker who has taken the time to study the vacation rental and hotel industries and carve out a niche for his fast-growing company.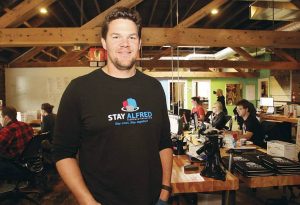 The Stay Alfred business model is laser focused on short-term rentals in downtown locations in major US city markets. With an average stay of 4.1 nights for 4.4 people, the company caters to families and corporate travelers looking for larger spaces, vacation rental amenities, and a more local experience—but with hotel-like standards.  
"The top markets we have entered are undersupported with this kind of new short-term rental concept, particularly in downtown areas," Allen said. "At Stay Alfred we go in, test the market, see how it is working, and then expand within the city."  
Stay Alfred has a variety of economic models for securing inventory, but Allen doesn't manage homes in the traditional sense. He primarily leases units under long-term contracts but has recently transitioned to leasing entire apartment buildings to control the entire guest experience.  
Allen explained, "It is much more like a hotel operation, and now we are master leasing whole buildings. Instead of going out and renting two or three units in a building, this gives us flexibility on signage, corporate sales, and government contracts." 
The challenge with Stay Alfred's model is that it is responsible for the long-term lease payment of its units, regardless of whether it is able to maintain occupancy. "We carry the cost of the rent, which is why we are really hungry to make sure that we can make reservations," Allen said. "There are certainly benefits and downsides of the model. The benefit is we don't have to deal with owners and guests; we just have to deal with guests. But we have the rental amount of these properties that is due every month, and it can turn into a really scary number. 
"This model pushed us to be at the forefront of revenue management, distribution, so we have turned into more of a differentiated hotel/hospitality company than we are a vacation rental company," said Allen. "But we grew up as a vacation rental company, so we understand the industry and have merged the best of hotels and the best of vacation rentals into one hospitality model. For example, when we go into a city, we don't go into the suburbs and into the residential neighborhoods. We only have properties in major downtown markets." 
"This last year was a huge year for us," said Allen. "We just completed a large capital raise and really narrowed our scope and articulated our identity and corporate strategy." 
Allen is referring to the company's January 2017 raise of $15 million in a Series A investment round. Stay Alfred will use the funds to scale across more cities in the United States and launch internationally in about eighteen to twenty-four months. Stay Alfred's goal is to grow to more than four thousand properties around the world. 
"We're building nationwide, and the reason for the capital is [we are] building an international brand that lies between your consistent hotel stay and this new vacation rental, short-term rental, Airbnb/HomeAway stay," said Allen. 
Regulations
With city regulations in flux, we asked Allen how he maneuvers changes in legislation.  
"We've been able to figure out the regulatory landscape in every city we are in," Allen said. "Things do change, but while there is always legislation coming down the pipeline, more often than not, it doesn't seem to actually go into action by the time the signing of it comes up. A lot of cities are smartening up and seeing what happened in San Francisco and Portland and realizing that trying to completely ban short-term rentals or not trying to come up with smart legislation around it just drives people to do it underground, which nobody wants." 
Opponents of short-term rentals are labeling operations like Allen's "illegal hotels," but Allen disagrees, primarily because his model is not illegal. "We have seen dominant cities, like New York and San Francisco, coin the term 'illegal hotels,' and it has become a national term. But each city has its own regulations down to zone or use or in a specific area. We are legal in every city we are in. When you get to a certain size of business, it just isn't worth it to operate outside of the law. You can't build a brand and be a fly-by-night, illegal company." 
OTA Strategy
Even though Allen has a more hotel-like offering, he is continuing to operate distribution through major vacation rental channels, and the majority of his bookings are still coming from VRBO and HomeAway, even though he believes that Airbnb has a better product.  
"Even though Airbnb has been a leader in the sharing economy with its public-facing image, I think many people don't realize that commercial operators and owners who are renting out their entire homes represent the majority of their inventory. It seems to us that people don't want to share accommodations when they are traveling, especially with families and business travelers. Maybe Airbnb started out that way, but it is now primarily entire homes and has really become more of a VRBO/HomeAway–type product. They just have a better product than HomeAway or VRBO." 
Allen continued, "But Airbnb is a blessing and a curse for us. They have brought a lot of bad attention to our market. Before Airbnb, we didn't have any issues with buildings or regulatory issues. They have brought awareness to the industry, but they have also brought a lot of bad actors into the space.  
Technology
In October 2016, Stay Alfred transitioned to Streamline's property management software.  
"One of the big reasons that we decided to go to Streamline is that its distribution is best in class in the vacation rental space," Allen said. "With our old website, our direct online bookings were about 5 percent of the total, but with our new website—and Streamline and Bizcor helped—our direct reservations increased to 20 percent, which is huge when you are paying some of the commissions to OTAs."  
Allen added, "Every system has its strengths and weaknesses. If you plan on growing and getting big, you have to go with a larger company like Streamline, and we have a lot of proprietary technology we are building." 
Allen has also developed an intricate revenue management system, and it now yields externally through the Streamline API. "I love revenue management. The hotel world has a completely different and opposite style of revenue management than vacation rentals have. Running a competitive set is very difficult. In fact, it is pretty darn close to being impossible to develop a stable comp set in our space. A hotel-style revenue management system is very complex and specific to a hotel, and on the vacation rental side, we have a different yielding methodology. I can't imagine that the hotel style will ever work in the vacation rental industry and vice versa." 
Lessons Learned
We discussed the lessons that Allen learned along the way. Allen said, "You do your best, and you have to care. In this business, you are passionate about everything. You may not be able to please every guest. But you have to continue to run your business, and you can't let one guest experience get you down." 

Allen continued, "This is a hard business. Our guests are spending a lot of money on their precious vacation, and if things don't go perfectly right, it can get bad really quickly. We started putting performance metrics in place and processes to measure guest satisfaction so that we are not relying anecdotally on one-off guest experiences to make our decisions." 

"I would love to tell you that we have a secret sauce, but we don't. The number one thing we do is pick up the phone. The biggest strategic advantage we have over our competitors is that we answer all calls at all times of the day." 

"In a hotel, you know what you're going to get when you show up," Allen added. "For us, we can manage guest expectations because we have Class A buildings with Class A amenities. Guests can cook, do their laundry, have a local experience, and have [the] best of both worlds. Control of the entire guest experience is a major advantage for us," he said. "At the end of the day, most of our 'competitors' are marketplaces for someone else's widget. We're the marketplace and the widget." 

<!-comments-button-->