RealTimeRental has recently announced the launch of their new Tenant Portal. The RealTimeRental Tenant Portal allows vacation rental companies to give their rental guests online access to their vacation information and the ability to make online payments.
"Keeping up with the current trends in the vacation rental industry, we wanted the RealTimeRental Tenant Portal to help Property Management and Real Estate companies offer their rental guests a secure and modern online travel experience" said Sherry Tomasso, co-founder of RealTimeRental.
Through the RealTimeRental Tenant Portal, rental guests can view the details of their bookings and access information about the rental property including photos and amenities. Rental guests can log in to their secure tenant portal account and make payments on existing bookings with credit cards or electronic check, if the rental company chooses to accept these payment types.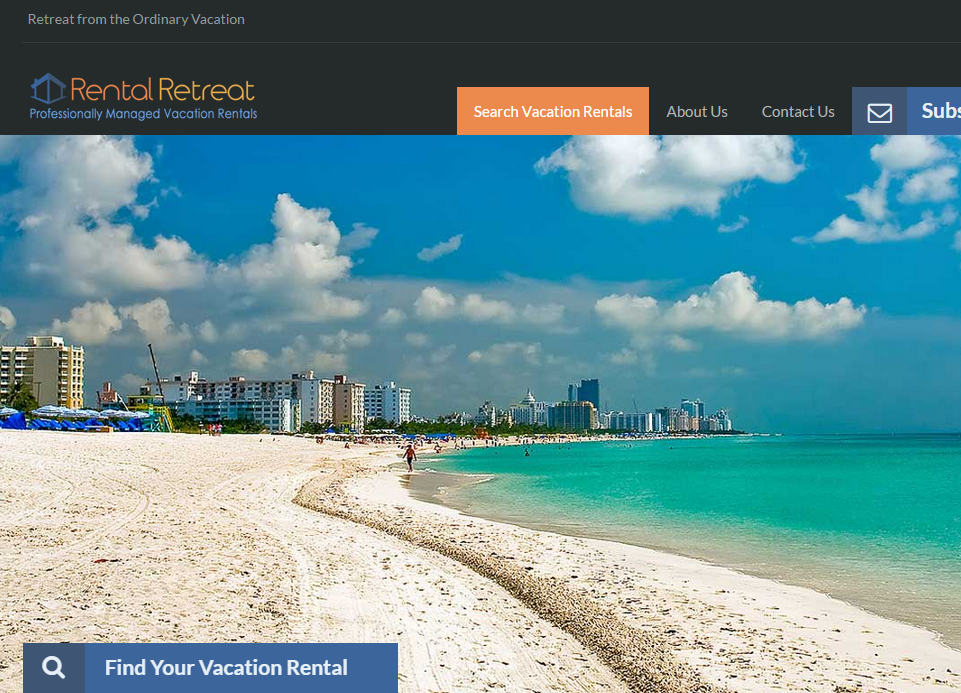 "Today's traveler is used to planning their vacation online. In addition to RealTimeRental's property links that integrate with existing websites and our property owner portal, we wanted to give RealTimeRental clients another way to interact with their rental guests online" said Tomasso. "The Tenant Portal was designed with not only the professional vacation rental manager in mind, but also the overall rental guest experience."

Designed to be user friendly, the RealTimeRental Tenant Portal has a video tutorial menu that walks the rental guest step by step through the payment process. Rental guests can also update their personal contact information on the Tenant Portal, and it will be automatically updated in RealTimeRental vacation rental software.

All payments received through the Tenant Portal are seamlessly integrated with RealTimeRental's, industry leading, trust accounting package.

"One of the main benefits of RealTimeRental's trust accounting package is the fact that it is fully integrated with our comprehensive reservation system," said Joseph Testa, co-founder of RealTimeRental.

Whether payments are received through the tenant portal or processed through the rental office, RealTimeRental creates a full audit trail from the moment the money is received through payout. Rental offices can keep track of their finances all in one system without having to purchase or use additional accounting software.

"Many RealTimeRental clients are vacation rental companies who have built lasting relationships with their rental guests and have repeat tenants year after year. Because of our client's high guest retention rates, we decided to include guests' past rental history in the Tenant Portal," said Testa.

The RealTimeRental Tenant Portal displays the past rental history of the guest, as well as details about the vacation rental properties that they have stayed in. The lease history section of the Tenant Portal also features a rebook request form. Rental Guests can inquire about availability on their past favorite rental properties and send a message to the property manager right from within the RealTimeRental Tenant Portal.

The launch of the Tenant Portal follows the successful release of www.RentalRetreat.com, RealTimeRental's distribution portal that was launched earlier this year.

"It is very important to have an online presence in today's vacation rental industry. We are constantly working to bring digital marketing opportunities to RealTimeRental clients," said Tomasso.

Unlike many other popular distribution channels, RentalRetreat exclusively hosts professionally managed vacation rental properties.

"Our fifteen years of experience in the vacation rental industry has truly shown us the extra value and protection that professional vacation rental companies provide to travelers. Rather than letting home owners list their own properties, we wanted our distribution portal to exclusively host vacation rentals that are professionally managed," said Testa.

RentalRetreat has over 40,000 professionally managed vacation rental properties across the United States, Mexico, and Costa Rica. Travelers can have the peace of mind that every rental property hosted by RentalRetreat has been inspected and approved by a legitimate vacation rental company.

RentalRetreat is a subscription based distribution portal, meaning that the Real Estate and property management companies who host their inventory do not pay by the leador by a percentage of the transaction.

"We are pleased with RentalRetreat's lead conversion rates and how well the distribution portal has been received by the RealTimeRental users. We are looking forward to allowing any professional vacation rental company to participate with RentalRetreat, regardless of their rental software provider," said Tomasso.

Currently the ability to host rental inventory on www.RentalRetreat.com is only open to RealTimeRental clients, but the programming team at RealTimeRental is working towards allowing non users to host their inventory on the distribution portal.

About RealTimeRental

RealTimeRental is the premier vacation rental software solution for 200+ rental offices in the United States, Caribbean, Mexico, and Costa Rica. As the first web based vacation rental system on the market in the year 2000, RealTimeRental has consistently provided a comprehensive reservation and accounting system for the past 15 years. As a cloud based application, RealTimeRental vacation rental software clients have the peace of mind that their reservation management system can be accessed 24/7 via the cloud. For more information about RealTimeRental, the Tenant Portal, or RentalRetreat please visit www.RealTimeRental.com or call 888-828-2303.

<!-comments-button-->