Tucked in the fast-paced heart of downtown Austin, HomeAway's World Headquarters occupies the corner of 5th and Lamar. Just forty-eight hours before his final day at HomeAway, I sat down with Carl Shepherd to ask about his thoughts on the vacation rental industry today, his predictions for the future, and to find out what is on the horizon for the entrepreneur-in-residence.
His office shelves were bare, empty of books, files and memorabilia. Half-packed cardboard boxes filled the room. The smooth desktop was devoid of its owner's belongings. I was immediately struck by the thought: The idea of Carl Shepherd retiring from HomeAway is surreal.
It is impossible to imagine what the vacation rental industry would look like today without the influence of Carl G. Shepherd.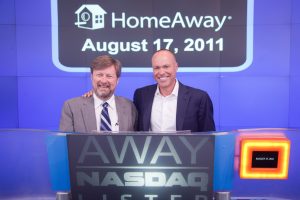 HomeAway launched in early 2005 by Carl Shepherd and Brian Sharples. As Chief Strategy and Development Officer, Shepherd engineered the company's acquisition binge. During HomeAway's first two years of operations, he quarterbacked the purchase of eight leading vacation rental marketplaces including TripHomes, A1Vacations, GreatRentals.com, CyberRentals, Rent101.com, Germany's FeWo-direk, the UK's Holiday-Rentals, and the U.S. flagship site VRBO.com.
Since that time Shepherd has initiated and completed acquisitions of top vacation rental online marketplaces throughout the world and helped to lead HomeAway to a successful IPO in 2011, resulting in the company becoming the number one vacation rental marketplace in the world. Not bad for a 1970 graduate of Woodrow Wilson High School in Dallas.
Q: What trends do you see impacting the way the vacation rental industry is shaping up today?
CS: Right now there is a euphoria surrounding all things associated with the sharing economy. As a result there's a lot of new inventory coming into the market. At HomeAway 95% of our rentals are second homes primarily in vacation destinations with more than two bedrooms; by contrast, 95% of Airbnb's listings are primary residences in urban centers, and more than 75% of those are rented, not owner-occupied, one bedroom or less apartments or simply a room. What this means is today there's more inventory in a whole lot of urban markets which has resulted in a lot of younger, millennial travelers experiencing alternatives to hotels.
This creates an interesting conundrum. As an industry, how do we differentiate what we do from someone's apartment, complete with his underwear in the hamper, and food in the refrigerator? At HomeAway, we like the notion of privacy and ownership, we like the traveler to feel like the home is theirs while they're on their stay, not someone else's home they're camping out in. The experience of staying in a dedicated, private vacation home versus the experience of staying in someone's personal residence is very different.
Second, there is a generational shift; people now expect to do everything online. This is having a real impact on owners and property managers who have been in the business for a long time. Today, 30% of travelers have stayed in private homes as opposed to less than 8% when we started HomeAway in 2005. That means the audience for vacation homes has more than tripled during the age of online transactions. Many owners tell me that they don't believe travelers want to book online, but Booking.com has proven that travelers instantly book a private property if given the chance. It's clear to me that the traditional vacation rental provider will have to move to online booking in order to survive. Our strength has always been a high degree of customer satisfaction due to our selection, and that has been good for us and the owners who use us. But in the future we'll see both large selection and instantly bookable homes. Owners who won't accept online bookings will see intense competition from those who will. Right now our competitors don't have many individually-owned, second homes. We may see that change.
Travelers are driving the industry in this direction, not HomeAway, not Airbnb, or Booking.com. Demand drives all industry. Owners who ignore what the traveler is demanding do so at their peril.
At HomeAway, we believe part of our responsibility is to prepare owners for a future they may not see coming. Rapid change in the industry will continue. There are going to be many more options and lots of competition, and when we inevitably see the vast majority of private homes become bookable online we want our owners to be ready.
Q: What was your most challenging acquisition at HomeAway?
CS: Australia's Stayz. I wanted to buy it in 2005, but I was ten days late in meeting the owner and he had already committed to sell it to Fairfax. Luckily for us, Fairfax eventually decided to divest itself of Stayz. We had the opportunity to purchase it in 2013, but because it was the last crown jewel in the vacation rental industry, a bidding war developed. It took eight years to buy that company and the last 24 hours took 10 years off my life!
Stayz did not rely on a subscription model. Their business model was essentially pay per booking on the honor system. It worked in Australia, but can you imagine that working here? We still have not integrated the site into the HomeAway technology.
Q: When you look at what is coming in the vacation rental industry, what are your predictions?
CS: First, I predict what I call the "Revenge of the Property Manager". Over the next few years we will see property managers, as we say in Texas, in the cat-bird seat.
Screening guests, managing credit card payments, arranging for housekeeping, differentiating properties, all the related tasks and services that travelers expect are getting harder and harder to manage for individual home owners. This is occurring at the same time that new and progressive property managers (PMs) are looking to re-invent the property management business model.
Even though there will be a big opportunity for professionals, yesterday's property management methods are going to have to adapt. I foresee PMs will find new revenues by opening up their models: accepting inventory that is available for less than a full season, offering a la carte services while dropping the base percentage fee, providing only housekeeping supervision, etc. I see room for full-service options, but I think that will work best for high end homes where the owner is willing to sacrifice his margin for his lack of involvement.
And I foresee a new emphasis on the PM's brand. We've all heard people wax poetic about the word brand at vacation rental conferences, but I don't think it's been done in a way that benefits the VR professional. Brand, for a vacation rental manager, cannot be sustained if you don't have repeat guests. Today PMs need to piggyback on larger brands that can reach new travelers, and then double down on providing the best service to inspire repeat guests and direct word of mouth bookings. For example, PMs often maintain a set of inventory that ranges from one to five stars. They need to ask, "What do my properties say about me? Am I putting 5-star travelers in 3-star properties? And if I do, why would they come back or recommend me?" They can also learn to use sites like HomeAway to bring new people to them who are the best match for their property: when they do that, their brand will benefit.
Q: What has driven HomeAway's slowdown in acquisition?
CS: Our scale has changed. For an acquisition to be meaningful today it has to be much larger. We have acquired the world's largest vacation rental marketplaces in every country where the industry is fully developed. For the emerging markets in vacation rentals, there are not market leaders yet. They are still trying to build up industry and they are not yet profitable.
For example, VRBO.com founder David Clouse reached profitability, not because he had venture capital to burn, but because he and Lynn didn't spend more than they made. In today's world, small companies need a lot of money to get started to buy traffic, attract supply, and differentiate themselves from many well-funded competitors, so few have reached a profitable state. The money is spent on getting big, fast.
In acquisitions, we are now looking at what can add value to our customers. Instead of outright purchases, we've invested in companies that add selection for the traveler such as: TravelMob (Singapore), CanadaStays (Canada), HemenKiralik (Turkey), Bookabach (New Zealand) and Tujia (China).
Q: What was the most surprising challenge you faced during the rapid-growth of HomeAway?
CS: The most surprising thing, and frankly one of the biggest hurdles, was discovering the Hatfields/McCoys relationship between professional property managers and owners back in 2005. The level of distrust between For Rent By Owners (FRBOs) and PMs took Brian and me completely by surprise and delayed the consolidation of the industry – exactly what travelers wanted – by years. It wasn't until we acquired Escapia and Instant Software that we could tackle this problem head-on, and I think everyone – owners, PMs, and travelers – have benefited from the unification of the industry.
Q: What is next of the horizon for Carl Shepherd?
CS: All retired people grapple with how to be involved, but not consumed as I have been over the past ten years. I'm hoping to find that balance. I remain on the board of HomeAway. I'm also an angel investor in several companies in our space, including TurnKey Vacation Rentals and OnceThere.com, a marketplace for vacation activities. There's a lot of opportunity in the activities industry, and, in a way, it has similarities to the vacation rental industry. I also plan to do a little traveling myself. With the relationships I've formed with our homeowners I would like to stay in several of the properties we market on HomeAway.
Most importantly though, is our youngest son, Jack, who has Down syndrome. My wife Suzanne and I are very active in efforts to educate parents and help families understand intellectual disabilities so that they can help their children reach their full potential. Jack graduates from high school this year and even though we've been involved in learning how to help children with intellectual disabilities find their place in the adult world, it is much more urgent now that Jack is an adult. Can you imagine the poor guy who hires Jack and gets me as the work-coach?
Q: What do you consider your greatest accomplishment while building HomeAway?
CS: Most people will talk about the way HomeAway enabled the world to see the size and scale of the vacation rental industry, and the way we introduced this type of travel to a larger, worldwide audience. But what I'm most proud of are the men and women who have found careers here, the families that we enabled to have a great quality of life, the children that just keep coming and the future they represent. It's the families I'm proudest of and the families I'll miss the most.

Carl Shepherd has succeeded in understanding the vacation rental industry and all of it eccentricities. He found a way to bring together, on a common platform, owner-managed and professionally-managed homes. Thus, he helped create a marketplace that offers travelers the largest selection of vacation rentals on the planet. While we can expect to see Shepherd pop up from time to time to add insight and experience that will help further the industry, his consistent, full-time presence and strategic direction at HomeAway will be direly missed.

We wish him well in this new stage in his life, and we find ourselves most grateful to have participated in one of his final interviews as a vacation rental industry pioneer.

<!-comments-button-->