Over $530 million in disclosed angel and institutional funding has been raised by startups in the vacation rental industry since 2011, with 88% of that investment in consumer facing websites. Over 72% of disclosed capital has been injected into U.S. companies.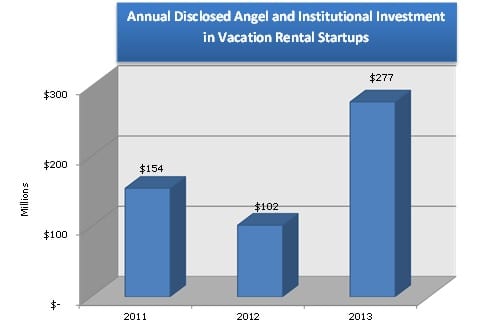 Can the market support these new players?
According to the PhoCusWright's U.S. Vacation Rentals 2009-2014: A Market Reinvented, "Vacation rentals represent a more than $24 billion opportunity in the U.S., that's more than one fifth of all hotel room revenue and 8% of the total U.S. travel market."
In addition, the Vacation Rental Managers Association (VRMA) reported the largest Annual Conference in its history in October of this year and is getting ready for their second annual European Seminar in Bruges, Belgium in December. Providing further evidence of growth, HomeAway, Inc. (NASDAQ: AWAY), the current leading marketplace for vacation rentals, is expecting 2013 revenues around $342 million.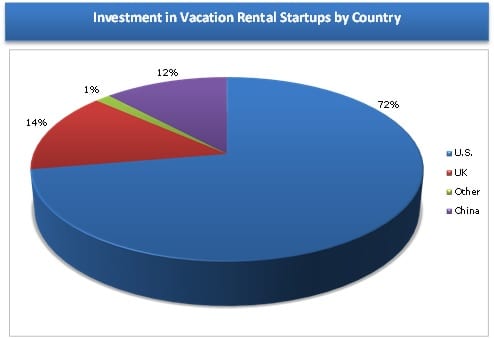 At first glance, the market may appear saturated. However, a closer look into the distribution of injected capital exposes market opportunities.
Out of $530 million in funding, over $470 million went to consumer websites with approximately $458 million being spread out among four consumer-facing websites:
Airbnb (U.S.): $318M
TruJia (China): $64M
Housetrip (UK): $60M
OneFineStay (UK): $15.9M
The Opportunity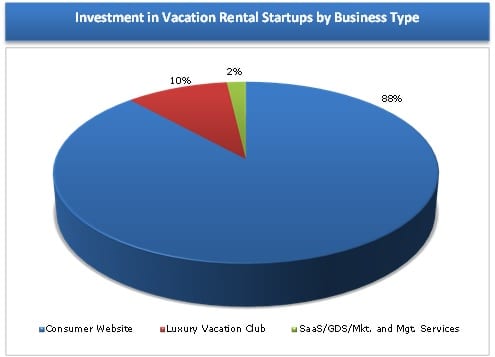 Remarkably absent is investment in operational activities and services to support this sprouting marketplace. Both Vacation Rental Managers and individual home owners have increasing operational needs (i.e. websites, mobile communications, channel management, housekeeping, property management software, marketing automation, payment services, etc.)
Out of $530 million, less than $10 million was raised by companies providing supporting products and services to the vacation rental industry.
One of these companies is TurnKey Vacation Rentals, a marketing and professional management solution for individual vacation rental owners, who picked up $1.5 million in seed funding from an all-star cast of angel investors.
"We believe the opportunities for new consumer plays in the vacation rental market are limited with such well-established players like AWAY and now Airbnb so well-entrenched," said John Banczak, co-founder and Executive Chairman at Turnkey Vacation Rentals. "We believe there is a huge opportunity in the value-added-services area of vacation rentals and believe the next wave of VR startups will help round out the guest and home owner experience while working with entrenched players as opposed to competing with them."
Impact of Increased Online Competition on Vacation Rental Management Companies

VRMA President Heather Weiermann said, "As the vacation rental industry grows, vacation rental professionals have an opportunity to further define and raise awareness of the professionally managed segment. More than half of the vacation rental market's total rental revenue now goes to industry professionals, up from 43% in 2007, according to PhoCusWright. For vacation rental professionals this translated to a more than $11.6 billion marketplace in 2012 and the total U.S. vacation rental industry is expected to reach $25.8 billion by 2014."
With over $470 million injected into consumer-facing websites, online competition for travelers looking to stay in a short-term rental will likely increase, resulting in:
Rising online marketing expenses
Search Engine Optimization (SEO) concerns
Increased focus on customer retention efforts
Branding challenges
Inventory acquisition and retention efforts
Increased demand for revenue management tools and services
"The additional exposure is a great thing for the industry, however, it is critical that vacation rental management companies preserve their branding, "said Weiermann. "As consumers search for vacation rentals, they need to be aware of the type of accommodation they're booking. For the first time, research from PhoCusWright reveals that most travelers prefer to go with a pro, with 31 percent of travelers saying they prefer to book with a vacation rental management company vs. booking direct with a homeowner (25 percent). Guests are more likely to associate key experiences with vacation rental management companies, such as safety and security, customer service, services such as housekeeping, concierge and dining, activities and modern amenities. Vacation rental management companies must protect their brands in order to differentiate themselves in the increasingly competitive marketplace."
However, there are notable advantages to the addition of well-funded, visible players in the Vacation Rental Industry:
Increased education and awareness of vacation rentals as a lodging option
More cohesive effort impacting government regulations concerning vacation rentals
Increased options to homeowners and vacation rental managers to reach new guest markets
New and more cost-efficient technology products to help service vacation home management
Less fragmented marketplace
While the competition among consumer-facing websites as distribution channels for vacation rentals may be tightening, the opportunity for high returns in investment in supporting products and services is wide open. Despite challenges in market fragmentation, legislation and product differentiation, the multi-billion dollar vacation rental industry is here to stay as an important player in the travel sector.
Companies represented in report: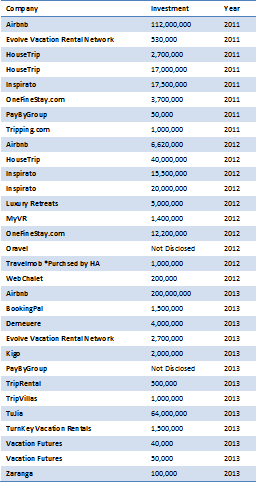 By Amy Hinote

Sources: StartUpBeat.com, Skift.com, Tnooz.com, AngelList.com, TechCrunch.com, Angel.co, WhoGotFunded.com

<!-comments-button-->