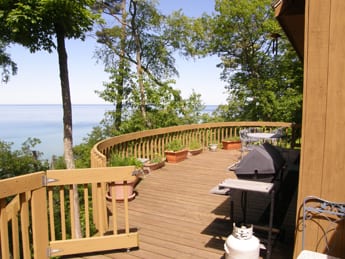 August 2014 –Chicago was getting pretty stifling in the late part of the summer, so I needed to get out of the city and see some stars! That's what I told Alan Hammond, owner of Holiday Vacation Rentals in Northern Michigan.
He delivered! I grabbed a couple of my friends and drove to Harbor Springs, Michigan to get some peaceful, siren-less R&R on Lake Michigan. We stocked up the cooler with meat and veggies for grilling out and wine for drinking, and stayed at Eagle View, a huge 3 BR private home rental on the lake.
Located along the Tunnel of Trees, this house was so quiet and serene…and clean! This was one of the cleanest vacation rentals for a house its size I've stayed in. The kitchen had absolutely everything we needed, including grilling utensils.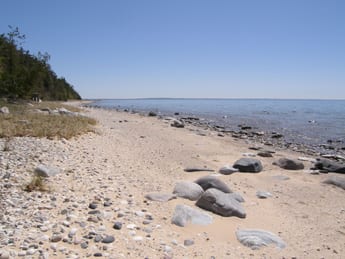 We had tons of plans to get out and do all kinds of things in the area, but we loved the house and the private beach so much that we stayed in and read, cooked out, sat by the fire, had wine and cheese, laughed, talked and watched shooting stars.
It was a huge contrast to our daily lives in Chicago, and it was so needed!
We also got a chance to go to dinner with Alan Hammond and his truly beautiful inside-and-out wife Kathie. We went to  Legs Inn, a Polish restaurant on the Tunnel of Trees, and only two miles from our house. There was a deli/country store on the way that we later used to to grab fresh bread, cheese wine, and a couple of t-shirts.
I highly recommend Legs Inn for dining. We sat on the Lakefront porch –they have a beautiful garden there–and had smoked whitefish, fried Pierogi, Kabanosy (Polish Sausage), Bigos (Hunter's Stew), Golabki (Cabbage Roll), and grouper…and of course, wine!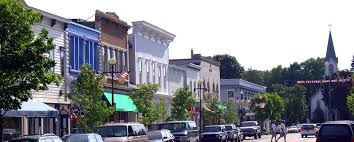 Harbor Springs is one of the cutest upscale towns I've seen. Very American with a walking vibe. Cute shops and coffee shops. I recommend the Stained Cup Coffee, which has fast wifi. Get the Torte Rustica (sausage spinach, roasted peppers and cheddar cheese on crustini crust topped with whipped eggs and more cheddar and mozzarella).
I will definitely be back and stay at this house again…without a doubt!!
By Amy Hinote

<!-comments-button-->