Travelers have been staying in vacation homes for centuries, but it wasn't until the emergence and disruption of VRBO.com and Airbnb that the industry became a mainstream lodging alternative.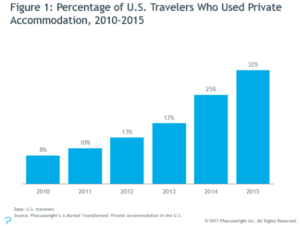 According to Phocuswright, 32 percent of U.S. travelers reported staying in a private home in 2015, up from 8 percent in 2010. This triple-digit growth has attracted attention from the entire travel sector, as evidenced at the Skift Global Forum last week in New York, during which every hotelier and OTA CEO addressed the subject of vacation rentals.
Vacation rental managers and homeowners have been battling—and, arguably, profiting from—disruption for the last eighteen years.
When VRBO.com was founded in 1999, homeowners in traditional vacation destinations (beach, mountain, lake, and theme park-oriented locations) found a marketing channel to reach a mass audience of travelers and no longer relied on professional property managers for bookings. In 2008, Airbnb was created, and by 2011, the company had become a global powerhouse initiating a cultural shift in travel and a marketplace for shared lodging options and privately-owned urban accommodations.
Since then, the vacation rental industry has experienced fast growth and consolidation with Expedia, Priceline, Airbnb, and TripAdvisor taking early leads by acquiring vacation rental channels and competing for market share in this rapidly-evolving travel sector. In addition, metasearch platforms and multi-destination vacation rental management companies are emerging and expanding, backed by millions of dollars in venture capital funding, with hopes of creating big-brand names for privately-owned accommodations.
Even with consolidation, the vacation rental industry is ripe for disruption.
Consumers still find it incredibly difficult to search for and book vacation rentals. Moreover, homeowners and managers experience friction using the latest marketing channels, property managers are challenged with scaling operations across destinations, and the industry has yet to adopt standards that rival the hotel and cruise industries.
Consequently, hoteliers, OTAs, and investors are chasing the next source of disruption in the fast-growing industry.
Where are the gaps and friction? In all phases of the transaction between the homeowner and the traveler, friction, gaps, imbalanced distribution of profits, and struggles with managing customer expectations still exist in the sector. Challenges and potential areas of disruption include:
Marketing Dependence
Booking Path Optimization
Brand Recognition
Scalability of Property Management Services
Standardization to Meet Customer Expectations
Marketing Dependence
Vacation rentals are largely privately owned and managed by local companies which possess little brand recognition. As a result, these owners and managers have been increasingly forced to rely on online marketplaces as a primary source of bookings, and the expense of using these channels in rising.
However, while vacation rental managers and homeowners are dependent on OTAs, OTAs are dependent on Google.
According to Skift, "Combined, Priceline and Expedia likely spent $5.8 billion on digital advertising in 2016… Assuming that a few percentage points of spend is on Facebook and a few is on other channels, we can estimate that around 70 percent of Expedia and Priceline digital ad spend went to Google. This would amount to just over $4 billion in 2016; this includes both AdWords and the much smaller metasearch part of Google."
This spending on digital advertising translated to 33 percent of gross profit for the two travel giants.
Google travel executive Oliver Heckmann told Bloomberg that he has the tricky job of keeping online travel agents happy while building increasingly competitive services for consumers. These advertisers need Google as much as the Alphabet Inc. unit needs them, but he's always mending fences.
"If I look at the industry, everybody is sort of collaborating and competing with each other," he said, while dismissing concern about a larger threat from Google. "I want to get a margarita every time I have to clarify that misunderstanding."
The current level of marketing dependence in the industry points to potential disruption. Vacation rental suppliers are spending 20-25 percent of their profits on digital marketing channels (including OTAs), and OTAs are spending a third of their profits on digital marketing.
If a new player can find a way to insert itself between search engines and bookings for vacation rentals, there is a significant margin up for grabs.
Booking Path Optimization
The vacation rental industry has not yet identified the best booking path for individually-owned vacation homes.
OTAs are forcing a booking path that mirrors the hotel booking process. However, in contrast to hotels, vacation rentals are a "considered purchase" (Defined as a more complex buying decision with a high degree of financial and emotional risk which requires more investigation and comparison prior to a transaction than booking a hotel).
OTAs have implemented processes over the last year to eliminate contact between the traveler and the homeowner or manager. These actions have caused an uproar among vacation rental owners and managers as the new process fundamentally changes how vacation rentals are sold.
On one hand, as a "considered purchase," the rental traveler has more questions when booking a multi-bedroom home for a multi-night vacation than they do when booking a standardized hotel room; and owners and managers have a need to talk to customers to set expectations and convey critical information about the property.
On the other hand, many homeowners and managers are slow to respond to requests for information causing anxiety and difficulty for travelers. Each owner or manager who does not respond immediately to an email, chat, or phone call pushes the entire vacation rental industry further into the hands of OTAs.
The difference in the booking path between vacation rentals and hotels presents a challenge that, to date, has not found a solution.
Brand Recognition
OTAs have created a booking path that mirrors hotels—with one notable exception. OTAs still prominently display the hotel brand, while they have removed the brand name for vacation rentals.
Airbnb, Expedia-owned HomeAway, Priceline, and TripAdvisor have proactively taken bold steps to insert themselves between travelers and the homeowner or manager by masking customer information, becoming the merchant of record, and eliminating any mention of the brand name or homeowner.
The idea of creating a big-brand global name for vacation rentals was first attempted by ResortQuest. Through many iterations, the idea proved to be unsuccessful at the time.
Alex Nigg noted in his article, Fighting 800 lb Gorillas, in the fall issue of VRM Intel Magazine, "Simon Lehmann, formerly of Phocuswright, at VRMA (Europe) in Amsterdam, said building a brand is an exercise in futility for a VRM. If he is correct, day-to-day operational management of properties will become the key competitive advantage of property managers."
The fact that no company has been able to build a sustainable, recognizable brand in vacation rentals does not mean it is impossible.
Scalability In Property Management
Several multi-destination property management companies are raising funds and attempting to consolidate supply into managed brands. These companies have the objective of decreasing the cost of management by implementing technology solutions and scaling processes. However, the vacation rental industry is difficult to scale. As evidenced by reviews, these companies are challenged with maintaining a high level of quality and cleanliness while scaling operations for several identifiable reasons.
First, these new companies are more willing to add inventory to their portfolios that other local companies have declined to service. Business development employees are incentivized by adding homes, not adding quality homes. As a result, the base level of quality is difficult to manage. Second, the multi-destination management companies are focused on technology and—at least in the short-term—are struggling to accomplish automation without sacrificing quality and service. In time, automated solutions will improve and adapt; but the process has been slow, and learning curve is steep. For example, a number of multi-destination companies sought to replace housekeeping inspectors with mobile photos taken by contracted housekeepers. Most soon discovered that mobile photos cannot replace an inspector in gauging cleanliness.
Scaling services for successful vacation rental management has not been perfected, and opportunities for disruption continue to exist in developing multi-destination processes that decrease expenses, maintain quality, and encourage guest loyalty.
Standardization to Meet Customer Expectations
The vacation rental industry has struggled to adopt meaningful standards for accommodations. In some vacation rental destinations in the US, homeowners still require guests to bring their own sheets. In many others—including some of the largest property management companies—linens are being washed in the home between stays by housekeepers without any attention to laundry safety standards. In kitchens, many homeowners leave food in cabinets and refrigerators and cleaning supplies in easy reach of children. The industry also does not having any exit postings or safety instructions, which make it vulnerable to regulations and attacks by hotel advocates and lobbyists. This lack of standardization offers an opportunity for industry disruption that has the potential to make or break the sector.
Who Will Disrupt the Industry?
In spite of the many challenges facing the industry, vacation rentals as a mainstream lodging alternative are here to stay. Where there is friction in the booking process, challenges with scaling operations, a lack of a strong brand, needless marketing spending, and a need for standardization, many opportunities exist to disrupt the sector. The one thing we can say with certainty, the evolving story of vacation rentals continues, and there is ample room for new players and solutions we have yet to discover.

<!-comments-button-->