Expedia-owned HomeAway recently launched its revenue management tool, MarketMaker, that allows vacation rental owners and managers to compare pricing with other homes listed on HomeAway's sites and to accept pricing suggestions offered by the largest online marketplace for second home rentals.
In response to the article, which introduced HomeAway's new revenue management tool, "HomeAway's New Revenue Management Platform is the Latest Industry Disruptor for the Fast-Evolving Vacation Rental Industry," Tina Weyand, Chief Product Officer at HomeAway, helped us to clarify key points about its latest product launch.
What is the objective for MarketMaker, and how does MarketMaker help Expedia maximize corporate revenue? Owner revenue? PM revenue?
Tina Weyand, Chief Product Officer (TW): Simply put, our new MarketMaker tool for revenue management was created to help property managers make important data-driven decisions to maximize the revenue and occupancy potential of their properties.
HomeAway's success is tied to the success of its property managers and owners. Offering them the best tools and insights to achieve their goals benefits everyone.
MarketMaker does not take a cut of a property's booking revenue.
You said that owners and managers can set preferences for degrees of pricing (i.e. maximize occupancy vs maximize rate). How does that work? 
TW: MarketMaker allows property managers to adjust their own strategies to maximize occupancy or revenue, set rates down to the property level, and stay aligned with their revenue and occupancy goals. [The following] screenshot shows you how this dynamic tool allows users to adjust their strategy.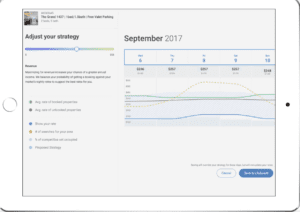 How does your platform differ from Airbnb's SmartPricing?
TW: Historically, vacation rental managers have relied on tools that provide pricing recommendations based on static, incomplete data and without providing the full context of the data that powers those recommendations.
MarketMaker provides a holistic view of all the major factors (in addition to pricing) that determine a property's potential. This product is different because it:
Provides access to insights our partners cannot get anywhere else, pulling from real-time traveler behavior data combined with a market's overall demand and occupancy data.
Gives users the ability to easily identify and track competition in the same market.
Allows users to set revenue and occupancy strategies at the property level and view data and opportunities for multiple properties in one convenient dashboard.
Alerts users to opportunities for higher revenue and occupancy.
Displays information about local holidays and events that may affect local demand.
Also, the HomeAway dashboard complements MarketMaker by offering a side-by-side comparison of competing properties to reveal what factors other than pricing (like amenities, reviews or photos) may have influenced travelers' booking decisions.
The Vacation Rental Managers Association (VRMA) is trying to create a comparative reporting tool. Are you working with them to do this? Will VRMA's efforts impact HomeAway's MarketMaker initiative?
TW: HomeAway built MarketMaker from the ground up based on what our partners told us they most need to be more successful. There's nothing quite like it on the market today.
For the moment, we don't have plans to partner with VRMA.
In search and sort, will acceptance or dismissal of pricing recommendations affect ranking? 
TW: The tool's suggestions are designed to help meet property managers' unique goals for their vacation rentals. There is no direct relationship between accepting or dismissing MarketMaker feedback and a property's rank in search results. As a reminder, the best way to improve a property's rank is to adopt a few best practices: having great content in your listing, setting competitive rates, accepting and honoring bookings, and being given excellent feedback based on positive guest experiences.
Will "Offer Strength" be introduced to the search/sort algorithm?
TW: Yes.
Read more about Offer Strength. 
Are you partnering with other software companies to use their customer's data in this tool? We heard that partnerships with Streamline and CiiRUS were announced. Are they providing aggregated data or data on a by-client basis?
TW: Bookings that take place on HomeAway or Expedia, including those supplied by HomeAway Software partners and property managers, are a part of HomeAway's dataset about what's happening in the market. We use this type of trending data to drive tools like MarketMaker and generate real-time insights for our property managers and homeowners.

Do your pricing recommendations include your service fee?
TW: Potential rate changes that appear in MarketMaker feedback are for the rental amount only – they do not include fees or taxes.
Is the acceptance of pricing suggestions being pushed pack into the PMS (property management software)?
TW: Property managers who use MarketMaker can choose whether to adjust their rates or ignore the tool's feedback. Currently, MarketMaker does not sync with third-party property management software to auto-populate any pricing recommendations that the property manager decides to accept.
Pricing feedback generated by MarketMaker is for the rental amount only and does not include fees or taxes.
HomeAway said that MarketMaker is better than anything on the market. Does that include the market intelligence products (i.e., Everbooked, Destimetrics (Inntopia Business Intelligence), LSI, Transparent, et.al? Or the revenue management platforms (Beyond Pricing, Wheelhouse)? What makes it better?
TW: MarketMaker puts power into the hands of property managers by providing them with insights pulled from billions of data points so they can: set strategies down to the individual property level, find opportunities for higher revenue and occupancy, identify and track competition, and save time by viewing information all in one place.  
Is the pricing recommendation engine live? What rate of adoption do you expect? 
TW: We just launched the beta for this product last week at RezFest and many property managers enthusiastically signed up for pre-orders. The excitement we've seen for the product so far has exceeded our expectations. We hope to formally launch the product by the end of the year.

<!-comments-button-->