On a recent June afternoon, I attended my first VRM Intel Live conference. The location couldn't have been more bucolic: the McMenamin's Edgefield, a historic 74-acre wonderland just east of Portland, Oregon.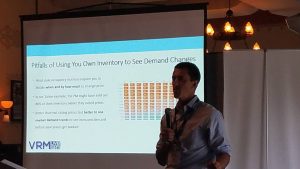 During my 7+ years at Expedia, I had the chance to attend a number of domestic travel trade shows like Phocuswright and EyeForTravel. I even attended a few overseas, like ITB in Berlin and the World Travel Market (WTM) in London. This was my first experience at a Vacation Rental Managers (VRM) conference, and over the next eight hours, I wore my pen out taking notes.
There are over six thousand VRMs in the U.S. All of us are trying to find better ways to serve our homeowners, take care of our employees and grow revenues.
And we're doing it in a vibrant, rapidly evolving space, with shifting regulatory environments, digital marketing acronyms and a constant influx of new technologies to absorb. There are now drone tours of properties. Seriously. Drone tours!
I'm not sure what your first VRM conference was like, but mine was an incredibly valuable opportunity to learn, drink good coffee and make connections. Also, one of the vendors was giving away free pens…
What did I learn? Great question. Here are my top 7 takeaways from VRM Intel Live Portland:
Housekeepers are the heroes. Successful VRMs seem to all have one thing in common: They take care of their staff. This doesn't happen by accident. It takes hard work and managerial chops. Nurturing those environments is a competitive advantage. Heart matters.
This is a rapidly growing industry, but longevity matters. As Amy Hinote, the powerhouse organizer behind these events noted in the Spring 2017 edition of VRM Intel magazine, outside of AirBnB, $1.46B has been invested into this space since 2011, but the companies that received that capital haven't all fared well. Ten companies that received funding ($78.1M) have shut down operations. Another nine companies ($94.2M) have rebranded or pivoted business models. The recurring message: pick strategic partnerships wisely.
For all of us, it makes sense to focus on what you're great at — whether it's taking care of guests or online marketing — and find partners to help with the rest. Jim Collins, author of Good to Great, called this the Hedgehog principle. Not a particularly attractive animal, but… the concept makes sense in the vacation rental management space.
Over and over I heard attendees talking about how important it was to execute on the basics. "You can't know everything…You have to focus on your properties and guests." I know that Vacasa spends a lot of effort focusing on customer review scores. If we don't execute we can ruin someone's vacation, a vacation they may have spent months saving for. And if we do our jobs, we're all helping make awesome memories that last a lifetime. Family reunions, old friends finally finding the time to get together, saying goodbye to kids going off to college…we're doing work that really matters. And that's pretty great.
Lots of speakers talked about the importance of data: Track everything! But it seems like data only goes so far. Data is useless — worse than useless — if you don't turn it into actionable insights. Data can overwhelm. So it makes sense to focus. Identify your ecommerce funnel's leakage points. Where are you losing shoppers? Are you pricing your units optimally to match supply and demand? Are your photos and copy compelling? There are a lot of mustard brands in the display aisle. You only get a second to distinguish yours. Make it count.
We need to do a great job delivering VALUE to our homeowners. Only 35% of vacation homes in the USA are professionally managed. Self-management is the norm.
Finally, change is constant in the travel industry. That's exciting. Or paralyzingly scary. And it seems like the VRMs that are succeeding are engaging, learning, testing, experimenting and maybe failing some. (It's not a test if there isn't the possibility of failure.) It's the engagement and learning that's critical. There's a science to this. A method. Test. Measure. Learn. Repeat.
All in all, a great day at the Edgefield. Great people. Great speakers. And a ridiculous amount of knowledge sharing.

Next time, I'll bring more pens.

By Thaddeus Hanscom, Director of Partnerships at Vacasa

<!-comments-button-->