AP –January 7, 2013 –By this point in winter, Sharon Roher would ordinarily be closing in on renting her two Seaside Heights properties for the entire summer.
This year, she has only four weeks booked and is struggling to figure out how many of her customers will return to the Ocean County beach resort, which is among the Jersey Shore towns hit hardest by Hurricane Sandy nearly two and a half months ago.
Even though Atlantic and Cape May counties — geographically about half of New Jersey's 127-mile coastline — were left largely unscathed, it's the entire blocks of homes and businesses reduced to rubble in Ocean and Monmouth counties that are seared into the nation's consciousness.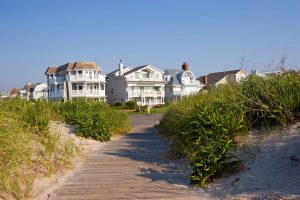 Sandy's enduring image has been Seaside Heights' roller coaster, which once sat upon a boardwalk made famous by the exploits of Snooki and Pauly D. It remains partially submerged in the Atlantic Ocean.

Those images of devastation, fearful shore homeowners and businesses say, could ultimately have a negative impact on New Jersey's $38 billion-a-year tourism industry — a trade that depends heavily on the coast for its bottom line.

"The first thought out of everyone's mouth is, 'Are they going to have a summer season?'" Roher told The Philadelphia Inquirer. The 60-year-old lives year-round in Pleasant Valley, Pa.

The answer from municipal officials, businesses and property owners is loud and clear: Yes, Virginia and Maryland, North Carolina, and Delaware … New Jersey will, indeed, have a summer season.

Yes, despite the delay in passage of federal recovery aid and the bevy of beach towns from Delmarva to the Outer Banks that would love to poach — ahem, woo — vacationers with their Southern charms. Marketers in competing coastal states have initiated plans to put the hard sell on target audiences in New Jersey, New York and Pennsylvania.  More>>

<!-comments-button-->