Last year, short-term rentals in Myrtle Beach generated an economic output of $200.7 million and supported 2,587 jobs.
Residents and the local tourism industry of Myrtle Beach, S.C. are enjoying enormous economic benefits from short-term rentals, according to a new study commissioned by the Short Term Rental Advocacy Center (STRAC).
In 2013, short-term rentals generated $200.7 million in total economic activity, with $168.6 million directly attributable to visitor spending on short-term rentals and related food, retail, recreation, transportation and other expenses, according to the study conducted by TXP, Inc. For every $100 a traveler spent on lodging, they spent an additional $69 on food, $24 on local transportation, $48 on arts, entertainment, and recreation activities, and $59 on retail shopping.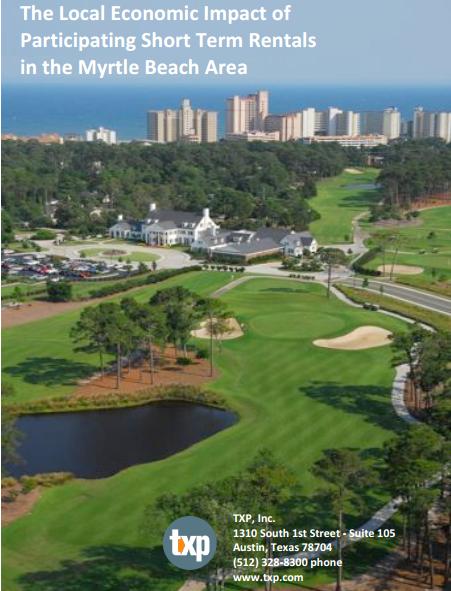 The study also found short-term rental activity created 2,587 local jobs, primarily in restaurants and bars and in the arts, entertainment, retail and recreation sectors throughout Horry County. Beyond the $56.3 million in direct spending on short-term rentals, visitors spend money elsewhere in the local economy, which in turn has a ripple, or multiplier, effect.
TXP's study looked at short-term rental listings of Airbnb, HomeAway and FlipKey in Myrtle Beach and surrounding Horry County. In 2013, the participating short-term rental companies had more than 300,000 nights booked in the 7,745 properties listed in the Myrtle Beach area. Short-term rental users visited Myrtle Beach for an average of 5.6 nights with an average of 4.9 people travelling together.
"Myrtle Beach is recognized as one the nation's leading beach and golf vacation destinations and tourism is a key component of the local economy," said Jon Hockenyos, president of TXP and an economist that has conducted scores of local economic impact studies. "Visitor spending is an important generator of local employment and economic activity, as well as state and local tax revenue. And short-term rentals have become a highly valuable asset in Myrtle Beach's tourism portfolio."
Tourism is a highly valuable sector in Horry County's economy. Though the county is home to just less than 6 percent of South Carolina's population, it accounted for 36 percent of the accommodation taxes collected in the state. Tourism accounts for one in every five jobs in the Myrtle Beach area, a rate that grew from 18.8 percent in 2007 to 21.2 percent in 2012.
To learn more about the local STRAC group in Myrtle Beach, visit https://www.facebook.com/groups/1479797578900224/.
To download the full report, click here.
About the Short Term Rental Advocacy Center (STRAC):
STRAC was formed in early 2013 by a coalition of short-term rental marketplace stakeholders, working with local residents and short-term rental providers to share information, establish best practices and advance smart short-term rental regulation that safeguards travelers, alleviates neighborhood concerns and provides a framework for ensuring compliance. With more than 35 local groups across the country, STRAC is facilitating local advocacy efforts aimed at fair and reasonable regulations benefiting all stakeholders. Learn more and sign up for our monthly newsletter at www.stradvocacy.org. Media Contact: info@stradvocacy.org or Audrey Cooling at 571-243-1188.

<!-comments-button-->