Yvette Hobzek, a Seattle-area real estate broker, filed suit against HomeAway this week, alleging racial discrimination.
Hobzek claims she was denied the ability to book a vacation rental in New York through VRBO.com because of her race. Hobzek is African-American.
According to the complaint filed in the U.S. District Court, Western District of Texas, 49-year-old Hobzek was traveling to New York City to visit her 87-year-old mother and to celebrate landmark birthdays of her children who were turning 50, 65 and 70.
Hobzek found a townhome that would work for the family, and filled out the form on VRBO.com. According to the calendar, the property was available for her dates. After she did not receive a response, Hobzek went back to VRBO.com and attempted to use the "Instant Book" option.
Later that day, she received a notice that the property was unavailable, even though it still showed open availability on the VRBO calendar. Hobzek called customer service to find out why she was unable to book, and the VRBO representative told her to contact the homeowner/manager.
The homeowner/manager (it is unclear from the complaint if the brownstone townhome was professionally managed or owner managed). The homeowner/manager "indicated to Ms. Hobzek that he did not rent to '[her] kind'".
The VRBO calendar for the rental continued to show availability for her requested dates.
A month later, to add insult to injury, Hobzek received an email remarketing solicitation for vacation rentals in New York City for her dates, and the "featured property" was the one was denied the right to book.
Hobzek brought the Class Action under Rule 23 of the Federal Rules of Civil Procedure and seeks seeks to represent the class of all persons who, in the past, present and future, are unable to secure public accommodations through VRBO.com
The proposed class action suit accuses the company of violating the Civil Rights Act of 1964, which "explicitly prohibits discrimination in places of public accommodation, such as hotels, motels, restaurants, movie theatres and sports arenas."
Hobzek is also suing for several other discrimination-related counts, including violation of the Fair Housing Act.
Read the full complaint below.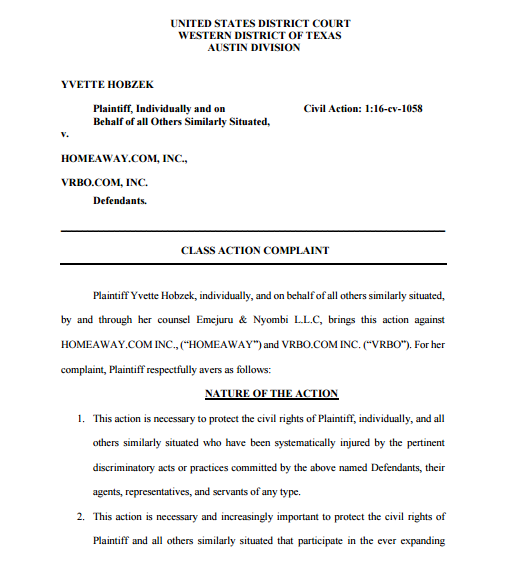 By Amy Hinote, VRM Intel Magazine

<!-comments-button-->