Choosing the right Christmas presents for family members can be challenging. We look for gift ideas that are meaningful, create joy, build lasting memories, build us to be better people, and make us stronger as a family. To cover all these bases, consider giving the gift of a family vacation this year.
There are significant advantages to choosing a vacation as a Christmas gift, and while this is not an exhaustive list, here are five reasons to give the gift of a family vacation (plus travel planning tips).
1. Vacations Provide Quality Time with Family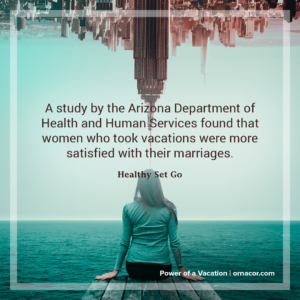 If one of your 2020 New Year resolutions is to spend more quality time with family, giving the gift of a vacation is a great way to force yourself to do it.
A study of 2,000 parents with school-aged children across the country found the extent to which hectic routines take a toll during the work week with the families polled managing less than 45 minutes all together on a typical weekday ("American families barely spend quality time together," New York Post).
A family vacation provides dedicated, quality time with the family that builds relationships and creates stronger family units.
2. Vacations Create Lasting Memories that Children Cherish Throughout their Lives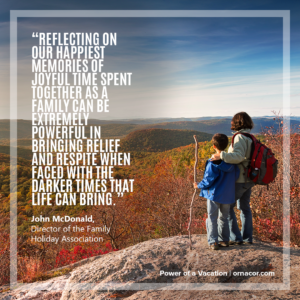 Think about your own favorite childhood memories. If any of these include vacations with your own family, it is easy to see anecdotally why family vacations build memories children will take with them throughout their lives, but research proves it. Multiple studies affirm the power that family vacations have in creating lasting, positive memories.
"Family holidays are valued by children, both in the moment and for long afterward in their memory," psychologist and best-selling author Oliver James explained to The Telegraph. "It's all about talking nonsense with your parents, sharing an ice cream and moments of time in which your interests are genuinely taken into account."
What kind of memories with you are your family members taking into the future?
3. Vacations improve childhood and adolescent development
Traveling with children is also beneficial to brain development. "An enriched environment offers new experiences that are strong in combined social, physical, cognitive, and sensory interaction," says child psychotherapist Dr. Margot Sunderland. "Think: family together in the pool, walking together through the forest, touching long tall grasses waving in the wind, toasting marshmallows on campfire, hanging out together under warm sun, feeling sand between the toes."
4. Connecting across generations and miles
The advantages of giving vacations as gifts are not just limited to parents. Grandparents, aunts, uncles, and cousins find vacations to be extremely valuable in deepening connections with family members across generations and across geographical distances. As difficult as it is to build in quality time with our nuclear families, it is even more difficult to plan for time with extended family members; and maintaining these connections is critical in building strong families. According to AARP, "With so many grandparents living hundreds of miles from their grandchildren, some are turning to a fun way to bridge the distance: vacationing together. About 40 percent of grandparents say they travel with their grandchildren, according to a new 'Grandparents Today' survey from AARP Research."
The survey also found that 75 percent of grandparents had traveled with three or more generations in the past year, while others chose "skip-gen" travel—vacationing with the grandkids alone, minus the middle generation. About one-third of grandparents have taken their grandchildren on skip-gen trips.
5. The Joy in Anticipation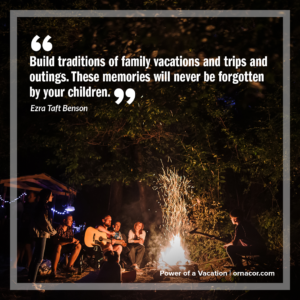 The upside of a giving the gift of a vacation is that the happiness it brings starts well before packing. According to Healthy Set Go, "Research shows the biggest boost in happiness comes from planning the vacation. A person can feel the effects up to eight weeks before the trip."
Having something to look forward to with the family provides weeks of fun before the trip actually starts. "Those who are waiting to go on a holiday are much happier with their life as a whole, experience less negative or unpleasant feelings, and thus enjoy an overall net positive effect or pleasant feelings," according to David Gilbert and Junaida Abdullah of University of Surrey.
"The holiday-taking group are also happier with their family, economic situation, and health."
Tips for planning a Christmas vacation gift
When considering giving a family vacation as a Christmas gift, here are some tips for getting the most bang for your buck.
1. Leisure destinations can offer maximum connection for less money
While planning a trip to a major city has a lot to offer in sightseeing, staying in vacation rentals in beach, mountain, lake, and recreational areas provides more space and time for family groups. Hotels are great, but in vacation homes—with living rooms, kitchens, outdoor spaces, and everyone under one roof—families have more space to gather for family time while still having separate bedrooms. Plus, the full kitchens provide additional savings by not having to eat each meal out, and not having the big sightseeing admission costs lowers the overall expense of the vacation.
2. Visualize where your family can connect, and think about what they like to do
Can you see your family splashing around the ocean and spending evenings relaxing on a beachfront deck listening to the waves crash? Or skiing, snowboarding and sitting in front of the fire at night? Or boating, kayaking around the lake, and singing and telling stories around the fire pit at night? Visualizing where your family will be most relaxed can help you decide where to go.
3. Save by choosing destinations within a day's drive or look for direct flight specials
Flying can be expensive for large groups, and when adding in the cost of a rental car, the total bill starts to quickly rise. By driving, you can save money and plan in some quirky side stops along the way.
4. Book directly with the vacation home manager or owner
The big sites like Vrbo and Airbnb have additional traveler fees, so you can often get a better deal when you book directly. Plus, you have a one-on-one contact that will make sure that everything goes smoothly. In addition, the managers/owners can help with any individual needs you have, things you want to do, or gifts you want to add in the home to make things even more special. Vrbo and Airbnb are great sites to explore to get ideas, but booking directly has a ton of advantages.
5. If possible, book in off-peak times
If the children in your family are not in the 10-18 range, you may have a ton of flexibility in when you go on vacation. Avoiding the major peak seasons can help save money and avoid traffic and big crowds. Each destination is different. For example, in US beach vacations, avoiding the three weeks before and after July 4th can significantly decrease the cost of the vacation.

In today's environment, for many of us, giving more devices, video games, and more ways to disconnect from each other can feel a little shallow. So if you're struggling to find the right gift, a family vacation may be the perfect present for your family this year. It sounds cliché to say that you will "build memories that last a lifetime," but it is cliché for a reason. Your future family will thank you.

Check out some Christmas vacation specials in the comments below.

<!-comments-button-->