What are vacation rental managers doing to optimize their property pages for better conversion? We reached out to several website designers in the vacation rental industry, and the response was surprisingly limited. One website design company which specializes in vacation rental websites said, "Our layouts are based on experience, but we don't have any tracked statistics to back them up."
This is Part 2 of a series on Listing Pages vs. Property Pages
Part 1: Listing pages vs property pages: What do they know that you don't?
Part 3: Listing pages vs Property Pages: What vacation rental managers can do better
With limited time and resources, property managers can take some cues from what the large online competitors are doing.
Here are a few must-have features which are being incorporated by top-tier listing sites.
Updated Calendars, Quoteable Rates and Online Booking
As a vacation rental manager having updated calendars with quoteable rates and real-time online booking is mandatory in today's ecommerce environment. Most property managers have this nailed down, but it needs to be said. If you don't have it, get it.
Mobile friendly design
From a development perspective, it isn't as hard as it seems, but the big listing sites have spent millions making this happen. Creating a property page design while maintain intuitive functionality is key to performance success with vacation rental property pages.
Professional Photos
One of the criteria for HomeAway in their algorithm is the number of photos. They recommend 24 professional photos per property. Intercoastal design did some heat map testing on their clients' property pages.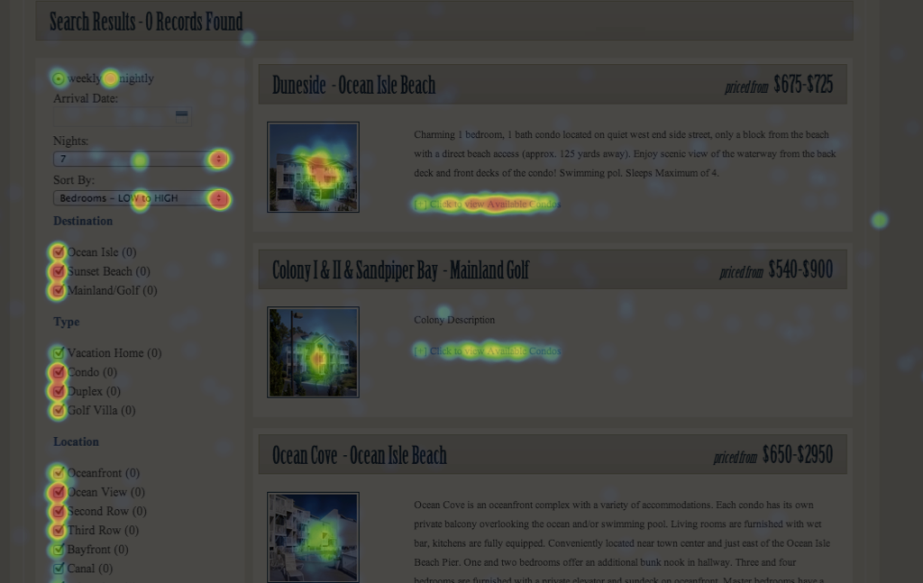 According to Intercoastal Designs's David Hutnick, "Pages with bright colorful professional photographs kept people's attention much longer than pages without. We also saw a very high image click through rate on pages where you could click on an image that opened another page. In fact visitors seem to ignore the top navigation if there was beautiful photo of a property they could click on. When we compared the number of clicks between property listings that used professional photographs versus the properties that used their own photos, studies (via Flipkey) have shown a 159% increase in traffic for listings that used professional photographs.
Reviews
According to TripAdvisor, 80% of travelers say they are significantly more likely to book a rental if they can read reviews from past guests.

"The importance of reviews should never be underestimated," said Matt Hoffman, founder at InstaManager and Sales and Business Development Director at Real Page. "Online reviews provide transparency into the product being evaluated, in this case, vacation rentals. The listing page or property page is the 'storefront' for every vacation rental. The experience you portray and the quality of data you use to market this product is further validated by reviews. It allows the consumer to do your marketing for you by giving them a voice, which in turn creates customer loyalty."

Matt Hoffman will be presenting a session about reviews at the 2014 VRMA Annual Conference in San Diego, Oct. 26-29.

Part 3: What vacation rental managers can do better than listing sites

Resource: Vacation rental property page checklist

By Amy Hinote

<!-comments-button-->