For small business owners, there is little that is more difficult than being faced with a circumstance in which they cannot make their customers happy.
Business owners and managers are facing that situation today, whether it is the grocery store clerk who doesn't have bread, the convenience store that doesn't have toilet paper, or the call center agent that can't provide a cash refund. Banks are closing branches stranding customers from accessing their accounts for things that can't be done online, doctors are having to postpone surgeries, salons are having to cancel their regulars' appointments, and hotels are not providing refunds for events and groups that cannot be held—which is why many events have been postponed instead of canceled.
Like airlines, most vacation rental companies are standing by their cancellation policies by not offering cash refunds, but they are moving quickly to extend rebooking dates, eliminate change fees, and offer their customers credits towards future bookings.
Waived change fees, extended rebooking dates, and credits for future stays
In light of the events surrounding the COVID-19-related travel restrictions, both airlines and vacation rental companies are trying to work with customers by relaxing change fees and extending dates for rebooking.
Delta, for example, has adapted its cancellation policy during this time as follows:
You can cancel your ticket and the value of the ticket will become an eCredit for future use. If you're uncertain of future travel plans, we recommend cancelling and rebooking once your new travel plans are confirmed.
Even if you're not able to reach us before your departure  and  don't take your flight, all changes will be processed, and your ticket number automatically becomes an unused eCredit  within 24 hours.
We're extending any Delta ticket for travel in March or April that is set to expire before June 30, 2020, to permit travel until December 31, 2020. You can rebook and fly with these tickets until the end of this year.
Turnkey Vacation Rentals also relaxed some of its cancellation restrictions, offering its guests 18 months to rebook:
Like Southwest, all non-refundable payments for bookings can be used as a credit for another booking at that home in the next 18 months. And you don't need to make that booking right now; you can book it at a later time.
For bookings more than 30 days from check-in, TurnKey only collects a 10% non-refundable deposit. We are adopting the Southwest approach here as well, making that deposit available as a credit if guests cancel before the 30-day mark (when full payment is due). That can be applied to a booking in the next 18 months.
In a similar way, Vacasa, the largest vacation rental management company in North America, also moved to open credits for future stays:
Reasons for existing cancellation policies
While COVID-19 has presented difficulty in handling call volume and working with guests to honor cancellation policies, it is important to remember that there are valid reasons these policies exist in the vacation rental industry.
First, the average booking window for vacation home rentals is between 57 and 138 days in most US leisure markets. If a stay is canceled less than 30 days before arrival, it is very difficult for rental operators to find new guests for that property. For example, a 4-bedroom home is very hard to rebook in less than 30 days since most families and groups who require more than 4 bedrooms plan their stays over 8 weeks in advance.
Second, these homes are individually-owned properties. As a result, vacation rental managers have a fiduciary responsibility to the homeowners they represent. There is risk on both sides of the contract. When a guest enters into a contract to rent a vacation home, the guest is able to secure the home they want for their vacation, and the manager blocks out those dates, taking away the ability for anyone else to book that individual home. The guest is then able to cancel up to a certain point, even though the management company has a significant less likelihood of rebooking the home rental if it is canceled. In turn, the guest takes on the risk that some bizarre, unknown personal, regional, or national event might occur that would keep them from being able to—or wanting to—go on their vacation. Many companies offer travel insurance to mitigate these risks for both guests and homeowners.
Third, management companies have to be consistent with the contractual agreements they've entered into. If management companies offer cash refunds to some guests while not offering it to others, these companies face potential liability for unfair business practices.
In addition, when trying to show lost revenue for financial assistance or cash relief, voluntarily ignoring contracts by handing out cash refunds can hurt the management company's ability to secure assistance or funding.
Airbnb's Adaption of Extenuating Circumstances Policy is costing its suppliers
When a management company or homeowner lists their homes on Airbnb, they have the option to select from a menu of cancellation policies—ranging from Flexible to Super Strict 60 Days. Note that in all choices, Airbnb's service fee is non-refundable.

Last weekend—with no notice to its suppliers—Airbnb made a unilateral decision to override these set cancellation policies by adapting its Extenuating Circumstances policy, saying:
In response to the extraordinary events and global disruption to travel caused by COVID-19, today we are announcing updated coverage under Airbnb's Extenuating Circumstances policy. Airbnb's Extenuating Circumstances policy allows hosts and guests to cancel eligible reservations with no charge or penalty. This policy now applies to existing reservations for stays and Airbnb Experiences made on or before March 14, 2020, with check-in dates between March 14, 2020 and April 14, 2020.
Airbnb procatively sent emails to guests offering 100% refunds (minus the Airbnb service fee, of course, which would be credited on a future stay). This offering negated existing cancellation policies set by hosts (homeowners and managers). After pushback from its host community, on Sunday, Airbnb declared it would also refund its service fee.
We fully expect to see a class action against Airbnb, as management companies and owners are carefully documenting all of Airbnb's actions, resulting cancellations, and changes to its policies and its website verbiage with no notice to suppliers.
To stop the bleeding with Airbnb, vacation rental management companies are blacking out dates on Airbnb's website. Without knowing if Airbnb will decide to honor reservations made on its site, some large management companies are looking to reduce exposure by limiting availability on the site for the near term.
Many guests are just now learning that Airbnb is only a website that lists home rental options. Airbnb does not own these homes, doesn't service these homes, and doesn't have liability for these homes. When Airbnb refunds a guest, it is refunding the homeowner's money, not its own. The only money Airbnb is losing is the service fee, and it is only refunding that for bookings that start through April 14.
Vrbo Encourages "a credit for full value and flexible stay dates within the next year"
In contrast, Vrbo, with more experience in the vacation rental industry, is honoring its homeowner/manager cancellation policies. Vrbo's policy states:
If you need to cancel or change an upcoming reservation due to travel restrictions, you can do so within your traveler account. If you are making changes outside the cancellation policy window, please contact the property owner or manager to discuss their cancellation and refund policies. If you do not see a button to cancel your reservation, please contact the property owner or manager directly for assistance.
The difference between the two companies is largely found in the the makeup of their inventory. Airbnb lists more urban short-term rentals and shared spaces (which are more affected by travel restrictions), while Vrbo primarily lists stand-alone, individual second home rentals in leisure markets.
This week, Vrbo sent an email to its suppliers "encouraging" them to relax their existing cancellation policies offering to reward suppliers with higher search-order placement (and penalizing "vis-vis") for offering more flexible cancellation policies.
According to its Community website, Here's what HomeAway is doing as part of our COVID-19 Emergency Policy: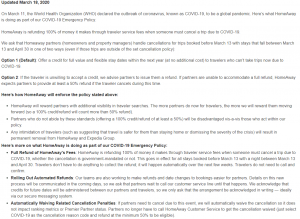 HomeAway is refunding 100% of money it makes through traveler service fees when someone must cancel a trip due to COVID-19.
We ask that Homeaway partners (homeowners and property managers) handle cancellations for trips booked before March 13 with stays that fall between March 13 and April 30 in one of two ways (even if those trips are outside of the set cancellation policy):
Option 1 (Default): Offer a credit for full value and flexible stay dates within the next year (at no additional cost) to travelers who can't take trips now due to COVID-19.
Option 2: If the traveler is unwilling to accept a credit, we advise partners to issue them a refund. If partners are unable to accommodate a full refund, HomeAway expects partners to provide at least a 50% refund if the traveler cancels during this time.
Here's how HomeAway will enforce the policy stated above:
HomeAway will reward partners with additional visibility in traveler searches. The more partners do now for travelers, the more we will reward them moving forward (so a 100% credit/refund will count more than 50% refund).
Partners who do not abide by these standards (offering a 100% credit/refund of at least a 50%) will be disadvantaged vis-a-vis those who act within our policy.
Any intimidation of travelers (such as suggesting that travel is safer for them than staying home or dismissing the severity of the crisis) will result in permanent removal from HomeAway and Expedia Group.
A message to guests
Small businesses around the globe are encouraging their customers to take advantage of credits for future purchases instead of demanding cash refunds. Many local companies will have to shut down if they do not have the cash flow to stay alive until this passes. In travel and tourism, the hashtags #dontcancelpostpone and #postponedontcancel have been trending.
In the vacation rental industry, in particular, jobs in your favorite vacation destination, from Cape Cod to Colorado, from the Outer Banks to Oregon, from Hilton Head to Hawaii, from the Adirondacks to Arizona, and across the world are dependent on having enough cash to survive this. If you really want to help, the most important thing you can do is postpone your trip, instead of canceling.
For management companies, vacation rental business owners encourage you to contact the Vacation Rental Management Association to petition them to work for federal relief for the vacation rental industry.