We've been receiving calls and emails asking how property managers can petition for federal assistance for vacation rental management companies.
Below is a letter from Toby Babich, president of the Vacation Rental Management Association (VRMA), addressing this. The VRMA is drafting a series lettters, and Babich is asking you to distribute thes letters to colleagues and local, state, and national officials.
How you can help:
Read Toby's message below.
Go to https://www.vrmaadvocacy.org/covid19 to learn more.
Download the letter to Congress
Share this letter with your colleagues to get the word out
Share this letter with local, state and national representatives, especially those with whom you have relationships or influence.
Message from Toby Babich, VRMA
Vacation Industry Leaders,
Times are desperate for our industry, and we need your voice to join with a chorus of others to ensure recovery of this industry is our advocacy priority at the local, state, and national level for the duration of 2020. Attached is the initial communication to national lawmakers from the VRMA, and we expect a series to follow as the situation develops. I am asking you to distribute this, and future letters to anyone and everyone in your network both within the industry, and most specifically to any local, state, or national governmental representatives you may have influence with. I urge you to take action right now, and support the collective power of this grassroots effort to ensure the vacation rental ecosystem remains a topic of any recovery discussion we are able to influence. The rebuilding of our industry must begin now, with a focus on recovery funds, and government assistance.
Our industry needs your voice, support, and influence now more than ever.
Thank you, and please let me know if I can assist in any way.
Toby Babich
President
Vacation Rental Management Association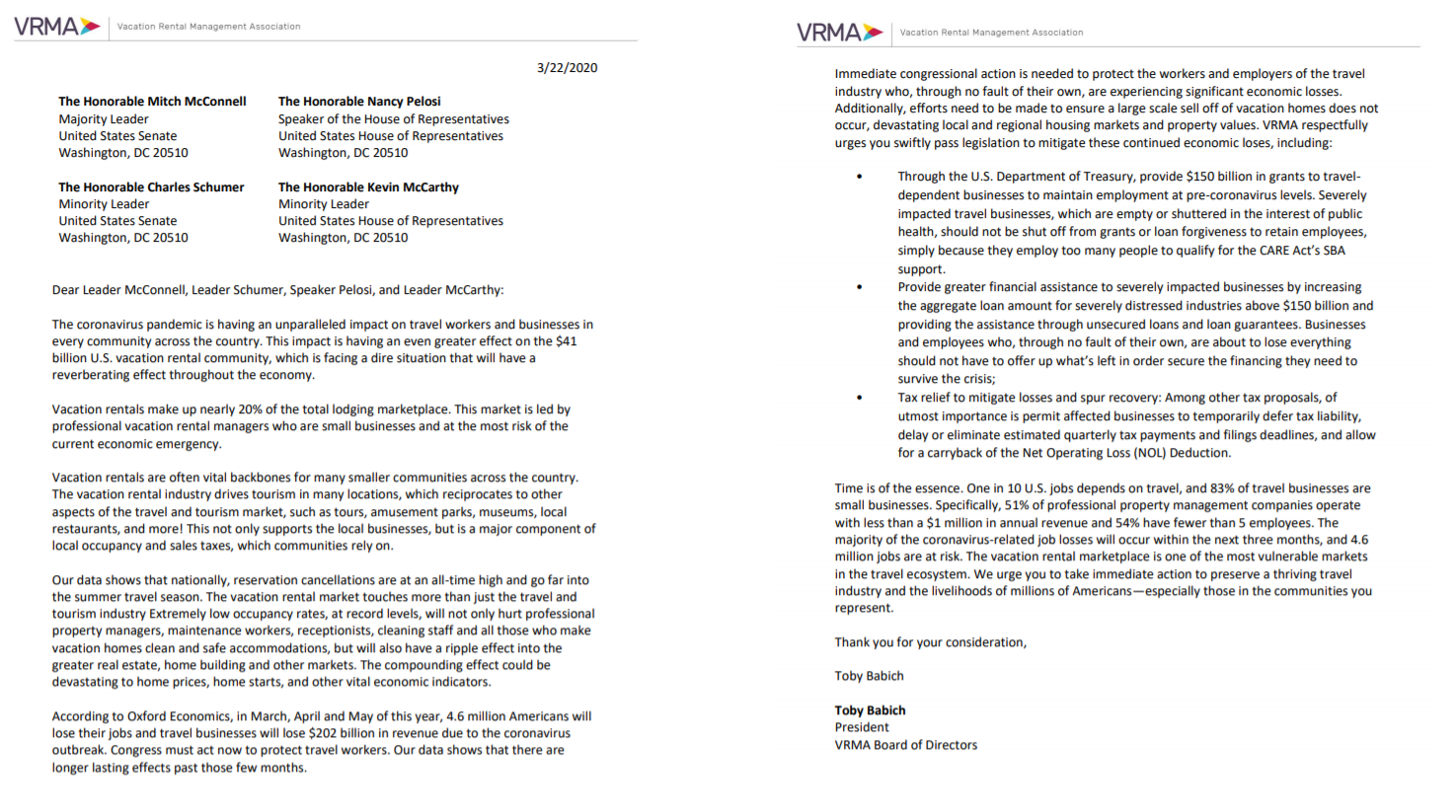 <!-comments-button-->