Today, at its software user conference, Expedia-owned HomeAway launched a revenue management and pricing platform, MarketMaker. With MarketMaker, vacation rental owners and managers are able to compare pricing with other homes listed on HomeAway's sites and to accept pricing suggestions offered by the largest online marketplace for second home rentals.
HomeAway's creation of this revenue management system is the latest industry disruptor in the rapidly evolving vacation rental industry.
The ability to recommend rental pricing to vacation home owners and managers—and to automate and incentivize the acceptance of its pricing suggestions (while accounting for HomeAway's "service fees" for customers)—potentially gives Expedia-owned HomeAway the freedom to dictate market pricing.
Sort Algorithms Based on Discounted Pricing
Expedia incorporates a metric for lodging sort (how high a property appears in a customer's search results on the site) known as "Offer Strength." For example, a property with a published nightly rate of $400 per night—that has dropped its pricing to $250 per night—will appear higher in search results than a property with a published nightly rate of $300 per night that has dropped its price to $250 per night, all other factors remaining equal.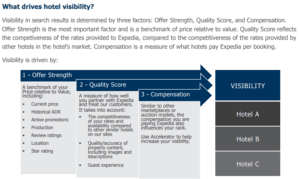 As Expedia looked to replicate its pricing and sort strategies for the vacation rental industry, it became increasingly apparent to the company that HomeAway needed to find a way to adjust pricing for less sophisticated managers and homeowners.
As a result, HomeAway's MarketMaker was born.
Airbnb's Pricing Suggestion Tool: Smart Pricing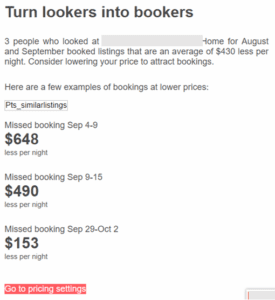 Airbnb has a similar, yet less advanced, tool. Airbnb's Smart Pricing lets owners and managers "set your prices to automatically go up or down based on changes in demand for listings like yours."
However, forums are filled with hosts claiming Airbnb's "suggested pricing" pushes pricing down to unreasonable levels. For example, reportedly, oceanfront three-bedroom homes have "suggested" pricing of $47 per night. $700 per night homes are being asked to drop pricing down to $80 per night. A quick search on Google yields hundreds of examples of the bottom-basement pricing suggestions being promoted by Airbnb.
Most managers and owners do not utilize Airbnb's pricing tool, as it is known to suggest pricing for properties that is well below acceptable thresholds.
Why HomeAway's Revenue Management Tool is a Disruptor While Airbnb's Tool is Not
Unlike Airbnb, HomeAway owns the software utilized by over one thousand property management companies, many of which manage upwards of five hundred homes. Through its revenue management system, HomeAway can automate pricing and push that pricing back into the software which feeds into many more marketplaces.
In addition, thousands of vacation homeowners and management companies in traditional destinations are dependent on HomeAway for bookings. With the creation of this pricing automation tool, HomeAway has an unparalleled power to influence pricing throughout the industry.
The Race for Market Share among OTAs
HomeAway, Airbnb, and Booking.com are in a race to increase market share and to establish a dominant position as the leading vacation rental marketplace. As the hotel industry experienced, OTAs know that they can "win" by offering customers the best price.
The creation of pricing automation tools is the avenue that allows them to achieve this goal.
The State of Revenue Management for Vacation Rentals
As vacation rental managers are witnessing, many revenue management services have emerged to provide automated revenue management services. But all are not created equal. Some of these services are working directly with managers and owners to create hands-on processes for optimizing pricing while others are using scraped data to automate a pricing model that is untested.
In the hotel industry, hundreds of revenue managers—actual people—are employed to optimize and daily adapt pricing strategies. Their craft is based on years of experience, independent data, internal data, and monitoring consumer behavior.
In the vacation rental industry, we are seeing companies, including HomeAway and Airbnb, rush to automate pricing strategies that are have not been tested.
To use an analogy, it is like a company building a car wash when the builders have never washed a car.
Implementing poorly crafted revenue management strategies can cause genuine harm.
If the owner or company prices too high, they lose bookings. If they price too low, they leave money on the table and sacrifice their ability to book at a market rate in the next year.
As one manager noted, "We don't have proven processes yet. There is a reason that hoteliers use revenue managers—even with OTA data and STAR reports."
Making the Case for Independent Reporting
If HomeAway or Airbnb is successful in achieving widespread adoption of pricing control, the vacation rental industry will see a shift in market pricing.
For far too long, vacation rental managers have been reliant on poor market reporting. Savvy vacation rental managers expend hours of staff time each week to scrape competitors' websites to get an idea of pace, rates and overall business performance. Less sophisticated managers rely only on past performance to make rate decisions.
The hotel industry has access to the STAR report, produced by STR Global, which provides basic, independent benchmark reporting metrics that provide hoteliers and their revenue managers with the necessary information to make pricing and marketing decisions.
For hoteliers, the idea of making pricing and marketing decisions without independent data is unimaginable. However, vacation rental managers have not had access to benchmark reporting in making pricing and marketing decisions.
Keeping Them Honest
At VRM Intel, we've built independent, unbiased benchmark reporting for vacation rental managers. This reporting allows property managers to compare their key business metrics to the market. This real-time tool serves as a fact-checker for the pricing suggestions dictated by HomeAway and Airbnb. We believe independent reporting can save managers from relying on OTAs for market reporting and protect the industry from a needless race to the bottom in pricing.
Note: As STR Global, the provider of the STAR report, has proven, a reporting company that provides revenue management services cannot provide independent data. If managers give their data to a reporting company that provides revenue management services, their company's data is being used to help their competitors succeed.
The Urgency
As HomeAway and Airbnb compete for market share via discounted pricing, the vacation rental industry has an urgent need for access to unbiased, untainted, affordable, forward-looking reporting. However, market-wide independent data doesn't happen overnight. In order to combat the OTAs endeavors to dictate pricing, like hoteliers, vacation rental providers are likely to find it advantageous to align with an independent benchmark marketing provider that is dedicated to industry independence, growth, and sustainability.

<!-comments-button-->