HomeAway remains the undeniable leader in delivering third-party revenue for core vacation markets in the United States. Expedia's purchase of the company in late 2015 resulted significant changes to the business model which caused friction among suppliers, but the company has recently shifted its philosophy to cater more to managers and owners and to preserve its leading position in whole home vacation rentals.
We reached out to HomeAway's chief commercial officer Jeff Hurst to take a deeper dive into HomeAway's trajectory, business model, and technology outlook. Hurst joined HomeAway in 2010 as the global director of strategy and planning and assisted the company in completing its IPO in 2011. In 2012 he transitioned to lead HomeAway's commerce initiatives as the global VP of e-commerce where he was responsible for enabling easy and secure payments across the HomeAway sites as well as implementing online booking for travelers and commission-based pricing for owners. Hurst currently oversees strategy and growth businesses, including business development, global revenue, e-commerce initiatives and HomeAway's activities in Asia Pacific.
Industry Growth and Competition
Amy Hinote (AH): HomeAway has a huge advantage in traditional US vacation rentals. Do you plan to put more focus on expanding internationally and where does HomeAway see the most inventory growth now and in the future?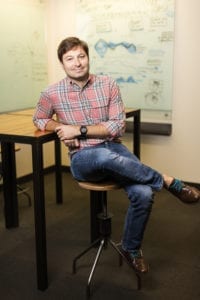 JH: Growing in markets outside the United States has been our priority for several years, and we have made significant progress, especially in Europe. The transition to a transactional business model and consolidation of our European brands has allowed us to invest more in performance marketing, which has increased bookings in Europe.
To grow the HomeAway market, we are focused on not only expanding our inventory but also improving the experience for travelers as they are introduced to the idea of renting a vacation home. We see most growth opportunities in urban destinations around the world and in destinations outside the United States including emerging markets in Asia and South America. Our distribution partnership with Expedia makes both growth areas particularly compelling.
AH: Are there any key industry trends that HomeAway feels will dramatically affect the vacation rental industry?
JH: Although vacation rentals are growing in popularity, there is still a tremendous opportunity for meaningful growth: in the United States, private accommodations represent less than 20 percent of total lodging. Consistency in the vacation rental booking experience helps travelers who have been easily booking hotel rooms to become regular customers of HomeAway, and we will reach new potential travelers who may book on many different devices (mobile, desktop, tablet, phone). As vacation rentals become even more mainstream, we expect to see convergence on payment and cancellation policies. Technology and digital assistants will help vacation home rentals close the gap on concierge services and other amenities travelers enjoy at hotels.
AH: In looking at the growth of the vacation rental industry in traditional markets, as opposed to urban markets, do you believe the traditional vacation rental market is growing, maturing, or contracting?
JH: We believe there are still many growth opportunities in the traditional vacation rental industry. Just last quarter, HomeAway had $3.9 billion in gross bookings, an increase of 46 percent year-over-year. We have grown strongly and steadily for more than ten years. We expect that to continue as awareness grows about HomeAway.
AH: Is HomeAway planning to add shared housing inventory to compete with Airbnb?
JH: Travelers who choose vacation homes over hotels tend to do so because they want more space, more privacy, and more value for their money. These features are especially important to families and groups, our core customer base. For that reason, we do not allow shared spaces at HomeAway.
AH: Do you believe Google and/or Amazon will disrupt the vacation rental funnel?
JH: Our $130 billion industry has been in a constant state of disruption since HomeAway was founded. The vacation rental market has evolved, and we have seen all sizes of competitors come and go. We are confident we can grow substantially because of our ten years of success.
HomeAway's Business Model
AH: Some of HomeAway's recent policies have caused anxiety among your supplier base. Expedia CEO Mark Okerstrom said, "With respect to the property managers' displeasure and how those are going… I would say that broadly speaking, the property manager and owner community are adjusting to the changes." Do you believe that property managers will eventually adjust?
JH: As we invest more in marketing, these changes will give property managers more distribution, more data and insights, and ultimately, more bookings. Admittedly, we have made missteps, but we will continue using customer feedback to improve our service and increase its value for property managers who use our sites and products.
AH: There is a lot of speculation that the subscription model is going away in favor of a pay-per-booking (PPB) model? Is there any truth to this?
JH: The subscription model remains popular among our most loyal customers, and we will offer it as long as it continues to help us achieve our customers' and our overall business goals. New customers seem to opt for pay-per-booking: owners and managers choose pay-per-booking when they list with HomeAway.
AH: Regarding the new off-platform attribution policy, under your terms of service, property managers are required to submit to HomeAway audits including access to their books, account records. Is there internal concern about the potential loss of supply based on the new policies?
JH: The only intent of the off-platform attribution policy is to ensure HomeAway is compensated for the value we provide property managers so they can receive bookings. We are always eager to hear feedback from managers that could improve our programs, products, and policies. In the case of audit rights, we listened to the feedback of property managers and have removed audit rights from our terms and conditions.
AH: In your Premier Partner Pledge, you require that managers and owners "keep their rates equal to or lower than rates listed on other advertising websites for the same property." How can a manager or owner do this if he/she doesn't know what traveler fee HomeAway is charging to guests?
JH: We ask Premier Partners to post the same nightly rate across all advertising channels so travelers can book the same property at the same affordable rate. This is consistent with the expectation that Premier Partners will provide the best booking experience for travelers.
AH: What percentage of bookable inventory on HomeAway do you expect to add to the Expedia platform by the end of 2018? What have been your biggest challenges in this integration?
JH: While we do not update the percentage of HomeAway inventory available on Expedia sites outside of earnings, we continue to test and learn from listing HomeAway properties on sites such as Expedia, Orbitz, and Travelocity. As anticipated, rate structures, calendar accuracy, manager response times, and pricing consistency have been challenges to adding additional listings to Expedia sites. But with the adoption of our new rates-editor tool, instant booking and other factors have accelerated, and we expect the availability of HomeAway inventory will also.
AH: In terms of ranking, are recent changes to your algorithm helping property managers and owners improve their performance?
JH: We continually give feedback in the Marketplace Feed to help managers and owners improve performance, and we plan to add even more tools and resources. We also regularly share educational content and have a team standing by to address any questions or concerns owners and managers have.
Software and Technology
AH: How does HomeAway see its software division? Are you looking to acquire more software companies or thinking about spinning off the division?

JH: HomeAway Software remains an important part of our business. Property managers provide an invaluable service to owners and a great experience for travelers. We will continue investing in HomeAway Software as part of our ongoing commitment to serving professional managers with world-class tools and services.

AH: Regarding channel managers, how vital are third-party channel managers to the core OTA business? As you integrate with more and more software systems, will channel managers disappear?
JH: Third-party channel managers provide a valuable service to property managers; they ease the technical burden of working across multiple distribution channels. We support them and expect they will continue to help many customers access new travelers.

AH: The discipline of revenue management is still in its infancy. Do you see HomeAway educating property managers and homeowners about revenue management?

JH: We empower owners and property managers with data and insights so they can make the best decisions possible to accomplish their unique goals. Pricing is important for decision-making, and our tools help these professionals understand the dynamics of traveler demand.

AH: Are there any new technologies you plan to acquire that may better serve your suppliers and guests?

JH: We are interested in any technology that helps us deliver a world-class experience to travelers, owners, and managers, especially innovations that can make it easier to rent or manage a home and listings. For example, we are rolling out secure text messaging so managers and owners can quickly and easily communicate with guests, and we are introducing virtual reality tours of homes.

AH: Is blockchain technology the next game changer?

JH: Blockchain is an interesting technology with several potential applications that could improve how consumers transact in an online marketplace. We are evaluating it and other technologies to see how we can leverage blockchain to create better products and experiences for our users.

<!-comments-button-->