HomeAway's supplier community of homeowners and property managers is eagerly awaiting HomeAway's promised "April Announcement."
The HomeAway Community Manager posted the following message:
"I've seen some questions around the "April Announcement" so I wanted to give you the following heads-up: we are currently scheduled to send out an update to our HomeAway, VRBO, and VacationRentals.com owners and property managers in the U.S. on April 28th. U.S. customers: please be on the lookout for this information from us in the forms of an email, a posting on our sites and dashboard notifications to make sure you remain informed about the latest news pertaining to our partnership with you."
Speculation from owners and managers is largely revolving around HomeAway's execution of a service fee for travelers. Many suppliers believe the April Announcement will lower or eliminate subscription fees and move even further toward a complete replica of Airbnb's transactional business model.
There are other possibilities, as well. HomeAway COO Tom Hale recently resigned from HomeAway, and the company has given no explanation about the circumstances surrounding his surprising departure or a replacement for his role. In addition, the new Best Match sort criteria has been widely criticized, as both homeowners and managers have reported a significant drop in inquiries and bookings. Furthermore, rumors about limiting the amount of guest information the supplier is able to access have also been circulating.
With the explosion of public criticism about the latest series of HomeAway's platform changes via social media and community forums, it is likely HomeAway's "April Announcement" is designed to improve relations with homeowners and managers with the goal of stabilizing renewal rates and encouraging bookings on the HomeAway platform.
Expedia, Inc. is expected* to report earnings on 04/28/2016 after market close. The report will be for the fiscal Quarter ending Mar 2016.
The analyst consensus expects the company to report a loss of 6 cents per share, on revenue of $1.84 billion. Expedia stock rose to $140.51 less than 24 hours after the announcement of the HomeAway acquisition. Since then, Expedia stock has underperformed the broader markets and – YTD – has seen a 14.4% decline in the stock price.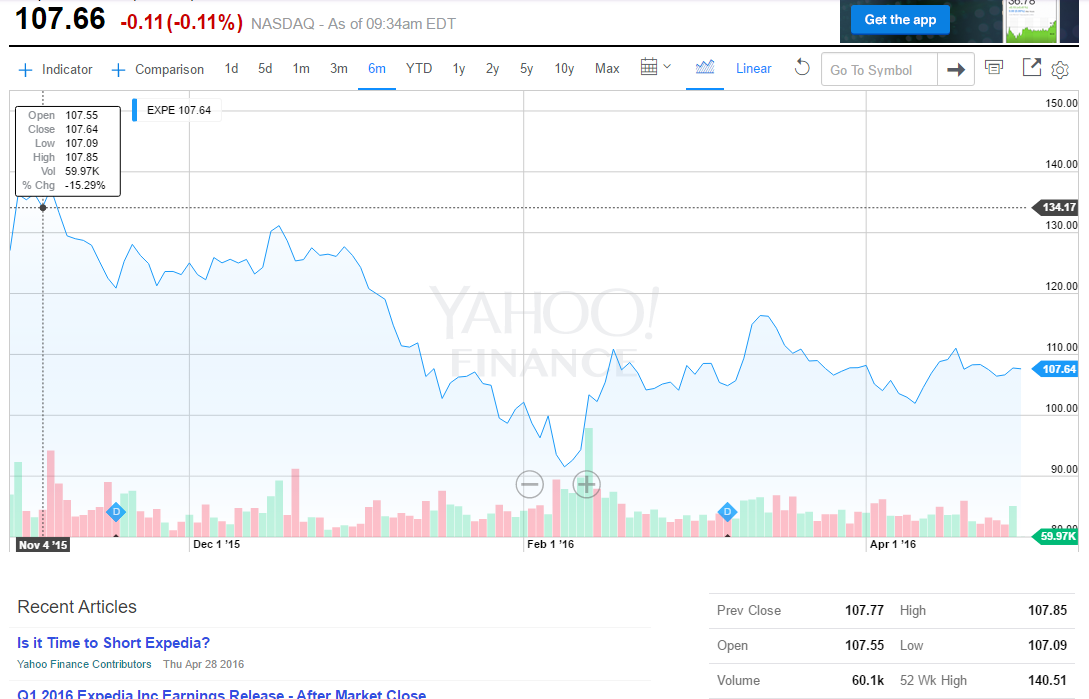 <!-comments-button-->