For Vacation Rental marketers, this latest news from Google is disappointing. Historically, online marketers have been able to see which organic (not paid) keyword(s) drive the most traffic and revenue to their vacation rental website.
Over the last two years, Google has slowly been cutting back the amount of data related to organic searches, but in late September 2013, Google began the process of encrypting search activity. Google is expected to stop providing organic keyword data altogether by the end of the year.
Why this is a bigger problem for Vacation Rentals
Some industries are more affected by this change than others. In the Vacation Rental industry, we face significant competition in the Google SERP's (search engine results pages) from distribution channels, in addition to local competition. Local marketers have been able to adapt with long-tail, more targeted keyword phrases and were able to measure their effectiveness in Google Analytics.  Losing visibility and insight into organic traffic diminishes the ability to compete in Google search.
In addition, keyword data from Paid Search is still available, which means companies with large AdWords (PPC) Budgets (i.e. HomeAway, TripAdvisor, etc.) have more visibility into performance from keywords and can use this information to further optimize their sites for Google search.
The impact of the loss of keyword data for Vacation Rental Managers
According to Search Engine Watch, this change means:
Organic traffic from Google can no longer be tracked at a keyword level via analytics.
Limited amount of keyword referral data available in Google Webmaster Tools.
No visibility into organic traffic numbers: Brand / Non-Brand, Long-Tail Performance, by Keyword Group.
Decrease in visibility for new keyword opportunities based on analytics data.
We need to use a different metric set to understand SEO performance.
We should expand the number of keywords we check rankings for in Google that correlate to high performance URLs.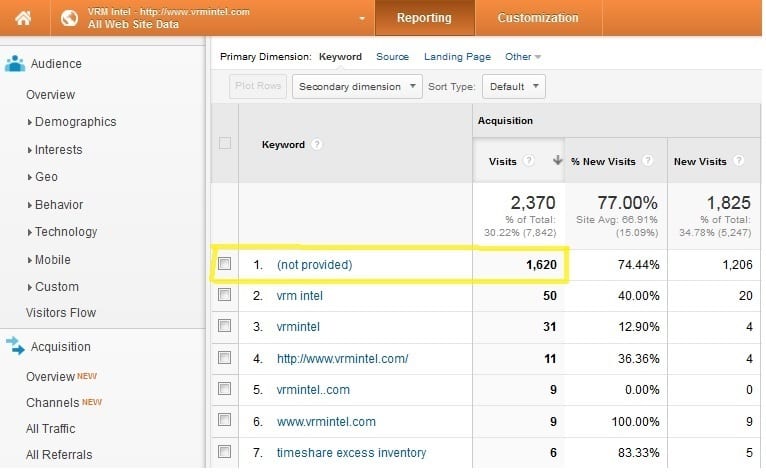 10 Ways to Adapt
There are ways to continue to succeed in Google search without organic keyword data:
1. User Experience
What is good for your user is good for Google. As Google's Matt Cutts said, "Succeeding in SEO will be the same as it's always been if you're doing it right – give the users a great experience."
2. Webmaster Tools
You can still get keyword referral data in Google Webmaster Tools with impression versus click data so you have visibility into the keywords people are using and where your site got an impression in the search results. Even thought this data isn't 100% accurate and is typically only available for a relatively small overall percentage of search queries, there are ways to leverage Webmaster Tools to improve performance.
Read Trent Blizzard's article 5 reasons you should use Google Webmaster Tools for more info.
3. Site Search
Including a search box on your site and tracking queries gives you insight into what visitors are searching when on your site. Read 9 Ways to Steal Your "Not Provided" Keyword Data Back! to find out how to set up your site search.
4. Add tracking to your homepage quick search
What your visitors search for in the availability search box on your home page can be tracked. Monitoring customer behavior in your availability search can provide you enormous insight into inventory demand for property types during specific data ranges, allowing you to further optimize your site.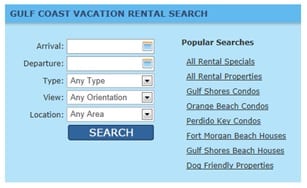 5. Bing (remember Bing?)
Bing still provides organic keyword data. Even though the traffic sample set is smaller, you can still see how keyword(s) are performing.
6. Google AdWords
With your Google AdWords account, use the Google Keyword Planner for keyword recommendations and brainstorming.
7. Google Related Searches
Google's SERP provides a "Searches related to…" feature which can help you to optimize your site.

8. Google Trends
Google launched a new version of Google Trends (combining Google Insights and Google Trends) and allows you to explore a variety of trends in search data. It is a great tool for brand monitoring. This is also a great tool for competitive analysis.
9. Use Your Expertise: Create Great Content & Abandon the Keyword Obsession

A tip from WordStream: "Don't despair about not having as much keyword data from Google Analytics as in the golden years of days gone by. Maybe we're trusting technology too much as it is – after all, isn't your brain the most powerful analytics tool of all?"

Remember, Google doesn't know your audience like you do. What is your audience looking for from your company? You know this better than anyone else, so take pride in that and use your insider knowledge to your advantage.

10. For Experts: Moz Blog

Moz Founder/CEO and SEO guru Rand Fishkin covers what more advanced search engine marketers can do to make up for this drastic change by finding data from other sources to stay on top of their SEO efforts.

By Amy Hinote

<!-comments-button-->