March 2, 2016 • By tambo
Ten years ago, who would have predicted that one of your guests would ever opt to stay in the home of a complete stranger instead of your hotel?
Well, it's happening. Right here, right now, to your hotel, as we speak.
An Unexpected New Threat
Since its meager beginnings in 2007, AirBnb has disrupted the way your guests travel. People are booking stays in spare rooms, private homes, (even Airstream Trailers and tree houses!) located all across the globe.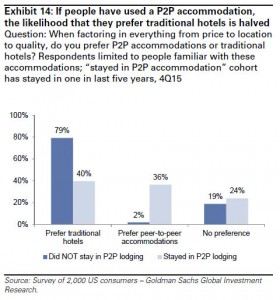 Bookings are made on the AirBnb website every two seconds.  They have outpaced our industry giants as the world's largest hotel chain with more than 300,000 rooms. And now, a recent Goldman Sachs study has revealed another unsettling fact. After travelers try AirBnb, or one of its peers like HomeAway or FlipKey, half of them decide not to go back to hotels.

We'll say that again: half don't go back to hotels.

Hoteliers aren't the only ones affected by this shift in lodging choices. Our OTA "frenemies," like Priceline and Expedia, are feeling the burn since they receive a bulk of their revenue from our hotel bookings.

Is It All Bad?

While AirBnb bookings are expected to balloon and skyrocket to 80 million this year, the news isn't all dismal. Throughout the country, hotel occupancy has been hitting all time highs for several years, and further growth is expected from major brands and hotel management companies.

Plus, there will always be the traveler who will never give up the creature comforts and luxury of staying in a hotel. Those guests will always want to rely on impeccable cleanliness, a staff eager to serve, and a carefully crafted experience no matter how awesome their AirBnb experience is.

Local governments are starting to crack down and in some cases, charge homeowners thousands of dollars for renting out rooms and homes on AirBnb.  And, in an ironic twist, the ones who are allowed to profit from being AirBnb hosts now have more income to travel with and potentially stay in hotels elsewhere.

Still, the journey for AirBnb is just beginning. As they continue to grow, hotels may have to work and adjust to win back their guests. We'll keep a close eye on the developments and lend a hand in helping you drive more direct bookings to overcome the unexpected challenges AirBnb brings.

About Tambourine
Tambourine uses technology and creativity to increase revenue for hotels and destinations worldwide. The firm, now in its 30th year, is located in New York City and Fort Lauderdale. Please visit: www.Tambourine.com

<!-comments-button-->