Founded in 2008, LiveRez has grown to be one of the most used technology platforms in the vacation rental industry. With over 1,200 systems sold and over 40,000 properties currently on the software, LiveRez continues to grow and add new functionality for its users.
Known for his energy, passion, and fierce independence, LiveRez founder and CEO Tracy Lotz has helped shape the face of the modern vacation rental industry. As one of the vacation rental industry's most talked-about figures, Lotz is never afraid to speak his mind or take on the largest companies while he champions his company's ideals and partnerships in an authentic and demonstrative way.
We had the opportunity to sit down with Tracy Lotz and LiveRez's vice president of operations, Tina Upson, in a candid interview to find out more about LiveRez's growth and trajectory for the future.
What are you most proud of in the growth and development of LiveRez?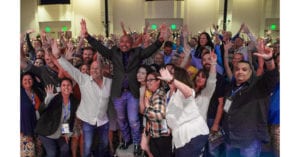 Tracy Lotz (TL): Overall, it's the relationships we have helped develop that I'm the most proud of—not only the relationships that we at LiveRez have with our partners but also the relationships that our partners have with one another. It's been pretty incredible to see our partners leverage the collective LiveRez network as they face industry issues and build business best practices. We actually see them travelling the country to visit one another's operations so they can learn and grow together.
Looking back, what has been the biggest challenge or obstacle to LiveRez's growth?
TL: I am not sure if it is truly the biggest challenge, but I can tell you that it is NOT easy to start a business and focus first on building it. There is so much temptation and push for you to "raise money" to quickly get funds from any source you can and then worry about how to pay it back later. When you have a new business and are personally leveraging your own treasure on a month-to-month and then year-to-year basis to grow a company from the ground up, it's no joke. Having done this with a few other companies prior to starting LiveRez, I have always felt like it has been part of the glue that has bonded me to our LiveRez partners. They are truly entrepreneurs, and they work so hard to make sure they have more money coming in the front door than they have going out the back door. Knowing exactly what that feels like and how much of a grind it can be has fueled some of the decisions I have made regarding LiveRez and our business plans. Some of the decisions I've made for LiveRez may seem "personal" to outsiders, and I guess they could be portrayed that way because I do feel personally connected to our partners and the obstacles that they face in the vacation rental space.
You refer to your clients as "partners." How does that difference influence how users are treated at LiveRez? 
TL: I think the real difference is that we deeply care about the same things our partners care about—and we don't just say that, we live it. We care about the industry as a whole and particularly about all the obstacles professional managers face on a daily basis, from changes in the regulatory environment to changes in the advertising landscape to changing expectations from guests and owners. We feel that as their partner, it's our job to help them navigate these challenges and make informed decisions that benefit them long term.
When you really care about people, you build strong relationships. We know all of our partners by name. We even have screens in our offices highlighting a different set of partners each month with facts about the people that work in their organization.
We work nonstop—from our partner success teams through to our development teams—to make sure that our partners set the definition of success and that they feel supported. This requires a big investment, both in keeping our technology ahead of the curve and in hiring quality people and training them not only on our software but also on our partners and the industry as a whole. We don't take shortcuts when it comes to our partners because we're part of the same team and win together.
Historically, you have had a skeptical view of working with distribution channels, but last year we saw LiveRez integrate with Airbnb. Why was Airbnb a better choice than the other channels for LiveRez? 
TL: This is actually a simple one to answer. Airbnb wasn't a "better choice." We sat down with them, as we have with other channels, and laid out the barriers to entry for the LiveRez partners. What made Airbnb different is they were open to conversations about what professional property managers needed, and where Airbnb needed to make changes. Airbnb followed through with a number of changes, including adding stricter cancellation policies, allowing hosts/managers to be paid out earlier, letting management companies showcase their branding in their profiles, adding account managers, and so on.
We've heard that LiveRez is taking a more open approach to allowing its partners to work with outside vendors. What motivated this change in strategy, and how do you think the development of your API will impact your partners? 
TL: Overall, we are just evaluating what is best for our current partners. In the spirit of partnership and partner-driven development, we are simply working alongside LiveRez partners to address the needs that they have.
What do you think most people in the industry don't know about Tracy Lotz and about LiveRez Software? 
Tina Upson (TU): Tracy has such a big heart, and I don't think people see that because he comes off as such a tough guy. He takes on a lot of personal responsibility for the success of our partners and the success of our team members at LiveRez. He also makes it a priority to give back. Tracy has LiveRez involved in many charitable organizations, but you won't hear about many of them because he rarely lets us brag about these efforts.
Another defining characteristic of Tracy is loyalty. I have always said that Tracy is loyal to a fault. I've watched him turn down opportunities that other people could only dream of, all because he knew in his heart he was doing the right thing for our partners and our team. Maybe this is what makes him such a great father to his kids. When push comes to shove, Tracy looks out for his family (and that includes his LiveRez family). There's no one else I'd rather have on my side.
One thing people find surprising about LiveRez is how hard we work and how much we truly care. When you purchase software, of course a salesperson sells "great customer support," and at LiveRez I'm sure that our salespeople sell "partnership." But when the rubber meets the road and someone becomes a LiveRez partner, they find that whether it is in implementations, support, sales, design, or even engineers—yes, that's right, they meet our engineers—we really do want to help them be a success.
Looking at the software, what are the most important developments you've rolled out in the last year? What will we see new from LiveRez in 2017–2018?
TU: This is where I get really excited about LiveRez, with our incredible partner-driven development. We've released multiple significant updates to our platform in the past year, but the ones that really shine are LiveStay and LiveTrust.
TL: LiveStay is really something special that we are so excited about. Our vision is that LiveStay will be a completely unique marketplace for booking vacation rentals for a number of reasons.
The first thing that sets it apart is that it is 100 percent accurate at all times when it comes to availability, bookings options, and so on. There's no "integration" factor here because the marketplace is populated only by properties managed by our partners; it's totally exclusive to LiveRez partners. This will allow us to do things that other listing sites simply can't accomplish because they're relying on integrations from multiple software vendors.
The second thing that sets LiveStay apart is that it is designed by our property manager partners, for our property manager partners. We're really allowing professional managers to design their own exclusive marketplace from the ground up. This will give them a level of control over an exclusive marketing channel. Right now, managers are often forced to play by someone else's rules and are robbed of their identity in doing so. LiveStay will be different.
The third and final thing that sets LiveStay apart is that it will be a brand focused on the guest experience, which is really where our partners shine. The above-and-beyond effort they put into their own personal brands and the guest experience is incredible, and it deserves a lot of respect. This is a site that isn't just about generating bookings but about setting an expectation about the stay that guests can grow to trust.
We feel like LiveStay is the answer professional managers have been looking for. As managers continue to struggle with channels that care little about the hard work they invest into their brands, LiveStay will highlight this hard work and showcase it to guests worldwide. It's our way to stand beside and truly support our LiveRez partners.
TU: LiveTrust is our new trust accounting system. What makes LiveTrust different is that it uses accounting automation and real-time event handling to not only take a lot of work out of the trust accounting process but also give managers up-to-the-second information about how much money they are holding for any given stakeholder. It's also 100 percent cloud-based and mobile responsive. To our knowledge, there's nothing like it in the industry.
These updates are in addition to a dozen or more other features and upgrades, including the "LiveScore" update that adds NPS-style questions to surveys and gives managers the ability to create completely custom surveys.
As we look ahead to the rest of 2017 and 2018, we are truly focused on having the best core technology in the space. We are reinvesting in upgrading our back-end infrastructure—something that will enable us to develop solutions even faster and leverage some really cutting-edge technology. Although we've made a number of updates to our core technology over the years, we feel these updates will future-proof LiveRez and give us a long-term competitive advantage. I think our stability as a company enables us to make long-term investments like this that might not be as feasible for our competitors.
Another investment we've made is in our people. Although other companies rely heavily on outsourcing development, we have a large on-site team of developers that work alongside our partners to deliver exactly what they're looking for. One of the projects they'll be working on together is designing and developing the best cleaning and maintenance app available in the industry. We're also working toward adding a complete reservations mobile app, more channel integrations, and dynamic pricing capabilities.
As part of our new channel manager, we are building in ways for partners to leverage our growing network of managers by listing one another's properties, banding together to create regional co-op websites, and referring bookings to one another. This is something we've been discussing for a while. We started forming advisory committees on this topic after our inaugural partner conference and have been working hand-in-hand with these partner groups for some time to explore what this would look like. We've invested the time doing the groundwork, and we're excited to see it come to life this year.
In the past, we've heard you talk about not being for sale, but there are always rumors. What are your current views on a potential LiveRez acquisition? 
TL: My current view is that we don't NEED to sell. We haven't accepted institutional funding. We have zero debt. We don't even have a line of credit at the bank. The winds that are blowing companies over in our industry just aren't being felt by us. What we have going on at LiveRez with our partners and our team is something special, and I can't imagine a number high enough that would make me consider selling.
The loyalty between LiveRez's users and the LiveRez leadership is not one sided, as evidenced by the large attendance at the annual LiveRez Partner Conference. With big name speakers, such as Shark Tank's Daymond John and Lone Survivor Marcus Luttrell, over 500 of its enthusiastic "partners" were lavishly wined and dined by Lotz and the LiveRez team at the last event in Austin, Texas. The 2017 LiveRez Partner Conference will be held October 8–11 in Phoenix, Arizona. 

<!-comments-button-->