Forbes published an article this week written by contributor Peter Lane Taylor entitled "Watch Out, HomeAway and Airbnb: Here's Why TripAdvisor May Be Your Biggest Competition," which vastly misrepresented the state of online distribution in an industry characterized too frequently by vast misrepresentation.
At first glance, readers might conclude that this article was a paid advertorial for TripAdvisor, but one vacation rental manager reached out to the author and received a reply saying, "We are never paid by anyone to write anything and get nothing in return."
Taylor claimed, "Yet, while HomeAway and Airbnb have been veering ever closer to each other in terms of their platforms, marketing, and target demographics, their most formidable and sophisticated competitor (TripAdvisor) has been quietly gaining on both of them, and may just be on the verge of becoming the vacation rental business's next 800-pound gorilla, especially when it comes to the luxury market."
Taylor added, "If this exclusive interview with Ben Drew doesn't put a shiver in HomeAway's growth plans and Airbnb's high-flying bluster, they might just need to go rent a 'bubble house' from TripAdvisor in Costa Rica."
As any industry participant or observer will testify, nothing could be further from the truth. Read the Forbes article.
A closer look at the numbers
The actual numbers tell a very different story than the Forbes article. TripAdvisor purchased FlipKey in 2008 at a time that FlipKey possessed the largest market share of the professionally managed vacation rental inventory, but HomeAway quickly gained ground. By 2011, as a result of key acquisitions, HomeAway had grown to 641,000 listings compared to TripAdvisor's 160,000 listings.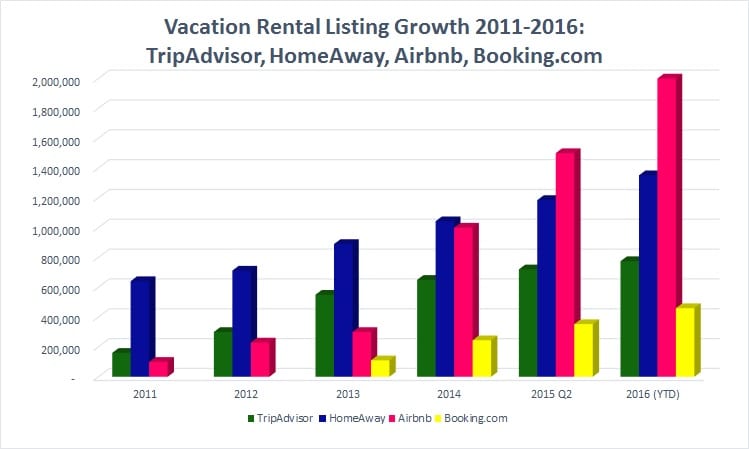 In addition, the author claims, "There are an estimated 10 million additional vacation homes sitting vacant for most of the year in the U.S. alone." In contrast, a recent research study by Phocuswright determined there are 1,393,000 U.S. vacation rental accommodations available.
Over the last two years, as a result of a lack of executive-level understanding of the industry, poor technology integration and an internal loss of key talent, TripAdvisor's performance has fallen short for its suppliers in revenue, service and support.
It was theirs to lose.
TripAdvisor's FlipKey was the preferred channel for professional vacation rental managers up until 2014. For suppliers, the exposure, ROI and service at TripAdvisor's FlipKey was the best in the sector, but things changed quickly.
With TripAdvisor's attempts to integrate FlipKey inventory onto the TripAdvisor platform, the internal team faced more challenges than expected, and it did not have a process in place to support the subsequent issues with vacation rental managers and homeowners.
Last year, at VRM Intel, we wrote a series of articles driven by complaints from vacation rental professionals who were hoping to trigger a change in TripAdvisor's trajectory. The goal of the articles, followed up by an open letter to TripAdvisor CEO Stephen Kaufer signed by over 100 leading vacation rental managers, was to jolt the responsible parties to take a closer look at the inner workings of its vacation rental operations.
However, their calls for change were dismissed by the company, and dozens of vacation rental managers and owners reported to VRM Intel that they had ended their relationship with TripAdvisor.
One vacation rental manager responded to Taylor's article in Forbes saying, "They do not answer the question of how they are going to get VRM (Vacation Rental Manager) trust and buy in after all of their technical and support failures. Also, not to mention what happens to our reviews – like the over 3000 of our company's reviews that no longer exist since we ended our contract due to performance and technical issues."
HomeAway does not consider TripAdvisor to be a threat.
The author is correct that Expedia-owned HomeAway does not consider TripAdvisor a threat.
In its most recent earnings call, Expedia CEO Dara Khosrowshahi addressed its perceived competition – with no mention of TripAdvisor – saying, "I just want to make sure that our investors understand the perspective that there are two big players (HomeAway and Airbnb) in this space, and arguably a third coming with Booking.com and their activity."
There are solid reasons that HomeAway and Airbnb do not consider TripAdvisor as the "most dangerous under-the-radar threat," as the author claims.
First, TripAdvisor has much bigger issues that its vacation rental division's below-market performance. Its stock value has decreased almost 50 percent and is currently trading at approximately $48 per share.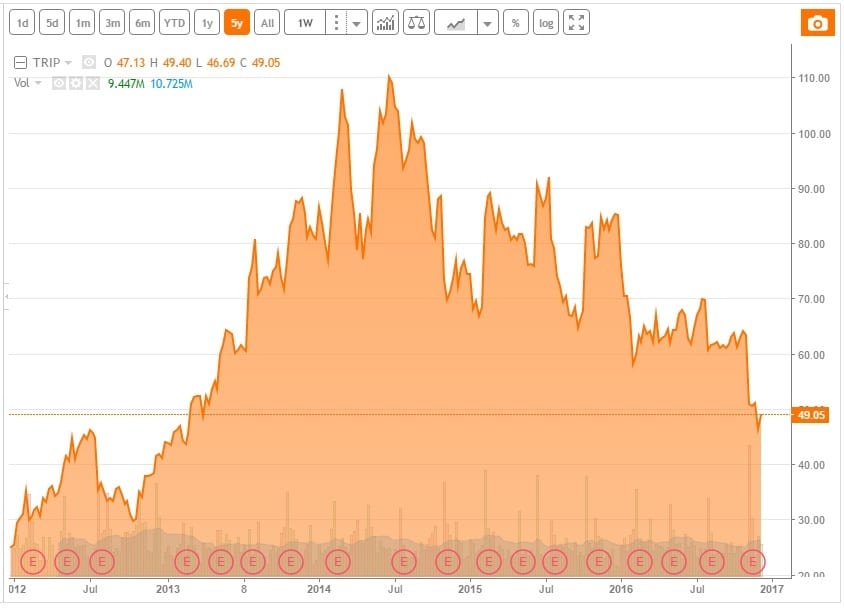 The vacation rental division was barely mentioned in its last four earnings calls with investors and is a small part of their overall turnaround plan.
Second, TripAdvisor's growth rate in the vacation rental sector is well below that of key industry players, including Priceline's Booking.com, which last year saw a 30 percent growth in inventory compared to TripAdvisor's 8 percent.
To be fair, Ben Drew, Head of Business Development for TripAdvisor Vacation Rentals, was in no way dishonest in his representation of TripAdvisor. Through no apparent fault of Drew, Taylor's interpretation of the interview and TripAdvisor's performance is not found in Drew's responses to the author's questions.
Yes. HomeAway and Airbnb should be looking over their shoulder….but not at TripAdvisor.
The real threat to Airbnb and HomeAway is the next player  – yet unknown – that provides a supplier-friendly marketplace for vacation rentals.
HomeAway, Airbnb, Booking.com and TripAdvisor are all moving forward by working off of market assumptions that have yet to be proven, including (but not limited to):
Extra Fees: Travelers will pay a premium to book through their websites. (HomeAway, Airbnb and TripAdvisor have added "traveler fees" that increase the price of booking on their channels by up to 12 percent, while Boooking.com charges a 15 -20 percent commisssion to suppliers.)
Cancellation Policies: Vacation rental suppliers can often not withstand the 24 hour cancellation policy that channels are pushing toward.
Lack of Communications: All of these channels (HomeAway, Airbnb, Booking.com, and TripAdvisor) are operating under the assumption that travelers book vacation homes in the same way that they book hotels. In actuality, data shows that vacation rental travelers have questions when booking a large vacation home with up to 12 bedrooms that necessitate a vehicle for communications between the homeowner/manager that these platforms are trying to eliminate.
The Forbes author contends, "HomeAway and Airbnb would be wise to keep one eye looking over their shoulders."

This is true. But the real threat is the one they don't know yet

By Amy Hinote, Founder and Editor-in-Chief, VRM Intel

<!-comments-button-->