Today, Expedia announced that it has rebranded VRBO.com to Vrbo.com and asks consumers to pronounce the marketplace name going forward as "ver-boh" instead of the acronym, V-R-B-O.
According to the Wall Street Journal, "Vrbo executives said they had been hearing the alternative pronunciation for a long time. Recent tests showed that it was more memorable and easier to say in more languages. Investing in the old acronym was just 'fighting the tide,' said Vrbo President John Kim."
"The effort to refresh the brand is meant to build on Vrbo ads last year as well an earlier strategic shift to earning revenue from travelers instead of solely from property owners, said Judy Kay, chief strategy officer. 'A few years ago it just wouldn't have been as relevant,' she said."
While Forbes laid out the company's rationale regarding the brand adaptation, the move forces a question, "What is to become of the HomeAway brand?"
Related: Pentagram has rebranded Expedia Group to "better unite" the family of travel brands.
HomeAway vs. Vrbo
Vrbo.com historically has performed better for website traffic and bookings than HomeAway.com; and with the rebrand, the HomeAway brand seems to be disappearing in the cleavage between Vrbo and Expedia.
Both Forbes and the Wall Street Journal list John Kim's title as "president of Vrbo" instead of "president of HomeAway," and TV advertising campaigns have shifted to marketing Vrbo instead of HomeAway.
Comparing the two sites' performance against Airbnb (and Expedia), HomeAway's site performance hasn't measured up to its competitors over the last three years in spite of considerable investment into the HomeAway brand, according to Amazon's Alexa.com.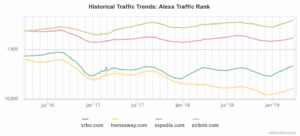 As Expedia looks to compete with Airbnb, the renewed attention to Vrbo indicates a move away from the HomeAway brand, in recognition that the Vrbo brand resonates more with vacation rental consumers than HomeAway. By consolidating vacation rental shoppers into one leading marketplace, and redirecting advertising dollars to promote that brand, Expedia has a significantly larger opportunity to compete against Airbnb with consumers and suppliers.
Vrbo executives declined to disclose how much they will spend on the campaign.
Other announcements with the Vrbo rebrand
In addition to the new logo and pronunciation, Vrbo announced it is adding shareable TripBoards and Virtual Tour to make shopping easier for consumers.
According to a press release, "Travelers can create custom Vrbo Trip Boards to like and save their favorite properties in one place, then share their Trip Boards with everyone in their travel group and invite them to add comments and vote on their favorites. With app push notifications, each person can choose to be notified about votes or comments right away, making it easier and faster to choose the best place for everyone. Virtual tours are another way technology helps Vrbo customers find a perfect match. Currently,15,000 360-degree virtual walkthroughs bring homes to life for travelers before they book, with more tours quickly being added."
Vrbo shares new logo on social networks
On Instagram, Vrbo's posted: "Our new logo symbolizes everything we love about travel. It tells a story of bringing people together. The lines parallel then converge — finding their way back to one another. The adaptable colors represent different people, countries and causes."
And: "Our new pronunciation is 'Ver-boh.' Our name had to be easier to pronounce and more memorable globally. Luckily, our most passionate travelers and partners showed us the way. Many already pronounced our name as 'Ver-boh.' That just sounded right to us. VRBO is now Vrbo."
Social Reaction to Vrbo's New Look

As one would expect, the internet responded quickly to the change.
So @vrbo has gone all Demi Moore and changed the way they say their name. Still V-R-B-O to me. And now the app has a blue background to help blend in with all the other apps that are blue. 🤦‍♂️

— Steve Consley (@SteveConsley) March 27, 2019
New Coke vs old Coke 🤦‍♀️

— Debbie Yancey (@dhyancey) March 27, 2019
Just saw a commercial for @vrbo, and they kept saying "ver-bo." Literally no one says that…we all know you by V-R-B-O. Seems like now isn't the time to correct people on the name. Just a thought.

— Ashley (@brassy_sassy) March 27, 2019
Thanks for the laugh. They're changing their name to obfuscate "by owner." They think they own our homes and businesses.

— Janelle Martinson (@JanelleMc2) March 27, 2019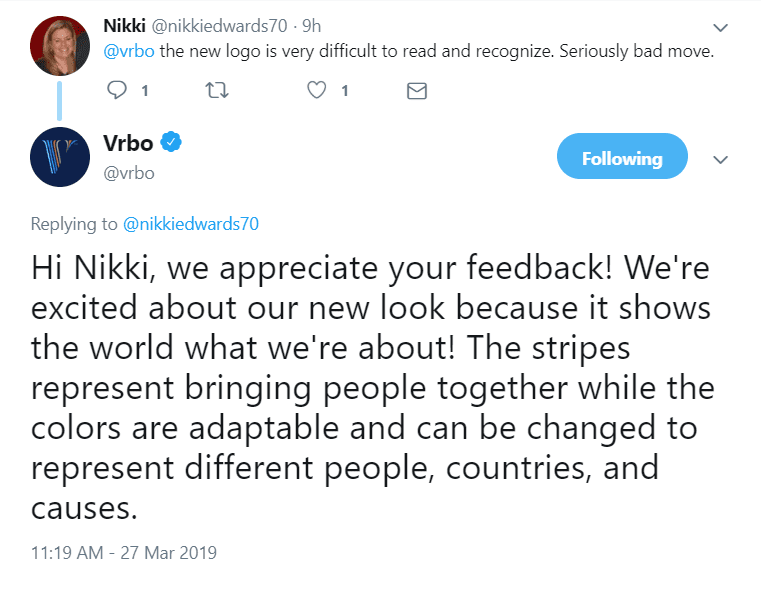 Sure Jan… @vrbo pic.twitter.com/2V2JFcj16Q

— is this real life? (@lcleary1959) March 28, 2019
How do you pronounce the new @vrbo? Allow #teamhomeaway to help you… pic.twitter.com/3IoUZlxNnd

— Life at HomeAway (@homeawayjobs) March 27, 2019
tomato or tomatoe, VRBO to Vrbo…#brand change alert… a new name that's easier to pronounce ("ver-boh") #young #cool @lookoutairbnb

— Amy Kvistad (@amykvistad) March 28, 2019
Hey Ver-boh. Air BnB is still the coolest kid in the class even if you did change your logo and how you pronounce your name.

— Tim Cafferty (@khtcaff) March 28, 2019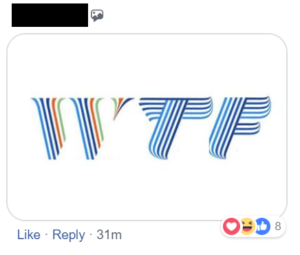 <!-comments-button-->