I once spoke at VRMA conferences about the changes, expense, and reality of OTAs coming into the vacation rental industry. Now we look back and ask what happened to the good ole days of having the same guests year after year, printing a brochure, and waiting for people to call. Property managers now have to think about distribution. What has the vacation rental industry become? A product sitting on a shelf? Well, unfortunately in some instances, yes. The way you merchandise the product is key to having a well-rounded distribution strategy. This does not mean your business cannot stand apart both from a merchandising and service point of view, but the ways guests find their vacation rentals have changed in a big way.
For those new to the vacation industry, we now need to consider distribution as how to get the "product" in front of more eyeballs.
Distribution strategies are complicated. If you think about it, you are merchandising and distributing your product across many different platforms and reaching many different possible guests—it's important to get the product in front of the right person at the right price at the right time.
The hotel industry has been doing this for years and frankly still struggles a bit in deciding how to allocate its business mix.
Focusing on overall distribution strategies, property managers will want to plan in advance which distribution avenues are right for the business and then be strategic about implementing the strategy. For example, one might target the following channel mix: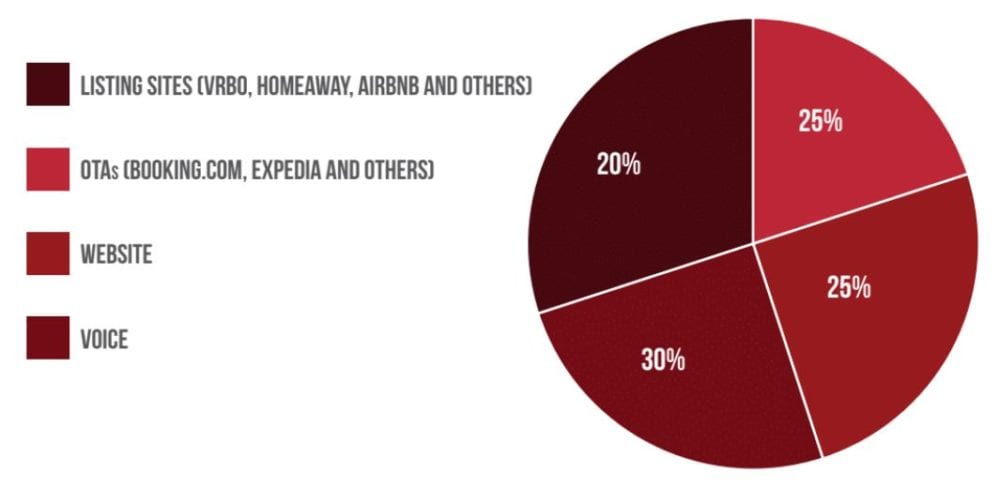 When it is time to write the budget, managers need to plan how much of each channel they wish to target. Each has a different acquisition cost, so everything must be taken into consideration.
The different channels for bookings are:
OTAs: OTAs can bring a lot of value to the booking mix. Although they tend to have higher outright commissions, they also bring several key benefits, such as the widest traveler reach, improved low-season occupancy, synergies with air travel, and, last but not least, the billboard effect.
Website: How many bookings do you want from your website? How many lookers (unique sessions) does it take to get a booking? Measure this now, holding your web provider responsible for measuring and improving on this metric.
Voice: True, voice has gone down, but it will never be reduced like it was in the hotel industry. Why? Because a vacation rental stay is a high consideration purchase. This means it is important, complicated, and expensive. Converting by voice is also the highest converting marketing avenue, and normally the booking value is higher as well.
Listing Sites (HomeAway, VRBO, Airbnb, and other listings): As with OTAs, you need to evaluate the cost of doing business on this channel. These are fantastic channels as far as eyeballs go, but because of their opaque model (the consumer does not have the ability to see who the accommodation is being booked with), the consumer will never know it is you. Additionally, many of these sites have introduced service fees directly to the guest that effectively increase the overall price of the booking. When comparing channel commission costs, be careful to compare apples to apples, factoring in traveler-direct service fees for those channels that include or exclude this concept.
Each of these channels has a different strategy to make it as effective as possible. Don't play hide and seek. If you decide to use a channel, do it with the full intention of maximizing your strategy.
OTA Channels
The number of channels one's inventory is listed on is not as important as performance on the preferred channels. Establishing preferred channels would be a great way to start. This can be discussed with the account manager at the channel partner.
We believe focusing on all electronic channels at once is a spray-and-pray strategy—being jack of all trades and master of none. If every channel a property is displayed on has a mediocre listing, every guest who views the properties will see something mediocre, and no one wants a mediocre vacation. Conversion matters. It's better to do one channel in an excellent fashion than to do 20 in a mediocre way, even though it may sound counterintuitive from someone in the channel management business to say "less is more."
How to have the BEST listings
Photos: The old adage "a picture says a thousand words" is really true in our industry. Quality, high-resolution photos form the number-one factor that will make a home or condo stand out. Hiring a professional to take the photos will really make a difference in quality. Focusing on good photos helps with listing quality and lets you take advantage of the algorithms the OTAs use, which boosts rankings. People want to see the inside of the home or condo to see how it is decorated, and they want to make sure they have their own private bathroom and that the kitchen looks big enough for the entire family. High-quality photos of amenities, such as the pool, will help guests envision themselves there, enjoying it.
Know yourself and know your competition: Use competitive analysis tools to understand the market around you and to make sure the price is right. If you have better reviews than your competitors and lower pricing, you could use that information to increase your rates.
Bird in the hand: Resist the temptation to mark up rates based on channel commission. There is a simple economic law, similar to the law of gravity, called the law of one price, that states that one product should have one price in the marketplace to optimize supply and demand. Marking up inventory by 10 percent for OTA X and seven percent for OTA Y or 12 percent for a listing site causes price confusion in the marketplace and ultimately reduces the demand for a property. If you believe your product could stand an increase, increase your rack rate—then you can discount for direct bookings. This takes solid homeowner agreements and communication about rate strategies in today's market. And inconsistent rates hurt the brand in general—imagine how you would feel if you booked on Airbnb and then found out that you would have paid $100 less had you booked direct. Who would you be mad at? The property manager, that's who. This can affect reviews as well.
Stay on top of your listings!

Availability: When availability is not up to date, you can end up with an overbooking or miss out on bookings during a much-needed period. This may seem obvious, but many people fail to stay on top of availability, whether because of attempts to allocate inventory strategically, forgotten blackouts that never get lifted, or accidentally leaving a long minimum length of stay on a listing. This is an ongoing process that needs to be reviewed every few days.
Fees and taxes: Update and double-check fees and taxes regularly. Sometimes there may be a listed cleaning fee of $100 that has since increased to $150 in the PMS. There is no faster way to lose a possible repeat customer than by charging a higher fee than expected when they booked or by having higher costs on a direct channel. The hotel industry does this all the time.
Policies: When you change a check-in or cancellation policy, make sure you follow through on all the channels so guests aren't waiting for hours in the lobby when they thought they could check in.
Reviews: Guests are constantly leaving reviews. Not responding to a review makes it look like you don't care about the guests, and you are also punished on your OTA rankings for not responding. Compare your reviews to those of your competitive set. Higher review rankings equal higher rates.

Merchandising:

Airbnb, Expedia, HomeAway, and Booking are retailers, just as there is a difference between shopping at Walmart and Nieman Marcus. Check your listings like you would if you were a consumer. Make sure the listing you see is what you are hoping the guest will see. Not all channel managers deliver the same quality content on the distribution sites.
Quality content: Quality content means the right description in the right area, such as the right photos where it makes sense to have photos. Not all PMS data tiles are the same, so working with a channel manager who does good quality content management is key to having a well-placed product.
Slow is fast: Many players succumb to the idea of a landgrab. But a property manager's job is to protect the sanctity of the property and its identity, so don't allow your inventory to become a zombie listing with no effectiveness.

Prune the tree: Get rid of or update and clean up underperforming listings.
Embrace the operational: Do not enter into any OTA or channel management relationship imagining that it won't require manual and operational work. Overlooking the impact of this channel's operational cost is setting the organization up for failure.
By Michelle Marquis, Chief Revenue Officer at Lexicon: Michelle Marquis is a leader in innovation, strategy, and best practices surrounding the vacation rental industry. She has been instrumental in successfully building other innovative technology-related businesses in this industry for well over a decade.

<!-comments-button-->