Everyone handles disaster differently. For Doug Brindley, President of Brindley Beach Vacations, when the company's Corolla offices burned to the ground on June 12, the way forward was to accept what happened, figure out how to accommodate the guests Corolla guests who would be coming to the Outer Banks on the weekend, and start moving to the future.
The fire started in a pile of mulch stored beside the building, although no one know why the mulch caught fire. The result though was the building is a complete loss. "One of the advantages in a total burn, is you don't argue about how much of it's burned."
With the building in Corolla a complete loss and summer guests coming to the Outer Banks, a plan was needed right away.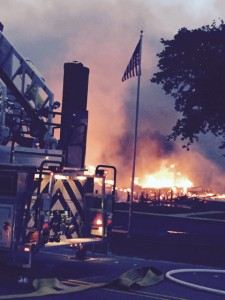 The first step was getting everyone checked in. The obvious answer was to have guests go to the Duck offices in Wee Winks Square, which worked well on Saturday.

"There were unusual things that we had to do," Doug said. "For Saturday we already had the keys. We had taken them out of the building."

Sunday was different.

The machine that makes the key for keyless entry was destroyed, and the Sunday keys and not been made. "If I couldn't make a key. I couldn't get them in,"he said. There were about 40 units effected on Sunday and Doug and his staff took the most direct route they could.

"As soon as everything opened up, we went out and got Quickset lock sets," Doug said. "We changed them all out. We figured it out."

The pride he has in his staff is palpable. A number of times during the conversation, he pointed to examples of how well they have responded and how important that has been. "Everyone that was checking in to Corolla is now checking in here in Duck," he said. "And the Duck people are still in Duck. Two times the staff in here and they're doing it with a smile and a laugh and we're getting good things done."

Doug also noted that his competitors stepped forward to help where they could. Outer Banks property management is a very competitive market, but there is also a sense of community among the companies.

"Through great help from Jimbo Ward at Beach Realty, he's renting us his old building in Kill Devil Hills," he said. "That's where our back office staff is going. He's letting a competitor rent it."
Help also came from Gordon Jones at Coldwell Banker who had extra sets of keyless entry blanks that he sold to Brindley Beach. "He probably wanted to get rid of them, but he didn't have to sell them to me," Doug said.

Outside help was also on hand. According to Doug, Steven Craig of Pro Resort Housekeeping, who was working with the company on ways to improve maintenance, was invaluable. "He has 36 years in the business," Doug noted. "He helped me with critical thinking. He helped me get organization done. I had the perfect person with me . . ."

According to Craig though, the biggest asset was Doug and the Brindley Beach staff. "The biggest help was Doug," he said. "If I was able to help it was to focus on the people in the company and where each person had their greatest strength, even if it wasn't their role. People who needed to do more, did without fussing."

The rebuilding process is already underway. The burned out building will be gone by the beginning of July. Officials in Currituck County have assured Doug they will help him fast track a new office, and if all goes according to plan, new offices will be ready by next summer.

Temporary trailers have been rented for a sales office in Corolla, and Doug is keeping the personal service that has been a hallmark of Brindley Beach. "We call it sit and swat," he said, probably referring to the occasional mosquito or sand fly. Agents sit under an umbrella by the side of the road, ready to greet anyone who happens by.

"It's a great way to meet people," Doug adds.

To Doug it's putting things back together. "When it breaks apart you got a puzzle," he says. "With all these pieces and what are you going to do with it. And every now and then, 'Oh that fits here.' And then another piece puzzle fits here . . ."

To his wife, there is another way of seeing it. "Joanie is using a phrase that fits," Doug said. "Phoenix rising."

<!-comments-button-->