Once a year, some of us make an appointment with a doctor for a physical. This is when the doctor "lifts the hood" and makes sure the ol' ticker and other systems are functioning well. The doctor orders and completes tests; discusses diet, exercise, and unhealthy habits; and makes recommendations to help the body function well. 
A vacation rental is no different; it is a property full of systems that need to be checked, tested, and cleaned to ensure there are no issues. In our industry, we commonly refer to this annual checkup for our properties as a "deep clean," and it is fundamental in making sure homes are the best they can be. 
Every property manager must have a document that describes what is being done during a deep clean. This document, called a Service Standard, allows the homeowner to know what to expect and tells the housekeeper what is to be done during a deep clean.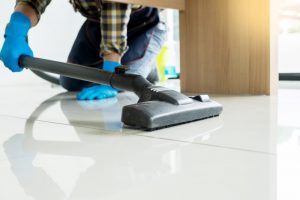 When allocating time for a deep clean, the team must know the difference between a departure clean and a deep clean. For some property managers, a departure clean is similar to a deep clean, so the deep clean will not take much time. For others, the disparity between a departure clean and a deep clean is like the Grand Canyon—deep and wide! In this instance, a deep clean will take a very long time. 
For professional vacation rental managers, the annual deep clean is mandatory. If a property sleeps 10 people and the property is occupied for 16 weeks straight, a total of 160 people have stayed in the property! (This number does not count the eight weeks that the guests snuck in an extra five occupants for an additional 40 people during the 16 weeks.) That means the property has been well used. For example, the fridge has been taxed with it going from empty to being full of warm food; the HVAC system has worked hard to keep the property at the set temperature; and indescribable items have accumulated in, under, and behind armoires, beds, sofas, and chairs.  
With all this occupancy, the property is in dire need of a thorough check and cleaning.  
When planning for a deep clean, here are several things to remember: 
Check with the property owner before you start. I have had the sad experience of doing a deep clean only to have a construction crew show up and renovate the kitchen. Not a good day!

 

Before deep cleans begin, train the staff on the deep clean procedures and policies. This would include how to lift the cleaning products being used (some products are only used during deep cleans) and how maintenance and housekeeping will be communicating.

 

Because each department has specific responsibilities during a deep clean, housekeeping and maintenance will have to collaborate on their schedules, 

 

Maintenance will need to pull out the stove and refrigerator and use a ladder to bring down the high light fixtures as well as perform other tasks the housekeepers are not allowed to, or cannot, do based on the workers' compensation policy.

 

Maintenance will need to help move the beds and take them apart (many workers' comp policies say a housekeeper cannot lift over a certain amount; be sure to check your policy). Moving beds and flipping mattresses generally takes two people so as to not strain the back. 

 

Maintenance does an annual walk-through to check all the systems: HVAC, hot-water heaters, boilers, oven cycles (to make sure the correct temperature is reached), how the paint is holding up, etc. Any deficiencies can be reported to the owner so they can be addressed.

 

Either maintenance or housekeeping can clean the coils with the fridge pulled out. Heavy use causes a buildup of dust on the coils and the dust makes the compressor work harder. A good vacuum with a nozzle can be used to suck the dust off the coils. This is an annual or biannual event, depending on the occupancy.

 

Housekeeping can do a thorough check for bed bugs with the beds torn apart. They can check the mattress seams, baseboards, bed frame, nightstands, and the carpet for the telltale signs of bed bugs using a $5 LED flashlight.

 

After the deep clean is completed, floor care can be addressed. Every floor surface needs to be cleaned or polished.

 
 

Just like the annual physical the human body receives from a doctor, the deep clean is the annual check-up of the property. Once the deep clean, maintenance walk-through, and floor care are completed, the property is ready for the next season.  

<!-comments-button-->